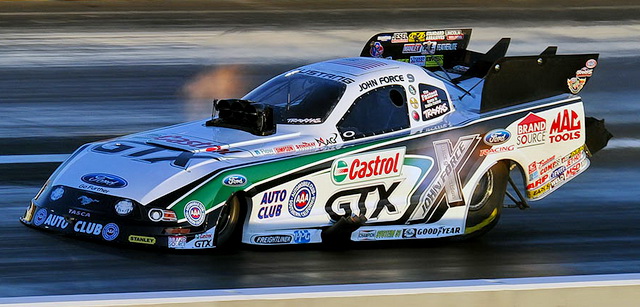 John Force did not become the NHRA's biggest winner by playing things conservatively. That was true when he was a 25-year-old rookie, when he was a 41-year-old first time champion and when, at age 61, he became the first drag racer to earn RACER Magazine's Racer-of-the-Year award.
"Sometimes," the 15-time champion has said, "you just gotta shake things up" which is why, in advance of this week's 34th annual Mopar Mile-High Nationals at Bandimere Speedway, he let go of the crew and crew chiefs that began the season working on his Castrol GTX Ford Mustang.
Not that Mike Neff and his crew are going very far.  In fact, they'll set up shop this week just one pit spot to the right where they will assume responsibility for Robert Hight's Auto Club Mustang while Hight's crew chief, Jimmy Prock, moves the other direction to work his magic for Force.
Acting on a "change is good" theme, Force hopes to jump-start Hight's Mello Yello title bid just like he did in 2009 when he initiated a one race crew swap that set the wheels in motion for Hight's unlikely run to the championship from the No. 10 starting position.
This time, though, Force said the change is for good. Neff and Jon Schaffer, who put Force's competitive house in order this season after a slow start, will try to do the same for Hight, who has endured a roller-coaster ride that two weeks ago sent him sailing out of the Top 10.
"Over the years, there were legends and Hall of Famers who took me to all those championships," Force said, "but they're gone and we're not dominating like we did.   What I'm doing now is taking the young guys and moving them around the business, putting them with who I think they ought to be with."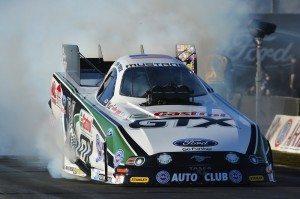 Although, in Neff, he is giving up the crew chief who directed him to his most recent victory (last month at Bristol, Tenn.) and his most recent championship (2010), Force rejected the notion that he's giving up on his own title aspirations to buoy those of his son-in-law.
"You think I can't win with Jimmy Prock?" he asked.  "I'm still going to be in the hunt. At the end of the day, though, the chemistry wasn't working at Robert's.  It happens.  Just ask (Don) Schumacher (who made a similar crew swap a year ago).  I know Jimmy Prock and I can't wait to drive one of his hot rods."
Force has made a career out of bucking conventional wisdom.  His was the first team to successfully operate as a multi-vehicle unit with 1-2 finishes in three of its first four two-car seasons (1996, 1997 and 1999).
In addition, John Force Racing was the first to establish a driver development program with its Next Generation initiative that produced such stars as the late Eric Medlen, Hight and, most recently, Force's daughters, Ashley, Brittany and Courtney.
The team was the first to build its own motors, the first to bring its chassis effort in-house and the first to launch an independent initiative to address driver safety issues (through the Eric Medlen Project).
Without embracing a certain amount of change, it is unlikely that Force could have remained competitive over the last quarter century.  Nor is there any sign that he has lost his competitive edge.
"They were ready to print up t-shirts that said 'John Force: Extinct,'" he said of this year's start (which ran his winless streak to 31 races).  "It would have been a big seller, too, but I ain't dead yet.  I can still drive these hot rods I'll know when it's time and it ain't time, yet."
(Photos courtesy JFR, NHRA/National Dragster; Click to enlarge)