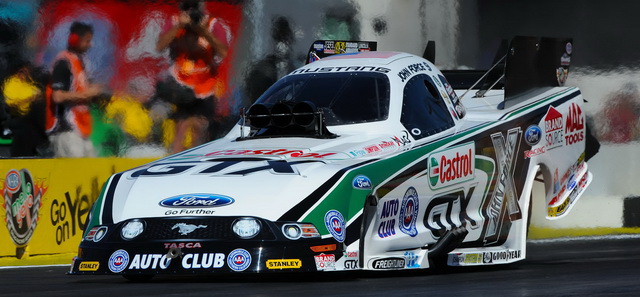 With long-time crew chief Bernie Fedderly's Thursday induction into the International Drag Racing Hall of Fame serving as a backdrop, John Force tries to recapture the form that once made him unbeatable in the NHRA Amalie Gatornationals contested this week for the 44th time.
In the early 1990s (1992-96), Force won five straight times at the track now known as Auto-Plus Raceway at Gainesville.  Not only did he win, he dominated.  He won from the No. 1 qualifying position in 1992 and 1995 and posted the quickest time during eliminations in 1993, 1994 and 1996.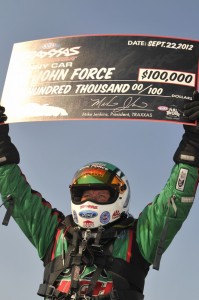 The fifth of those wins, secured with a final round victory over Chuck Etchells, was the 50th of his career, a milestone eclipsed many times over on the way to his current total of 134.  He remains the only pro driver in the NHRA's Mello Yello Series to have won as many as 100 races.
However, in a "what have you done for me lately" sport, Force is trying to put a pair of ninth place, one-win seasons behind him and return to championship viability with a Castrol GTX Ford Mustang that showed some real potential three weeks ago when it raced through the 1,000 foot course at Phoenix in 4.047 seconds at a track record 316.82 miles per hour.
The rub is that despite the performance numbers, he wasn't able to get his Castrol Ford to the final round.
The reality is that the 63-year-old icon has appeared in just three finals in the last 47 tour events.  Now, that may be okay for some, but not for a 15-time series champion who, on the average, has been in every third final round 36 seasons (216 times in 613 events).
To address the issue, the former big rig truck driver has re-united with Mike Neff and the crew with which he won six races and the championship just three years ago. He also has a new chassis beneath him to which Neff still is making adjustments.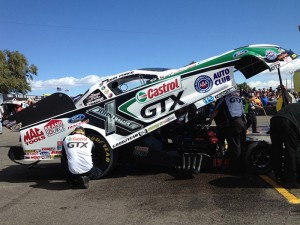 "I'm excited to be back racing with Mike Neff instead of racing against him," Force said.  "He did a great job for Castrol, Ford and JFR as a driver, but he came to me at the end of last season and told me that doing both jobs – driving and tuning – was becoming too much.  He said he never had any time to just think about the set up and the tune-up."
Neff's return exclusively to the mechanical side, from which he has won a pair of championships (one with Force in 2010 and the other with Gary Scelzi in 2005) significantly raised the level of expectation for Force.  Now all he has to do is deliver.
"Nobody wants to hear about past championships and race wins," said the man who last year was a first ballot inductee into the International Motorsports Hall of Fame in Talladega, Ala.  "And that's how it should be.
"That's what keeps me motivated," he said.  "I want to show Robert (Hight) and my girls (Courtney, who won the season-opening Winternationals in the Traxxas Ford, and Brittany, who drives the Castrol EDGE Top Fuel dragster) that I can still compete for a championship.  I'm excited."
(Photos courtesy NHRA/JFR; Click to enlarge)