Reigning NHRA Funny Car World Champion John Force faced an old friend and former teammate as an unlikely foe in the final round of the 27th annual O'Reilly Auto Parts NHRA Northwest Nationals, where his win Aug. 3,  over Gary Densham completed a sweep of the NHRA's so-called "Western Swing" through Denver, Sonoma, CA, and Seattle for John Force Racing (JFR).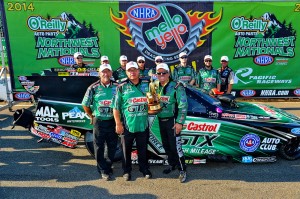 "I raced Densham 40 years ago at this track and we were having so much down there in the staging lanes. I know we're supposed to be serious, it's race day but when you're racing a friend and he comes up here on a budget and look how good he does, steps it up and races with these guys, and after only being out here few times all year and to get in the final is awesome for him," Force said.
"I always say that I don't mind losing to a teammate like Robert (Hight) or Courtney (Force) and when I've lost to Gary I don't mind as I feel he's still a teammate."
It marked the 141st career win for Force, his third of the 2014 season and his eighth at Pacific Raceway, near Seattle, following son-in-law and current points leader Robert Hight's win at Denver and Force's daughter, Courtney, scoring the victory a week earlier in Sonoma. The win, his 78th in a Ford Mustang-bodied Funny Car, also tied Force with NHRA Pro Stock legend Bob Glidden as the winningest Ford-sponsored driver in any motorsports series.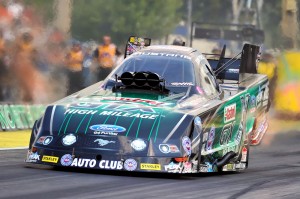 "It's great any time you win, but you got to look over there at the Castrol green Ford and all those kids around it. They all work as a team and that's what makes it click and if somebody's in trouble, someone's helping Mike Neff, John Medlen, Ron Douglas, Todd Smith, Dean Antonelli, the lists goes on and on. It's amazing how we all work as one team and we all share the money and that's the way we keep it running," Force said.
Going into race day, Force had qualified in the No. 1 spot with an impressive 4.057 seconds at 307.86 mph for his fourth top-qualifying position of the season, sixth at Pacific Raceways and 150th of his career. And though crew chief Jimmy Prock and the rest of the team took advantage of the great weather conditions on Friday night, they knew to dial back the ground-pounding 8,000 horsepower BOSS 500 engine for Sunday's eliminations.
"I'm excited, as Jimmy Prock was on his game and gave me a great hot rod. Whatever I try to do to screw it up, like making calls on changing the clutch in which I don't have a clue, Jimmy just gets it right," Force said.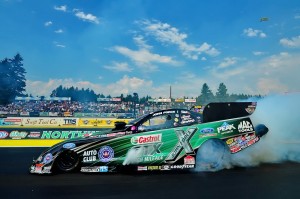 Force faced Jeff Diehl in the opening round of eliminations and led stripe to stripe with a 4.102-seconds run at 307.58 mph to Diehl's 4.354 at 282.36 mph.
Force then headed into the quarter-finals to face longtime nemesis Cruz Pedregon. These two fiercely competitive Funny Car drivers have squared off against each other 93 times in competition with Force winning 63 of those match-ups.
Once again as the Christmas tree flashed green, Force left first, then ran 4.161 at 302.48 mph to Pedregon's losing 4.184 at 296.37 mph.
That set the stage for a semi-final battle between Force and Alexis DeJoria, who he'd raced 16 times before, winning 10 of those races.
Once more, Force left first with a massive .095 holeshot, but unlike the previous runs his Mustang starting hazing the Goodyear slicks just past the 600-foot mark. DeJoria was right there to snatch the win away, but then her Funny Car started to also lose traction and only his starting-line advantage allowed Force to win despite running a slower 4.301 to DeJoria's 4.252 pass.
The traction-challenged win in the semis meant Force did lose lane choice for the final, however,  against Densham. Force and Densham first raced each other 24 years ago in Montreal and over the years they've raced each other seven times in prior final round match ups with Force getting four wins.
Regardless of lane choice, Force again left first and never looked back, crossing the 1,000-foot finish line in 4.173 seconds at 302.48 mph to easily beat Densham's tire smoking 5.808 at 120.44-mph effort.
"I want to thank everyone, especially my teams and everyone that works together," Fprce said. "This track has really come around and I want to thank the owners for investing in the track and our sport. I had a ball up here this weekend. We also some luck today, DeJoria out ran me; the kid's really good and she's under a lot of pressure like my kids, but I was able to get the win."
(Photos courtesy JFR/Lewis; Click to enlarge)