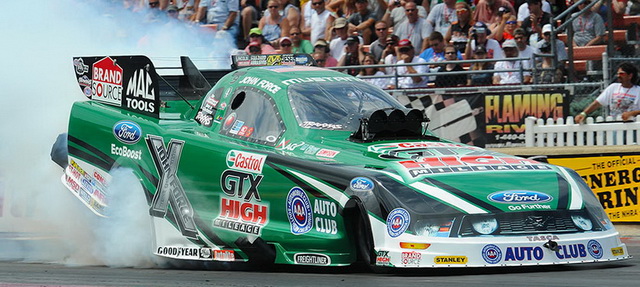 John Force continued to prove Sep. 21, why he is not just the winningest driver in NHRA history, but also one of the most decorated in specialty races.
In front of a capacity crowd  at the Texas Motorplex and against Ron Capps, one of his toughest foes, Force won the inaugural Traxxas Nitro Shootout Funny Car race and the $100,000 winner's purse. With that check, all of which will go into an John Force Racing employee bonus fund, Force has now personally won $1,160,500 in bonus money in his career.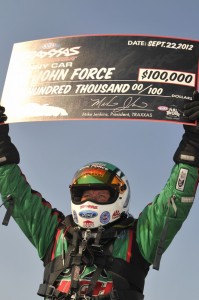 Force outran Capps, who had been the quickest Funny Car all day, in the final 4.218 to 4.223. At the finish line Force's Castrol GTX HIGH MILEAGE Ford Mustang had half a car length on Capps' Dodge Charger R/T. Force trailed at every increment of the race except where it mattered; the finish line.
"I have a real good hot rod, but so does Ron Capps. Right now he is the guy to beat for the championship. He is young and has a great team," Force said.
"I felt good. The $100,000 goes to my employees. I don't take any of it. It is not about money for me; it is about winning, the fans and the sponsors,"the 15-time Funny Car world champion added.
"Traxxas putting up that hundred grand is good for our sport. It is good to have money out here that can help the teams. Courtney (Force) said, 'Dad get that trophy!' I am thinking, 'Kid, don't put all that on me.' I am just hanging in there. We got it and we'll take it home."
After a tough first round, Force was the only John Force Racing Ford Mustang still in the Traxxas Nitro Shootout.
Courtney Force, the odds on favorite for rookie of the year, made the second-quickest run of the first round, but unfortunately she was paired up with Capps who made the quickest lap of the session. Robert Hight and Mike Neff both smoked the tires, leaving Force and his Ford Mustang as the lone JFR entry versus two Don Schumacher-owned Dodges and the Jeff Arend-driven, Kalitta Motorsports-owned Toyota.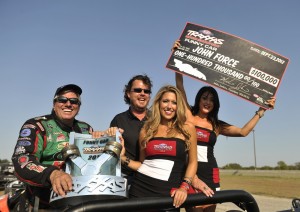 "We are one team. Mike Neff is out there working with Guido (Dean Antonelli) and Jimmy Prock even when he is struggling. Jimmy is helping my guys and Ron Douglas. When they all go out something happens to me. It doesn't mean you win all the time, but I am so much into my team winning and I want to see them do well," Force said.
"Sometimes you are just drained, but then it is just a built-in thing about me; I have always been an underdog. I won a lot of championships, but I have been an underdog my whole life. I always got beat up in school.  Couldn't play baseball and lost every football game. I was always fighting to get there. I have won 15 championships, but when my people go down–especially Courtney–that is when the fight comes out. There is another person in here," said Force the winner of over 1,100 rounds of racing.
"I don't get mad at Ron Capps or Jack Beckman. I don't play the game that way. They are my friends. I just get inside and think, 'You can't hurt my team like that.' Then the fight comes. I was on my tree all day. I jumped all over him because Capps was outrunning me. It is a great day and we won."
The win today was just another example of Force stepping up on the big stage and getting the big prize. In 1999 he won the single biggest payday in NHRA history taking home $210,000 when he defeated Bob Vandergriff's Top Fuel dragster at the Winston Showdown in Bristol, Tennessee. He has won multiple 50th anniversary events as well as the inaugural NHRA Four-Wide event in Charlotte. Today's accomplishment, when many thought he did not have the car to win, just proved the driver and a strong team can work wonders.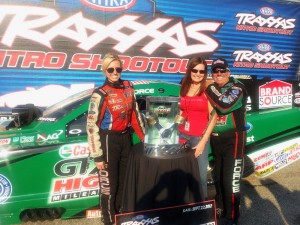 "I won the 50th anniversary event. All the hitters were there. There were so many big races that I was put into and I won. The Showdowns and the Shootouts were big. Then I won Winston championships and Powerade championships. Then I was like OK, now I have to win a Full Throttle championship. Then I win that. It is like destiny," said an incredulous Force in the Motorplex media center.
"Now they throw this on us. I won the first four-wide race. The biggest was winning the Top Fuel versus Funny Car race in Bristol. They said you cannot beat the dragsters. Well, I did.  I was always there at the right time.
"I always joke that somebody up there likes me. It is like destiny and it just falls on me. I am struggling to win a championship. I want to win here, but maybe the Lord doesn't want me to win at the Motorplex to keep me around for a while. I won today and that was pretty awesome."
Force qualified no. 10 for the 27th annual AAA Texas NHRA Fall Nationals will face 2011 Funny Car world champion Matt Hagan in the opening round tomorrow morning.
(Photos courtesy JFR and NHRA/National Dragster; Click to enlarge)
TRAXXAS NITRO SHOOTOUT RESULTS
First round: Ron Capps, Carlsbad, Calif., NAPA AUTO PARTS Dodge Charger R/T, 4.134, 295. 01 mph def. Courtney Force, Yorba Linda, Calif., Traxxas Ford Mustang, 4.119, 294.95 mph;  Johnny Gray, Artesia, NM, Service Central Dodge Charger R/T, 4.254, 290.82 mph def. Mike Neff, Fishers, Ind., Castrol GTX Ford Mustang, 4.784, 175.89 mph;  John Force, Yorba Linda, Calif., Castrol GTX HIGH MILEAGE Ford Mustang, 4.294, 268.38 def. Jack Beckman, Schumacher Electric Dodge Charger R/T, 4.483, 274.94 mph;  Jeff Arend, La Verne, Calif., DHL Toyota Camry, 4.783, 241.07 mph def. Robert Hight, Yorba Linda, Calif., AAA Insurance Ford Mustang, 5.657, 132.32 mph
Semi-finals: J. Force, 4.234, 292.08 mph def. Arend, 4.253, 281.19 mph; Capps, 4.201, 291.26 mph def. Gray, 4.925, 169.44 mph
Final: J. Force,  4.218, 296.57 mph def. Capps, 4.223, 296.50 mph