The newly formed Foolish Pleasure Racing has announced the introduction of a new 1970 Carbon Fiber Mustang Nitro Funny Car with the renowned "Howard Cams Rattler" name scribed on it.
The group consists of former NHRA Hot Rod Heritage Series Top Fuel Champion Troy Green, Champion Crew Chief Brett Johansen whose famous Howards family has been winning for decades, Joe Monden, a former Top Fuel driver and respected A/fuel tuner & chassis builder, and Bill Morando, former Top Fuel Flat Bottom Boat owner as well as Fuel Altered racer.  This past summer the group finally came together, the time was right and parts and pieces fell into place.
The Howard Cams Rattler ran in the late 1960s and early '70s with Larry Dixon Sr. behind the butterflies while Jerry Johansen, Brett's Father,  handled the tuning duties for owner Danny Porche.  The Original Rattler won the Hot Rod Cup in 1969, which landed them on the cover of Hot Rod Magazine.  They also went on to win the 1969 PDA Meet along with several other races across the country. The restored "Rattler" now sits in the NHRA Museum for all to admire.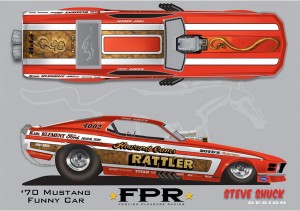 "I'm very excited to be partnering up Troy, Joe and Bill. We have been talking about putting something together for a couple of years now and the timing was right," Johansen said. "With Troy's driving abilities and our collective tuning experience, we hope to have a very competitive car. Paying tribute to the Howard's Gang and that "Rattler" orange will bring back many childhood memories for me. I can't wait to start testing."
The car will be based in Oklahoma and run in the Midwest at various DRO races & match races and may make the trip out west for some NHRA Heritage Series events as well.
Green is ready to get back in the seat of a Johansen-tuned machine.  This time in a flopper, which is a departure from their dragster norm, but sure to be an exciting one with this winning duo back together again.
"I am beyond grateful and excited to have the opportunity to work with Brett again, and also with Joe Monden and Bill Morando," Green said. "I am really looking forward to being able to race in front of some of my home crowds in the super competitive DRO AA/FC series.  I want to thank the individuals and the wonderful companies who have stepped forward to help us achieve our goals of fielding a first-class funny car operation."
Johansen and Green will be back together with most of their former 2008 Championship crew and a few new members.  With the addition of Joe Monden, the FPR brain trust will be stronger than ever.
"One of the cars that I have always wanted to compete with is a Fuel Funny Car. Teaming up with Brett and Troy has has been a pleasure. I would like to thank all the people & companies that have stepped up and helped to make this happen. I can't wait to start racing and I am looking forward to meeting everyone that has helped Troy, Brett, Bill and myself see our dream fulfilled." Monden said.
Foolish Pleasure Racing would like to thank their sponsors for their continued support over the years:  Paint Booth Specialists, Boyd's Racing Engines, SCE Gaskets, East West Performance Parts, Moroso, C & C Automotive, Arias, Titan Speed Engineering and Hampton Inn Meridian.