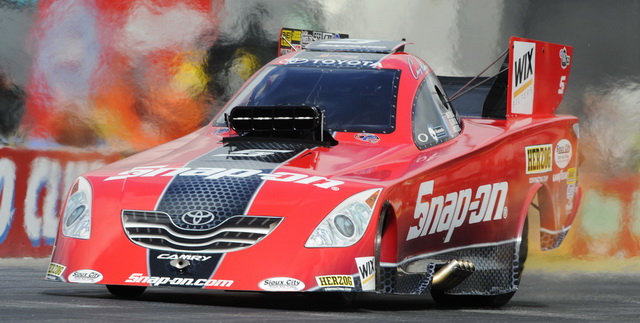 When Cruz Pedregon thinks about racing at the Texas Motorplex, one particular Funny Car shootout comes to mind.
He dials it back 20 years to his rookie season when he got on a roll and took out the circuit's hottest nitro gunslinger at the time – John Force. As Pedregon prepares for round number two in the Full Throttle Countdown to the Championship playoffs, the two-time world champion remembers his winning performance that day in the Lone Star State.
"Without question one win stands out and I'm smiling now, it really was my first win there in Dallas which was against John Force in the (1992) final," Pedregon said. "The championship was on the line and you talk about pressure, man."
That win was the last of a strong run of five consecutive victories for the young rookie driver that sealed his first world championship title, and in the process, stole it away at the last instant from Force, whose points lead was so large by mid-season his team went into test mode.
"I was under so much pressure there that I actually went on to relax," Pedregon said. "I said, you know what, I'm going to go the other way. Then at the line we both smoked the tires and we ended up winning the round and it was a crazy race. They still play it on highlights; fans still talk about it 20 years later so that one stands out without question. But they are all important and they all mean a lot, but that one there sticks out."
Pedregon, the defending winner of the AAA Texas NHRA Fall Nationals, will be seeking more dramatic finishes this year as he comes into the event fifth in the points standings. Bob Vandergriff Jr. (Top Fuel), Jason Line (Pro Stock) and Michael Phillips (Pro Stock Motorcycle) join Pedregon as defending event winners. The Sept. 20-23 race, which also will showcase the weather-delayed Traxxas Nitro Shootout for Funny Car, will be televised on ESPN2HD.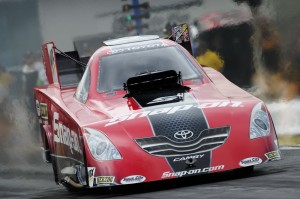 Pedregon is a three-time winner at the Texas Motorplex, the sport's first super track featuring an all-concrete racing surface, built by former Funny Car driver Billy Meyer. Last season Pedregon dominated the event from qualifying on through eliminations and his Snap-on Tools Toyota Camry was incredibly quick despite the intense heat wave that hovered over the track the entire weekend.
"It means a lot, especially since we won there last year in really difficult conditions, extremely hot," Pedregon said. "I love the Dallas fans, it feels like it is a second home for us and we really like running there. It is a challenging track when it is hot, any track is. Hot, cold, in between, we are going to be ready for it."
Pedregon hasn't added to his 29 career victories this season and is one of only two drivers in the Countdown Funny Car top 10 to not have won a race. However, he has showed flashes of brilliance with four No. 1 qualifying efforts, one runner-up finish and three semifinals. He hopes to get on a roll like he did in his 2008 title run.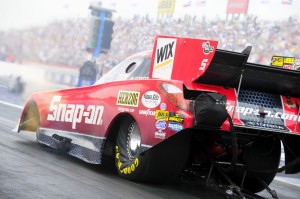 "It depends on the weather, but I have always said this, the Snap-on Toyota runs very fast when it is hot, so me personally I'm hoping that it is on the warm side because the setup we used last year for it worked well, but again we can't control that," Pedregon said. "One of the challenges we've had this year is to really perfect all of the setups to run any kind of track, so I think we are close."
Pedregon will be challenged by points leader Ron Capps, who won the playoff opener at Charlotte and Mike Neff, who moved to second in the standings with a Charlotte runner-up finish. Seven-time Motorplex winner and his '92 nemesis Force will be in the hunt, as will Force's 24-year-old daughter Courtney, who won her first race in only her 15th start in Seattle. Others to watch include Auto Club Ford driver Robert Hight, Jack Beckman, Tim Wilkerson, Johnny Gray and Jeff Arend.
(Photos courtesy NHRA/National Dragster; Click to enlarge)