Flexjet NHRA Factory Stock Showdown class heads to Summit Motorsports Park for the Summit Racing Equipment NHRA Nationals, the fifth of 10 events on the 2023 schedule, with competitors like Ohio native Mark Pawuk, ready to make a splash. It will take a strong effort from the veteran driver with over 22 racecars entered every driver will have a shot at the title in the all-run field.

Pawuk, who is a second-generation racer and former NHRA Camping World Drag Racing Pro Stock driver, started his own race team ahead of the 2023 season. Pawuk Family Racing will have two entries in Norwalk, Ohio with his son Kyle competing as well.
"I'm real pleased with the season so far. Over the winter I started Pawuk Family Racing with my son and daughter. My son is going to be racing this weekend in Norwalk too and my daughter Kassandra handles all our social media along with a bunch of other professional teams," Pawuk said. "I bought the car in the winter from Don Schumacher and switched engine builders over to Ray Barton and David has been tuning our car. He's done a really good job. We've come a long way from the beginning of the season. We struggled a little bit, but we've stepped up our performance in the past couple races."

Pawuk, who drives the Empaco Equipment Dodge Challenger Drag Pak is currently fifth in the points standings after qualifying third at the most recent event at Bristol Dragway's NHRA Thunder Valley Nationals where he had a quarterfinal exit. Pawuk's connection to Summit Motorsport Park goes back decades.

"I never got to race professionally at Summit Motorsports Park, we were racing at Columbus when I got out of the seat of the Pro Stock car, but I grew up going there, raced there in the 70s, Summit Motorsports Park was the place to go. My dad and I were close with Bill Bader and the Bader family," Pawuk said. "I'd love nothing more than to get a victory there in front of friends and family, all those great Ohio fans and for our local sponsors: Ohio Cat Rental Stores, Mr. Heater / Heatstar, Summit Racing Equipment, Cometic Gaskets and our long-time supporters, Goodyear / Mickey Thompson, Redline Oil, E3 Spark Plugs, VP Racing Fuels. Looking forward to the weekend."

Hoping to stave off Pawuk's first victory of the season is current points leader Aaron Stanfield and his Stanfield Racing Engines Chevrolet COPO Camaro. Stanfield is coming off a victory at Bristol Dragway, the first of the season and 10th of his career.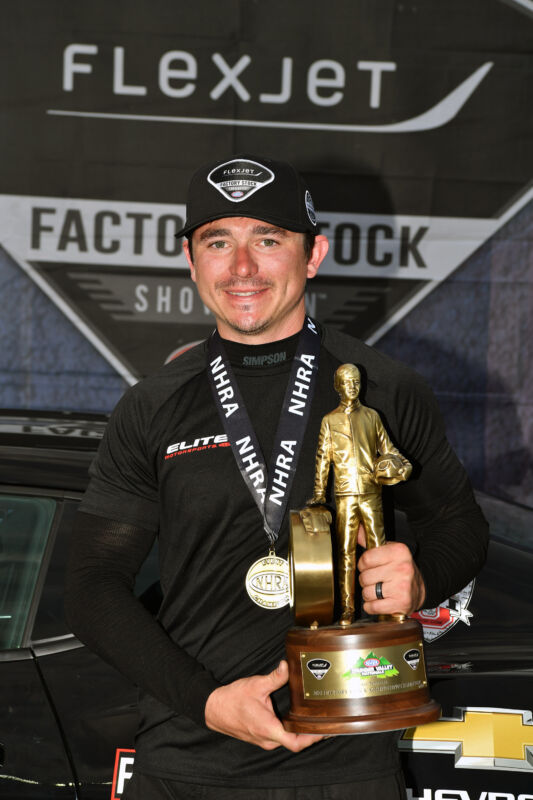 "Getting that win in Bristol was big," said Stanfield, a two-time Flexjet Factory Stock Showdown world champion. "We have been working really hard to get back into the winner's circle. Now we have the bounty and some momentum going into Norwalk. We want to keep the points lead and maybe stretch it out a little bit. The competition will be tough with over 20 racecars on the property. Everyone is going to have to be at the top of their game."
With Flexjet Factory Stock Showdown Bounty Program in play for its second season, Stanfield will have a target on his back for more than just the points lead this weekend. As the most recent winner he also has a $1,000 bounty on his head that will be collected by the first competitor to knock him out of eliminations.

Flexjet NHRA Factory Stock Showdown competition at the Summit Racing Equipment NHRA Nationals at Summit Motorsports Park begins with qualifying sessions Friday at 3:15 and 6:30 p.m. Eliminations begin Saturday at 11:00 a.m. and 3:00 p.m.. Sunday will wrap up competition with the quarterfinals at 1:15 p.m., semifinals at 2:30 p.m. and finals at 3:25 p.m. ET.