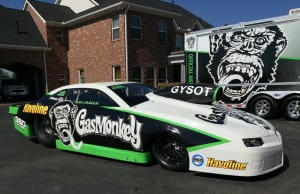 When Alex Laughlin shows up at Sonoma Raceway in California's wine country this weekend to race his new Jerry Haas-built 2015 Pro Stock Camaro in the 28th annual NHRA Sonoma Nationals he's going to have a monkey on his back—a Texas Gas Monkey.
Richard Rawlings of the Discovery Channel's hit television show "Fast n Loud" and owner of Gas Monkey Garage in Dallas went looking for a new way to promote his brand to the sponsor-loyal performance car world and recognized a great fit between the NHRA community and Gas Monkey fans.
After testing the waters with a couple of races in 2014 and a few more at the beginning of this year on the Hennen Motorsports Top Fuel team, Rawlings decided to jump in and put a full branded effort together to see what he could accomplish from a marketing stand point. This effort will include a minimum of six races split between the Hennen Motorsports Top Fuel team and the Laughlin Motorsports Pro Stock team for the rest of this year.
This new program literally was formed in about three weeks, from the time it was brought up to Laughlin by Tommy Strader of 360 Wraps Inc., with Rawlings. Strader said they are using the motorsports platform to help promote the "Bad to the Chrome II" sweepstakes in which Havoline, "The preferred motor oil of Gas Monkey Garage," will be giving away a Dodge Challenger through its Facebook page about the Fast n Loud show.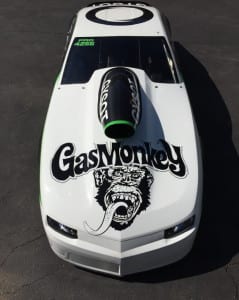 360 Wraps is a highly visible part of the program since it provides the eye-catching Gas Monkey Garage-inspired vinyl wraps on the car. "We are excited about the opportunity to run these races and optimistic that other large corporations will see what we're doing and will want to be part of our program for 2016," Strader said.
Laughlin started starting racing shifter carts in his early youth, then drove a Top Dragster at 16, but Pro Stock will be a an entirely new experience for the now 26-year-old driver. His father, Kenny Laughlin, stressed he could not thank Shane and Johnny Gray enough, as well as Larry Morgan, for helping Alex obtain his NHRA Pro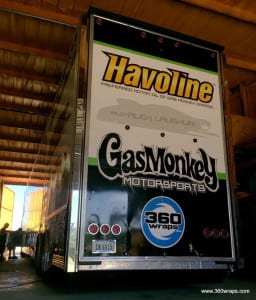 Stock License.
"It was like they just dropped everything they had going on to help out," Kenny Laughlin said.
"This all happened so quickly I'm not sure how it all got done in such short amount from when the car was purchased from Gray Motorsports to this weekend when we unload the car at Sonoma for its Gas Monkey Garage debut."
By Jason Dunn