After a night which saw the weatherman score a win with their rain prediction, JEGS Saturday continued at the K&N Spring Fling 5-Day. Racing was halted Saturday night in the middle of round four so after each remaining racer received a single time run, eliminations continued.
By the time the quarterfinals came around, eight drivers remained in competition for the $20K. The remaining racers were the door cars of Troy Williams Jr, John Platt and still in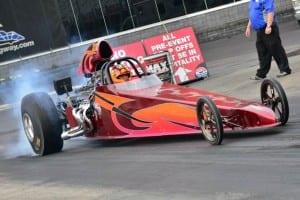 contention for the Wiseco Points Chase championship was Tracy Guffey along with Tom Dauber, former Pro Stock racer Brad Jeter, Dave Brodsky, Steve Witherow and Shane Carr.
At the round of eight, Brodsky used a .003 reaction time to defeat Williams, forcing him to run under the dial. Carr took out the door car of Platt. Witherow ended the day for the last remaining door car of Guffey, and Jeter defeated Dauber to complete the pairings for the semifinal round.
For the semis, Brodsky bowed out to Jeter and Witherow took out "Sugar Shane" Carr to set up the final with the former Pro Stock driver Brad Jeter facing Steve Witherow.
Must have been a good week for ex-Pro Stock drivers with Coughlin winning Friday and now as Jeter took out Witherow with a .007 package.
Having not been in a race car since 2008, Jeter said, "We had this dragster sitting at home and my wife said 'let's race,' and so we did. This week was really the first time I've sat in the car since '08.
"This bracket racing is the toughest thing to do and I'm just thankful to the entire Spring Fling and Bristol Dragway crew for putting on a great race," Jeter added.
As for the Wiseco Points Chase, Tracy Guffey and his gorgeous Camaro need to make it to the finals in order to bypass Tom Cable and Jeg Coughlin Jr. With Guffey losing in the quarterfinals, it set the stage for a run-off for the championship between Cable and Coughlin. After finishing second place in the points at last year's Spring Fling, Tommy Cable closed the deal by defeating Coughlin. The remaining top five spots went to Kevin Brannon in third, Guffey in fourth and Gary Williams for the final spot.
"We've had a great week of racing," said co-promoter Kyle Seipel. "Obviously, Saturday didn't go as planned, but we had reserved Sunday to assure we could crown a $20,000 winner each day.
"There is no way it could have happened had it not been for the outstanding support of each of the racers who showed up in addition to the many sponsors who believe that bracket racing is alive and well and deserves to be on the big stage," Seipel added. "Both Peter and I can't thank everyone enough. We were so happy with the support we received and that's why we decided to extend the payout both on Friday and Saturday by one extra round to give back to those who supported us."
Biondo said, "All of our events have been great but this one in particular has been especially gratifying. From the weather; with the exception of Saturday; to the racers, to our staff and the staff of Bristol Dragway, this one event just seemed to go well. I made two runs down the track this week, lost to a Jeep in the match race I had with Kyle and I hit the wall in the other run. So my own racing experience wasn't the greatest, but I'll remember this event as one of our best. My sincere thank you to everyone."
"Next up on the schedule of Spring Fling events is the Spring Fling Million to be held in Las Vegas in 2016 and not only are we excited about it, but so is the buzz in the racing community," Seipel said. "Please visit www.bracketraces.com and 'Like' us on Facebook (www.facebook.com/springflingbracketraces) to keep up with any K&N Spring Fling announcements."