Tina Pierce, who shot into the spotlight on Discovery Channel's Street Outlaws and is known as "The Fastest Chick in Oklahoma", wasn't raised in a racing-centric family, but she's had a passion for speed all her life.
Residing just outside of Oklahoma City, Oklahoma, Pierce is a proud wife, mother, and diehard drag racer. "My first cool car was a '91 Mustang GT and from there my cars just got faster," she explains. However, she first got involved with real racing when her husband, David, built her a '95 Mustang for track use. "He had just started out racing and really wanted me to try it and see if I liked it," says Pierce. "I was hesitant at first. I really just liked going to watch him, but eventually I gave in and he hasn't gotten me out of the car ever since!" That Mustang got her running in the 12s, and got her hooked on the sport.
For the 2009 season, the family acquired the '00 Chevy S10 pick-up truck that they still race to this day. They promptly swapped in the 383 CI Chevy motor they had been using in the Mustang. That same season, Pierce picked up the Rookie of the Year title at Oklahoma's Thunder Valley Raceway Park and went on to win a plethora of other titles and accolades. She was named the 2010 Thunder Valley Raceway Transition Racer of the Year, the 2011 6.50 Index class winner at Ardmore Drag Way, the 2011 10.00 Index winner at Tulsa Raceway Park, the 2012 Runner-Up in the Quick Street points series at Thunder Valley, and the 2013 Runner-Up in the 6.00 Index class points series at Thunder Valley.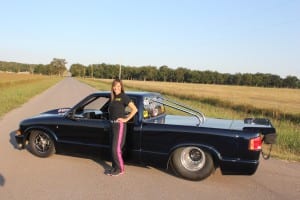 As her racing prowess grew, Pierce knew she had to upgrade her Chevy's setup as well. Now, the pick-up features a fuel injected, boosted 427 CI LSX-based small block motor. Henson Racing Engines built the short block, and David assembled the rest of the power plant, including the Brodix BR7 heads which were CNC-ported by Frankenstein Racing Heads and feature complete valve trains from Crower. Twin 72mm Turbonetics turbochargers crank out approximately 1,460 horsepower at the wheels, and are supported by matching Turbonetics components including wastegates, blow-off valve, and a liquid-to-air intercooler.
Underneath the Chevy, a 9.5" torque converter from PTC can be found bolted to a two-speed Powerglide transmission from Larry Wilson Racing, and a Moser Engineering 9" rear end sits out back. A set of wheels with beadlocks from Exstreme Fab wrapped in Mickey Thompson ET Streets provide the grip needed to propel the pick-up down the strip. Lastly, a Kicker stereo system was installed so that Pierce could have some entertainment while she cruises around town – this is a "street" car, after all!
Over the years, Pierce began to develop friendships with other Oklahoma-based racers. "I originally raced with a few of the Street Outlaw guys, like Derek," Pierce elaborates. "I met Big Chief [Justin Shearer] and Farm Truck [Sean Whitley] next, and got to know the crowd." When Shearer was approached by the Discovery Channel about appearing on the Street Outlaws series, Pierce says that Chief called on her to be a part of the action because he knew she raced, and she had a quick car.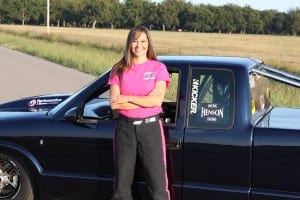 From there, Pierce made multiple appearances on the street racing television show, although she wasn't expecting it to change her life quite as much as it did. "We've had a lot of fun doing Street Outlaws, and everything's been really good for us," she tells. For Pierce, the hardest part about being broadcast across the country each week was simply getting used to the associated recognition. "It freaks me out a little when I go to another state and people recognize me. I'm just a regular person!" she laughs.
Going from the track to the street was a bit of a change for Pierce, although she quickly adapted. Speaking on the differences between the two styles, Pierce says that "you have to be careful not to make too much power on the street or you're going to get crossways. You'll blow the tires off, you can wreck, and it's a lot more dangerous on the street. People don't realize that it's not easy to race on the street, and it's really about how you tune the car if you're going to get down okay or not."
The experience of being a part of the Street Outlaws crew hasn't always been fun and carefree, though. Pierce asserts that the fights and arguments that are aired are quite real, in fact. "The argument I had with Freakin' Rican about me doing two burnouts wasn't staged at all. He was fired up, and I couldn't understand why they were taking it so seriously and getting mad over something like this. Being stressed out and mad is a waste of time," says Pierce.
During the 2013 No-Prep Shootout at Thunder Valley on November 9, 2013, however, Pierce's world got turned upside down – literally. She staged her S10 for the simulated street race, and, shortly before the traps, it took a hard left into the wall and rolled onto its roof. Pierce was shaken up, but neither she nor the pick-up sustained major damage. The rebuild was handled mostly by the husband and wife duo themselves at their repair shop, along with a little help from friend and employee Jeff Miller on the chassis side of things. Fortunately, Pierce's appearances on Street Outlaws helped her secure sponsors for the truck which made the post-wreck repairs a little easier to manage.
Not long after the wreck and starting her involvement with the Street Outlaws series, Pierce got pregnant and made the smart decision to sit out the street racing action and stay safe. Unfortunately, that ultimately meant giving up her #10 spot on The List and her position as gatekeeper. She's hopeful about making a return to the show, though, and would most like to race against Daddy Dave because "it would be a truck versus a truck." Pierce also has her sights set on racing Big Chief, and says that "everyone on the list is tough, but I feel like I have enough in my truck to compete with them and hopefully I get the chance one of these days."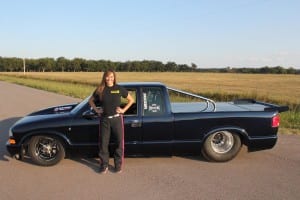 Once the baby was born, Pierce quickly got back into the swing of things and signed up for the grueling 1,000-plus mile 2014 Hot Rod Drag Week tour with her turbocharged truck. "When we rebuilt the truck after the wreck, we chose to go with a metal cab as opposed to our previous fiberglass one so that we could be street legal," says her husband. Pierce did quite well, placing 5th overall in the Unlimited class against some of the biggest names in racing, and 4th in the special Heads-Up Shootout race. Pierce's average ET was 8.551-seconds in the quarter-mile with an average speed of 160.256 mph. She won't fess up to what her best eighth-mile time is, especially now that the truck has got larger turbos than it did at drag week.
For 2015, Pierce is content to head back to the track with her family. The husband and wife team will both be racing, and their daughter (6) will begin racing junior dragsters this season. "My truck is set up now where bracket racing isn't really an option, so I'd like to do some heads up style racing," says Pierce. Although their schedule hasn't been finalized, it's likely that Pierce will return to Hot Rod Drag Week competition as well. Whether or not she'll make a return to Street Outlaws is still up in the air, too, but Pierce is hopeful and promises she will "be back on as soon as the producers call!"