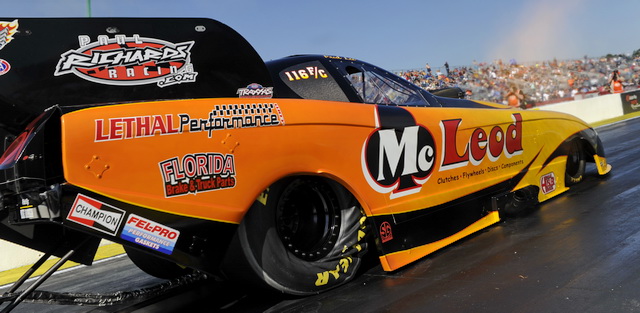 Second-generation drag racer Dave Richards waited a long time for his moment. On June 23, at the inaugural NHRA New England Nationals, Richards made his race-day debut at New England Dragway behind the wheel of his family's Paul Richards Racing Funny Car–and in the other lane was none other than the winningest driver in the history of the Funny Car category: John Force.
For Richards, the thrill far surpassed any underlying nerves as he pulled into the waterbox for the first round at the inaugural event at the historic facility where his father, Gary Richards, was an East Coast match-racing barnstormer a handful of decades ago.
"I could easily have gotten overwhelmed by everything this weekend, but I just wanted to take it all in," said the younger Richards, who earned his nitro Funny Car license in January earlier this year.
"So I kept reminding myself to enjoy this. Every run this weekend, it got a little bit easier. From staging to driving, and even just being in the car. I felt more and more comfortable, and that gave me a little more confidence."
Richards had the first nitro car down the race track at the inaugural NHRA national event, and on Friday, he made a single run that marked his first official pass in competition. The shut-off run was followed on Saturday by a 4.455 in the closing qualifying session next to one of the drivers who signed his Funny Car license, Mike Smith.
The outcome of the run was complicated – Richards was racing against Smith for the lone remaining spot in the field, and his success was, in a sense, at the expense of his friend.
"That was hard, but I was really glad that it was Mike in the other lane for [both of my runs] on Saturday," Richards continued. "I had never had to make a run with someone else in the other lane, and it was really neat that it was him over there."
Sunday morning, Richards prepared for his first round meeting with 15-time world champion Force. During the pre-race celebration where drivers are introduced before eliminations kick off, Richards made eye contact several times with Force.
"I was wondering if he knew who I was," admitted Richards. "As I was getting ready to go through the doors and go up on the stage, he came over and said, 'Hey, you're my guy!' I said yeah, and we shook hands. He told me to just have fun and enjoy myself, and he wished me luck. I thought that was really nice.
"But then right before we fired up the car, I was like, 'Holy crap, I'm racing John Force!' We went in and did our burnout, and as I stopped I saw him blow by me doing one of his crazy long burnouts. I thought, 'this is really cool.' [After the burnouts], I staged, he staged, and I thought, 'Here we go.' The light went down and I hit the gas."
Richards ran into a little trouble on the racetrack and drifted slightly to the center and had to lift, but he had a front row seat to watch the legendary John Force drive off for the round win.
Although there was no Cinderella story for Richards on Sunday, the 35-year-old rookie was honored to make his professional debut in his father's footsteps, and he was proud to do so with his father Gary and mother Peggy in attendance, along with the rest of his family, many friends, and most importantly his wife, Serena, who will give birth to their first child in September.
"It means a lot to have made my debut here, and having my dad here and seeing the grin on his face from ear-to-ear all weekend has been really cool," said Richards. "My whole family is here, I qualified and raced John Force first round. I couldn't have asked for a better weekend. I can't wait to do this again."
Richards' brother and team owner/manager, Paul Richards, was as enthusiastic as his little brother about the course of events in New England this weekend.
"It's very exciting to finally be here," said Paul. "All in all, I feel like it went even better than we expected. My gut was turning a little bit, because that's my little brother out there, but it was exciting to watch him drive. We needed to get him seat time, and we definitely thought that we were in the right part of the country to do that.
"Our family has so much history here at New England Dragway – I remember being here at 10 years old and watching our dad doing nasty burnouts. I actually have pictures with the same tower behind him. My dad used to love this track. Yeah, this weekend was pretty special."
(Photos courtesy NHRA/National Dragster; WinLight Communications/Cara Marie)