There is a new champion at the Mickey Thompson Tires Million Dollar Drag Race and his name is John Ezell. Known to his friends as "Johnny Bracket Racer", Ezell, of Ventress, La., defeated "Racin' Jason" Lynch in the final round. Ezell earned $325,000 for the win. In an all-dragster final, Ezell was first off the starting line, .003 to .015 and held on for the win in a double breakout. Ezell drove to a 4.879 on his 4.89 dial while Lynch was further under his 4.56 dial with a 4.539.
"This is unbelievable," said Ezell, echoing the sentiment of most Mickey Thompson Million Dollar Race winners. "All of my rounds were tough, especially the first four. It was hard to pick out one that was harder than the others. I can't believe I just won The Million. I just hope it's not all downhill from here."
Success in bracket racing is nothing new to Ezell. Over the last few seasons, he's become one of the sport's most consistent winners with a host of big money victories including a $50,000 payday last month at the Drag Race Results Ultimate Series event in Huntsville, Ala.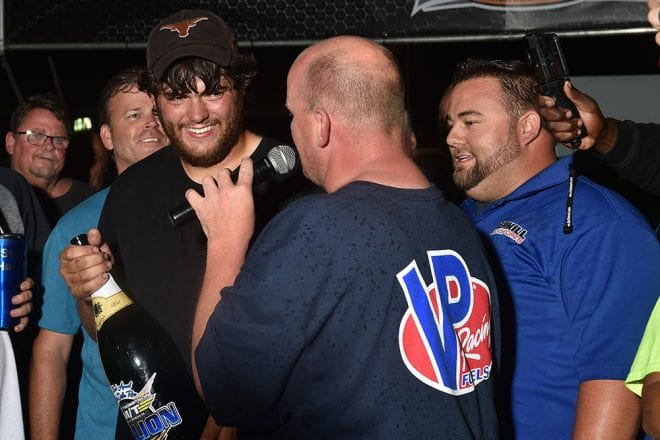 Facing a near-record field of 337 entries, Ezell began his march to the final round with wins against Thomas Bell, Kevin Bennett, and Steve Collier. He faced one of his toughest tests in round five when he squared off against Ron Lane, the runner-up in Friday's Triple 25 event at the Million. Ezell won that round with a 4.881 on his 4.88 dial. Ezell also faced Trey Bunner, who began his weekend at The Million with a win in the 64-car Shootout on Wednesday and a runner-up finish in Thursday's Triple 25 event. Ezell won that bout after Bunner broke out by five-thousandths. In the semifinals, Ezell benefitted from a red-light start by opponent Tyler Sizemore.
"I didn't think I drove too well, but I did just enough to get by," said Ezell. "It was really tough in the last few rounds but I just tried to stay calm. The final was really tough, but I felt like my car was really dialed. I wasn't trying to have a .003 light. I was shooting for about a .008 but thankfully it didn't turn red. I was so relieved when the win light came on."
Lynch, who works as a crew chief for NHRA Super Gas world champ Mia Tedesco, drove his CARS Protection Plus dragster to the final after stopping Reagan Whitman, Kevin Pruett, and recent NHRA U.S. Nationals Comp champ Brad Plourd.
"I gave it my best shot, we just came up a little short," said Lynch. "I hate it that we couldn't finish the deal but it was still a pretty good day for our team."
The last woman standing was Raegan Whitman, 20, of Lovington, N.M., who reached the sixth round with her dragster before losing to Lynch. Jeff Verdi, of Glen Allen, Va., the defending Mickey Thompson Million Dollar Race winner, also reached the sixth round before he lost to Tyler Sizemore. Verdi's win streak at the Million ended at 15-straight rounds.
In addition to Saturday's main event, the Mickey Thompson Tires Million also hosted a variety of special events. The event kicked off on Wednesday with the 64-car Shootout which went to Trey Bunner. Bunner defeated Cody McDaniel in the final round to win a full weekend entry valued at $2,675. Runner-up McDaniel received a main event entry valued at $2,000 while three random drivers, Randall Reid, Jeff Perrish, and James Brown, also won $2,000 entries to the Million.
Another incredibly popular feature of the Mickey Thompson Tires Million is the Triple 25s, a trio of companion events with a $25,000 payout to each winner. On Thursday, 607 drivers lined up for a shot at the prize and 10-rounds later, Hunter Patton emerged as the champion with a final round win over Wednesday winner Bunner. On Friday, a massive field of 657 entries filled the staging lanes at Montgomery Raceway Park and after ten grueling rounds, Wes May defeated Ron Lane in the final round. Sunday's event was cancelled due to rain and the payout was split among the 32 surviving drivers.
MICKEY THOMPSON TIRES MILLION DOLLAR RACE
MILLION MAIN EVENT
W: John Ezell, Ventress, La. ($235,000)
RU: Jason Lynch, Pleasant View, Tenn. ($50,000)
SEMI: Brad Plourd, Holly Pond, Ala. ($10,000)
SEMI: Tyler Sizemore, Boonville, Ind. ($10,000)
TRIPLE 25s
Thursday
W: Hunter Patton, Highlands,Texas ($25,000)
RU: Trey Bunner, Bushnell, Fla. ($5,000)
Friday
W: Wes May, Indianapolis, Ind. ($25,000)
RU: Ron Lane, Chattanooga, Tenn. ($5,000)
Sunday
Cancelled due to rain, payout split between 32 drivers
64-CAR SHOOTOUT
Wednesday
W: Trey Bunner, Bushnell, Fla. (Weekend entry, $2,675 value)
RU: Cody McDaniel, McDonough, Ga. (Million main event entry, $2,000 value)
VIP CLUB GRAND PRIZE
W: David Jenkins, Pearl River, La. (dragster chassis)
OVERKILL MOTORSPORTS GOLF CART RAFFLE
W: Lester Atkins, Corydon, Ky. (custom golf cart)
Story by Robert King; photographs by Chris Simmons