On the heels of his blockbuster announcement earlier this week that he would make his J&A Services NHRA Pro Mod debut this season and participate in the full 12-race series in 2017, Steve "Stevie Fast" Jackson wants to remind the racing masses that he's not leaving the outlaw scene anytime soon, if ever.
"We may be headed to the big show, but radial racing – outlaw street car racing, grudge racing – that's where my heart is," says Jackson. "It's where I'm from, and I don't see a time when I won't be a part of it in some way, shape or form. And that's why we're so excited to roll out this new hot rod and get things stirred up, especially here in the days leading up to Lights Out 8 in Valdosta [Georgia]."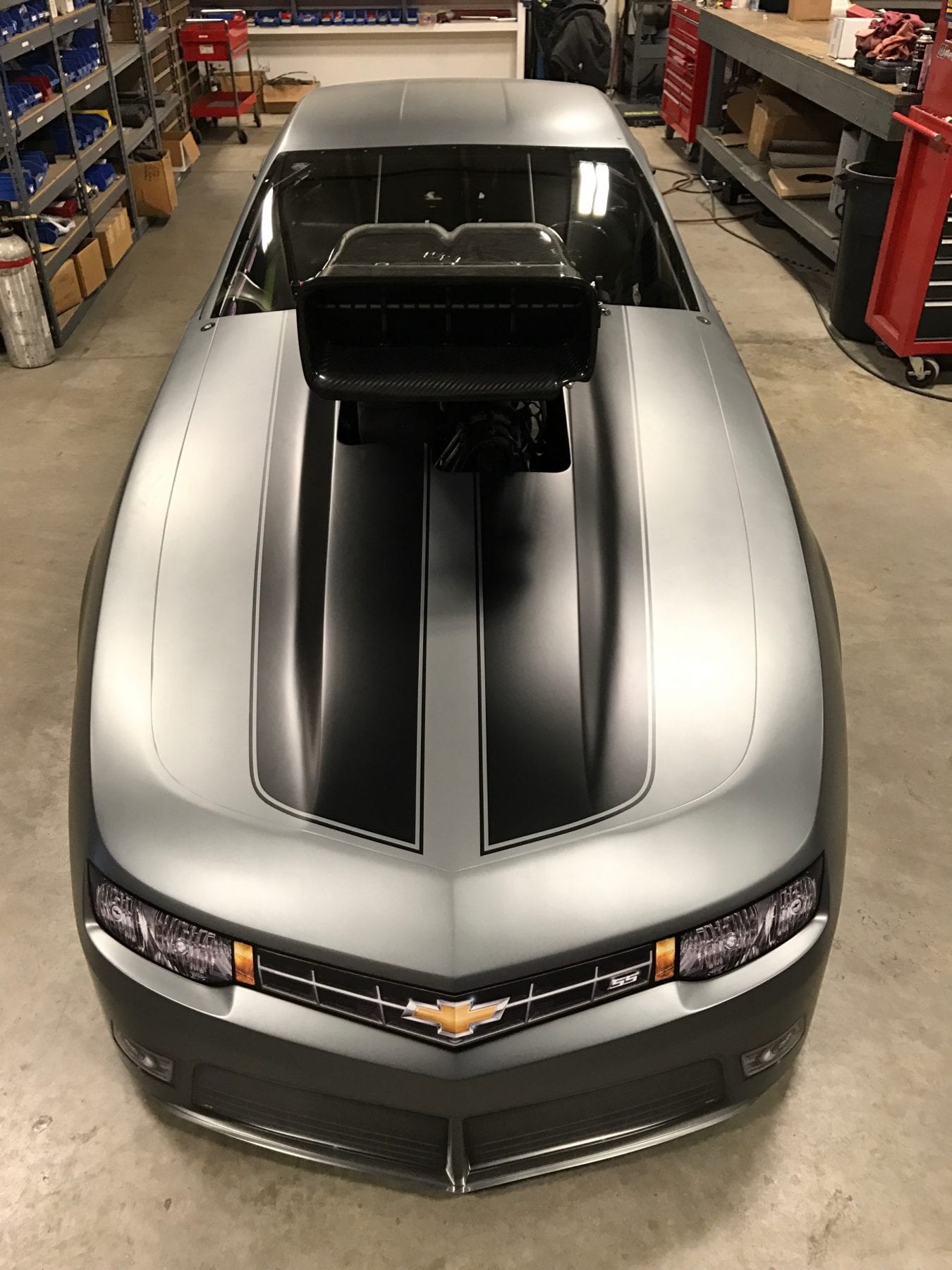 The new hot rod, or "street car" as Jackson jokingly refers to it, is a 2015 Chevy Camaro from RJ Race Cars in Galesburg, Illinois. The new horse named "The Shadow 2.0" is a joint project put together by Jackson, Jeff Sitton, and longtime friend and racing partner Phil Shuler, who also serves as a Top Fuel crew chief within the Don Schumacher Racing organization. Built to replace "The Shadow" – Shuler's original back-halved Fox Body Ford Mustang that Jackson wheeled to international notoriety over the last several years – that was destroyed during a high-flying crash at South Georgia Motorsports Park in the fall of 2016, the second-coming of the famed doorslammer is sure to set the radial racing world on fire.
"This thing is unbelievable," says Jackson. "Rick, Rickie and all the guys at RJ Race Cars just crushed it – they worked day and night, thrashed to get this thing done, and people are going to flip out. It's bad to the bone. We're still running wild here at the shop trying to get everything buttoned up, but I cannot wait to get this thing on the drag strip and let it eat. We're hoping to be shaking it down within the next week or so."
While Jackson is excited to race against the best the radial racing world has to offer during Donald "Duck" Long's upcoming Lights Out 8 at South Georgia Motorsports Park later this month, he's equally proud of what his first outing of 2017 represents.
"We're bringing it all together," starts Jackson. "Phil [Shuler], Jeff Sitton and me – we're bringing
everything under one roof. We're all friends, and we've been racing together for a while now, but we're making it official. Rather than have stuff strewn all across the pits, different rigs and all, we're going to do this deal together as a team. I'll be driving and tuning 'The Shadow 2.0', as well as tuning Jeff's car. It's a big deal. I'm wound up about it. We're going to hit some radial races, possibly a little PDRA Pro Boost. Of course, we'll grudge race anyone who wants to try us – big tires, little tires, no wheelie bars, any configuration they want. We especially want to try some of those slow, silly, and overrated no prep and STREET OUTLAW clowns."
Since Jackson and "The Shadow" had their unfortunate incident late last year, the Georgia-native and crew have been crisscrossing the globe, competing (winning and setting records) in the Bahrain Drag Racing Championship along with trying to button up the new car from RJ. Admittedly, it's been an all-hands-on-deck ordeal.
"We've had a lot of big time help from a lot of big-time people," concludes Jackson. "A lot of people and companies really helped with this deal, and I can't begin to thank them all enough for it. We're looking forward to unloading this thing here in the next few days, stirring the pot a little bit and making sure all the effort and investment in 'The Shadow 2.0' was worth it."
Jackson cited support from Jeff Sitton and SEI Oilfield, RJ Race Cars, Quarter-Max Chassis & Components, Jeff Stange and Strange Engineering, Bahrain 1 Racing, Mickey Thompson Wheels & Tires, Sanders Wheels, Racepak, System 1, MSD Ignition, Elite Motorsports, Menscer Motorsports, Adam Lambert at Precision Racing Suspension, Eastern Atlantic Underground, WYO Motorsports, Pro Fab Headers, Jeremy Evrist and Brad Anderson Engineering, Diamond Pistons, Trend, Khalid Al Balooshi and RSG, VP Racing Fuels, Penske, Neal Chance Racing Converters, Bubba Livingston, Phil Shuler, Robbie Lowry, Mike Hawkins, Jack Barbee and E. Ray Bryant for contributing to his much-anticipated return to radial racing with "The Shadow 2.0".