Radial tire racer Barry Mitchell shook things up when he sidelined his freshly finished Racecraft Inc-built Fox Body Mustang in favor of purchasing Kyle Huettel's BAD9ER Racing F-body Camaro in mid-December of 2015. Knowing that he would soon reach the limits of his stock-style suspension Mustang, the decision to jump into the Camaro was a no-brainer. However, Mitchell's recently made yet another new purchase that's likely to push the radial world even further askew.
"We knew 2016 would be a turning year for us, but we didn't know what we were going to do exactly," explained Mitchell, who resides in Hamptonville, North Carolina and bought Huettel's Camaro as a spur-of-the-moment deal. "We had been struggling with whether or not we would stay committed to a nitrous oxide-based program," he added, and noted that he instead chose to go all in on something even bigger and badder than he ever had before.
In early April of 2016, Mitchell overnighted a check to Tim McAmis Race Cars to have a beautiful silver and black '69 Camaro commissioned for Radial vs. the World use. The car will be powered by a Brad Anderson Enterprises 526 ci Hemi by Fulton Racing Engines, and in place of Mitchell's favored laughing gas, he'll be going the supercharger route.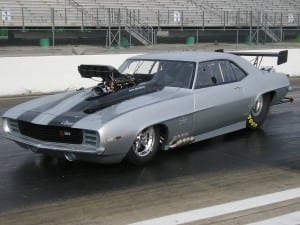 Originally, Mitchell planned on running a screw blower, but because of the weight-savings benefits as per the class's rules, he's chosen instead to bolt on a roots blower from Troy Critchley's Hammer Superchargers as the show-stopping centerpiece of the whole combination.
"Todd Tutterow will be furnishing the entire driveline, as well as overseeing the entire build," added Mitchell, who selected the legendary "King Tut" for his expertise and professional guidance. Lastly, the car's current big tire setup will be closed up to house a set of Mickey Thompson's latest and greatest 315 ET Street Radial Pro tires.
With a last-minute change of plans for his season in the works, Mitchell has set his sights on debuting his new McAmis Camaro at Donald "Duck" Long's high-profile "No Mercy 7" race on October 6-9, 2016 at South Georgia Motorsports Park in Adel, Georgia. "It's going to be tough, but we're going to try to make the timeline work," confirmed Mitchell, who is looking forward to getting behind the wheel of his newest endeavor.
Prior to the race, however, Mitchell has plans to go testing and make sure he's got all the odds and ends buttoned up. He'll want to make sure he's got the best chance at grabbing the massive prize that will be paid out to the winner at SGMP, and knows he'll have a whole lot of potential just ready and waiting for him to take full advantage of.
Until the car rolls out of the shop, off the trailer, and onto the pavement of its first pit area, though, Mitchell is content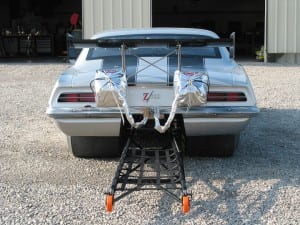 to lay low. "I don't know if we'll go race, or even win, much more this year," he said, referring to his outstanding double-up two-fold wins at the "Lights Out 7" race at SGMP earlier this year in February. "We may even sacrifice Radial Fest in Huntsville and a few other events to get the new car up and running. We're pumped, and it's a huge deal for us to get a McAmis chassis with a new blown Hemi in it and we can't wait to see what it can do."
Knowing Mitchell, the entire radial tire community will be waiting to see those results right along with him.