It was back in November that much of the country was experiencing the first blast of winter temperatures and even snow in certain locales, which was uncharacteristic of the mild winters that many of us have enjoyed in recent years. It was on this particular weekend several months ago that the forecast had me scratching my head and wondering where all this cold weather was coming from! Thankfully though, there's always an escape route down Interstate 95 that leads to Florida, so I jumped behind the wheel of the Drag Illustrated Sprinter and headed into the deep south for a glorious change of scenery.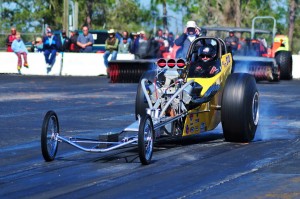 Typically, I don't touch Florida soil until later in the year, but I gladly made the exception in light of the unexpected blast of winter that was quickly on the approach! I promptly began combing through racing schedules to see what was shaking in the Sunshine State. That's when I realized that Bradenton Motorsports Park was getting geared up to present their annual Southern Nostalgia and Muscle Car Shootout, so I quickly set my navigation for Florida's Gulf Coast and drove into the night, as the gusts of winter wind begin to gain strength.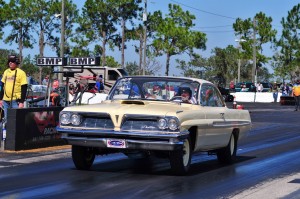 The closer I got to Florida the warmer and calmer things became. Then, as I turned onto State Road 64, I knew that Bradenton Motorsports Park was only minutes away. The event at hand was going to be a classic and was to feature the Southern Slingshots, which is an extremely cool front-engine dragster association. Also on hand were several classes of bracket racing, exhibition cars, a swap meet and also a classic car show, which drew a great crowd of admirers throughout the entire day. Palm trees blowing in the Florida breeze were also on hand at no additional charge, although I would have paid good money to see some on this particular weekend!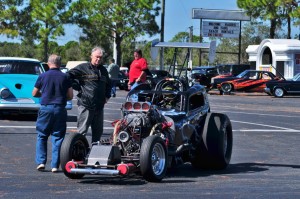 The entire event was a glowing throwback to drag racing's early days, and presented in fine fashion by the promoters, racers and staff at Bradenton. This spur-of-the-moment trip to Florida was the perfect diversion from the blast of winter that was taking place back home and besides that, nostalgia drag racing is always in season!
After I bid farewell to my friends at Bradenton, I continued on with the "yesteryear" theme and enjoyed one more attraction at a historic facility that could very well be considered "nostalgia" in its own right. If you travel 45 minutes north of Bradenton to the town of St. Petersburg you'll find the oldest continuously operated Greyhound track in the world. Derby Lane dates back to the 1920s and played a major role in Greyhound racing's heyday.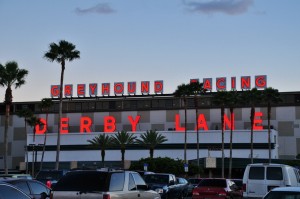 Much like drag racing's early years, I certainly wasn't there to see the glory days of Greyhound racing as it was unfolding. Nevertheless I'm completely mesmerized at the sight of eight thundering Greyhounds as they sprint out of the starting box with explosive speeds! Florida is the hub of dog racing and there's hardly a better place on earth than Derby Lane to capture the excitement of these beautiful animals doing what they're famous for. "Poetry in motion," says drag racer, Scott Macy, as he describes a Greyhound at full speed … and he should know since he and wife, Angela, adopted a retired racing Greyhound named "Oz," who ran many races in Florida before becoming the Macy's couch potato.
So, from watching front-engine dragsters being flagged off the starting line at Bradenton, to witnessing the fastest dogs in the world kick up a rooster tail of dirt high into the night sky, it was definitely a weekend to remember!
(Photos by Van Abernethy)