Five-time NHRA Pro Stock world champion Erica Enders made history yesterday as she became the winningest woman in motorsports. The fan-favorite driver earned her 47th career national event win today at the Texas NHRA FallNationals to reach this milestone accomplishment in front of a home-state crowd at Texas Motorplex behind the wheel of her Johnson's Horsepowered Garage / Melling Performance / SCAG Power Equipment Camaro.
"This one means a lot," said Enders. "As a little girl that was eight years old with big dreams to be a professional driver one day, in my Jr. Dragster then making my way through the Lucas Oil series, and now being here (in the NHRA Camping World Drag Racing Series) for 20 years, this Wally will sit proudly among a few other special ones. I give God all the glory. This has been quite the journey for us. It's not been easy. There have been way more valleys than peaks. I give the Lord the credit and my team. Richard Freeman gave me an opportunity 10 years ago and we've never looked back. For JHG, Melling, SCAG, Gallagher, Peoplease, and all of our supporters, we got it done today!"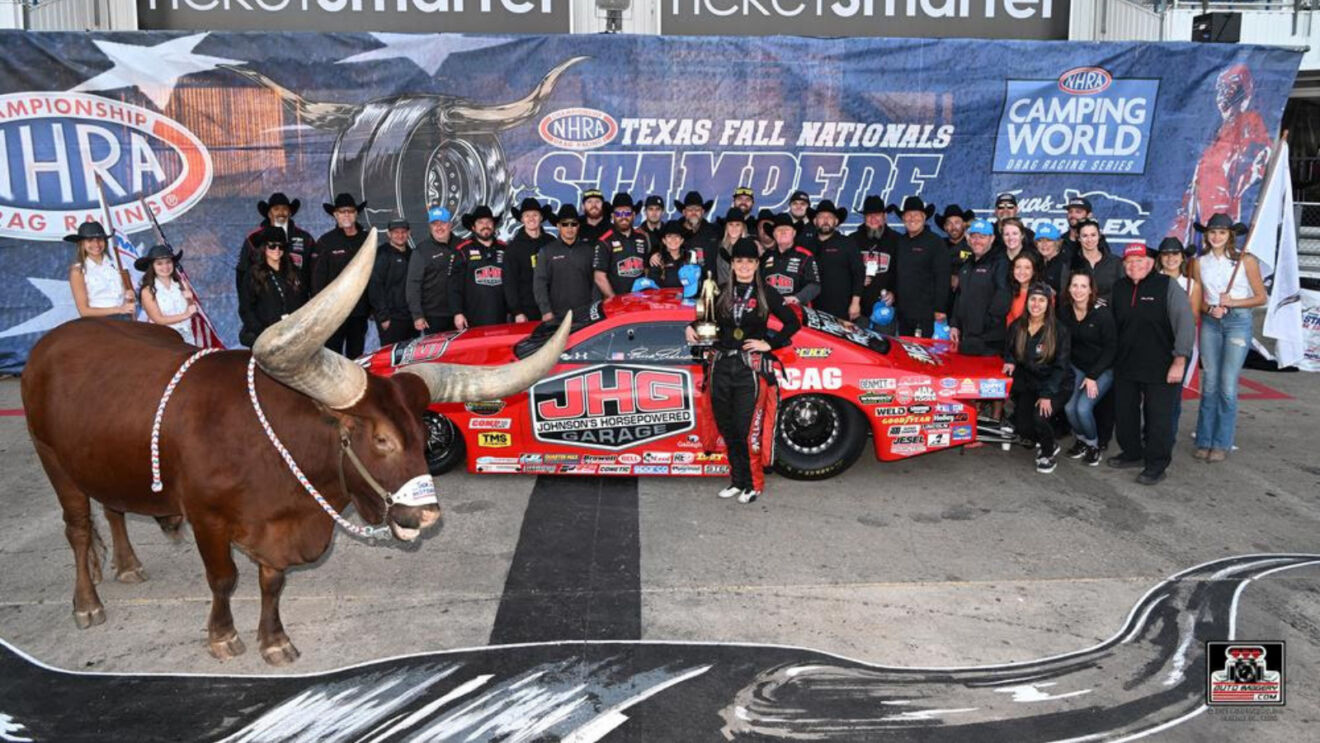 Enders competes for Elite Motorsports, the largest professional team in drag racing, and her victory was hard-earned as she competed in one of the quickest Pro Stock fields in the history of the sport. Coming from the No. 3 qualifying spot, she had to defeat Eric Latino, her Elite Motorsports teammates Cristian Cuadra and Troy Coughlin Jr., before facing Dallas Glenn in the final round. The standout driver has 46 wins in the NHRA Camping World Drag Racing Series Pro Stock category and one win in Super Gas from the beginning of her illustrious career.
Enders already holds the distinction of having more world championships to her credit than any other professional female drag racer. Her illustrious career is studded with landmark achievements in the sport including being the first woman to win a national event in the extraordinarily competitive NHRA Camping World Drag Racing Series Pro Stock category. She currently holds both ends of the Pro Stock performance record and she is the only woman ever to win a Pro Stock world championship, a feat she's managed to attain five times thus far.
Enders has been making a splash in the world of motorsports for over twenty years. At just eight years old, she sat behind the wheel of her first Jr. Dragster. In the early 2000s, Disney produced a Disney Channel Original Movie about Erica and her sister Courtney which starred Beverly Mitchell and Brie Larson.
"I love proving people wrong when they underestimate me," said Enders. "To get to do this job is an actual dream come true."
Prior to Enders' win yesterday, Angelle Sampey held the record for most national event wins by a female driver. Sampey competed in Top Alcohol Dragster for the first time this weekend, showing that she can drive anything on four wheels just as well as two. The significance of her contribution to the sport, as well as that of legend Shirley Muldowney, is not lost on Enders.
"As a little kid, growing up, Angelle was one of my heroes," said Enders. "We had her t-shirts and her autograph. When we made our professional debut, I only had one national event Wally in Super Gas. And the first seven seasons of my career went winless. I remember like it was yesterday, tying Shirley's win record with 18 wins when we won the U.S. Nationals in 2015. Now here we are. And for this to be not just for NHRA, but for all professional motorsports worldwide, it's substantial. But we're not done yet. It just goes to show you, that if you don't ever give up, great things can happen."