The Extreme Outlaw Pro Mod (EOPM) series presented by Precision Turbo & Engines is traveling to Atlanta Dragway this weekend (June 28), for the EOPM Night of Fire sponsored by Ross Racing Pistons and Jerry Bickel Race Cars. This will be the second Night of Fire event for the EOPM at Atlanta after giving a show-stopping performance last year in front of nearly 8,500 drag racing fans at "Georgia's House of Speed."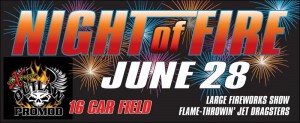 All the EOPM Stars will be on hand for the quickest and fastest Pro Modified action on the planet this weekend to try and top last year's spectacular showing from series favorites like Danny "The Sheriff" Perry, Randy "Smooth" Weatherford, and Chris "The Northern Assassin" Rini, fresh off a recent $15,000 victory over Jason "Holeshot" Harris in the final round of the Lucas Oil Hot Rod Pro Nitrous Shootout held at Piedmont Dragway.
Additionally, Charles Terrell, Jay Cox, Jr. Ward, Todd Howard, Scott "Machine Gun" Gunn, Carol Long, Tori Cagle, Chris Cline, David Campbell, and EOPM winner from Virginia this year Chris Patrick will all be on hand to take their shot at the famed Atlanta Dragway asphalt.
All EOPM classes with be on hand, featuring EOPM Top Sportsman stars Glen Teets Jr, Glen Teets III, Todd Atkinson, William Brown, Christy Perkins, Donn Rudd, Danny Angle, Kevin Fortney, Mike Anderson, Mark Payne, Erin Arledge, and many more. Last but not least, many young guns of Extreme Outlaw Jr. Dragster will be there, too, including Austin Terrell, Courtney Howard, Lauren Arledge, Patrick Weatherford, Allie Wisner, Mia Shultz, Alexis Shultz, Carson Perry, Jacob Baker, and many more.
Don't miss the most exciting Pro Mod action on the planet this weekend with jet cars and fireworks for a thrilling pre-4th of July extravaganza at Atlanta Dragway's Night of Fire! And as always, "The EOPM is just a great place to race," and Big Daddy is always on the scene.