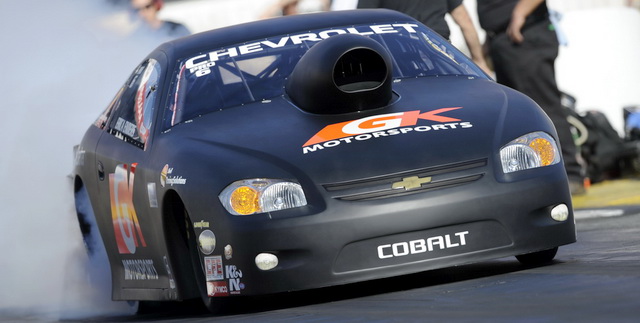 When Erica Enders-Stevens defeated Greg Anderson in the finals at the 2012 O'Reilly Auto Parts NHRA Nationals she wrote another page in the NHRA history books. She became the first woman to win in Pro Stock and the 14th female overall to win in the sport.
Along with Enders-Stevens, competitors in all of the NHRA Mello Yello Drag Racing Series categories will be looking for wins at the O'Reilly Auto Parts NHRA Nationals, June 27-30 at Route 66 Raceway. Antron Brown (Top Fuel), Jeff Arend (Funny Car), and Andrew Hines (Pro Stock Motorcycle) join Enders-Stevens as the defending event winners of the race that will be televised on ESPN2 HD.
The win was nearly a year ago, but Enders-Stevens still looks back on that day often.
"That photo from the winner's circle is actually the screen saver on my computer and I get to think about it every day," she said. "Certainly the best day of my life and something I had worked for over 20 years for and just a huge blessing to get that monkey off of our back and move on to start winning more races."
Her father, Gregg, and mother Janet have been with her at every step of her racing career and the family's dedication to racing has been an integral part of her success. The win at Route 66 Raceway was a culmination of years of work and dedication the Enders family has poured into the sport.
"I started in 1992 in a Junior Dragster and dreamed of being a pro driver someday," Enders-Stevens continued. "A lot of kids have that dream and it doesn't happen for many of them. It was one of those moments where it was hard not to be emotional because we had worked so long and hard to get there. That moment you work your entire life for; you eat sleep and dream for; you breathe drag racing and it is hard to explain that exact moment, but it was a huge deal for my family."
Adding to the day was a surprising marriage proposal by her then-boyfriend Richie Stevens following the race.
"Richie was there and he has been so supportive of me and we have been together a really long time and I was like 'When are we going to get married?' and he said 'When you win a race.' And I guess he was serious," Enders-Stevens recalled. "On the way back to the finish line in the parade vehicle Antron [Brown] told me , 'Somebody told me after my first win to take a moment after all the media calms down to walk down the track and remember that moment.'

"I took his advice. When we got to the finish line and taking pictures in the left lane where we had beat Greg [Anderson] right on the stripe with the Route 66 sign in the background that is when he asked me to marry him. It was one of those days that can never ever be topped in the history of the world."
The team will be racing a Chevy Camaro which made its debut at the event in Gainesville, Florida, and has since raced to three final-round appearances, but has yet to win. The team is working hard to find the right balance for the new machine.
"Every car has a different personality and it takes some time figuring it out," Enders-Stevens said. "It is just like the dating process. They act right and then out of the clear blue sky something crazy will happen. We knew the Cobalt like the back of our hand, but this car is a great car and the Camaro will be a great car and we are figuring it out."
Also looking for wins at the event will be current points leader Mike Edwards, Jeg Coughlin and defending world champ Allen Johnson, who won his third race of the season last weekend in Epping, N.H.