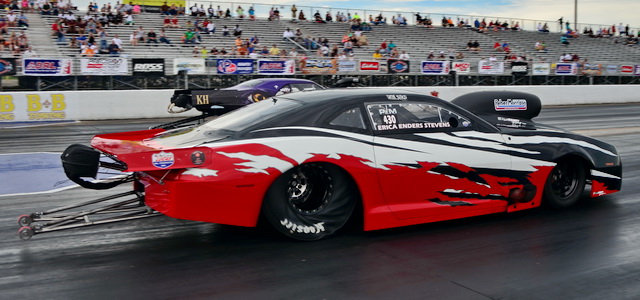 Features
Enders-Stevens to Close Out ADRL Pro Mod Season
By |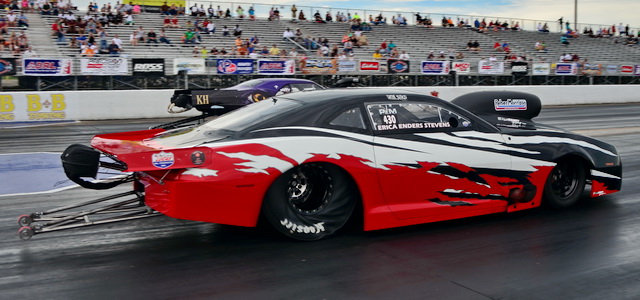 One week after the NHRA U.S. Nationals at Indianapolis, Pro Stock  star Erica Enders-Stevens will be back in Keith Haney Racing's Pro Mod Camaro for the final two ADRL events of the 2013 season, team owner Keith Haney announced on Sunday (Aug. 25).
Enders-Stevens will race in Dragstock X Sept. 6-8, at Rockingham Dragway in North Carolina, and then in her hometown event, the ADRL World Finals IX Oct. 19-20, at Royal Purple Raceway in Baytown, Texas. Brandon Pesz of Lethal Acceleration will continue as crew chief for Enders-Stevens and as an added bonus, her husband Richie Stevens will be part of Haney's crew in Rockingham.
Enders-Stevens, a native of Houston, raced for Haney in Memphis, Tennessee, earlier this month,
"I'm really excited to have been invited back to drive for Keith," Enders-Stevens said. "That was a really fun opportunity in Memphis, and given some more time in the car it will only get better. I'm glad to be going back."
Haney was overwhelmed by the response she got in Memphis, giving additional exposure to Keith Haney Racing sponsors Lucas Oil, Pro Torque, Racing Junk, Monroe Guest Motorsports, Regional Hyundai, Suburban Chevrolet, Classic Chevrolet, Miami Chevrolet Buick GMC, Nissan of Muskogee, and Tulsa Raceway Park.
"It was really, really good for her and good for Sportsman racing," Haney said. "It was amazing for us, too. We just keep growing."
Haney hopes to continue capitalizing on Enders-Stevens' popularity through social media and fan interaction.
"It's good for the sport," Haney said. "It's good for Keith Haney Racing, it's good for our sponsors."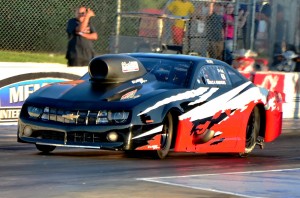 Plus, it's good for the ADRL, and league president Kenny Nowling knows it. He offered the team free entry and free testing for Enders-Stevens' appearances in the remaining ADRL races. It's also good for Enders-Stevens, who loves racing in Houston. After the race in Memphis, she immediately inquired about racing again for Haney.
"She got out of the race car and said, 'I'd love to drive again,' " Haney said. "I said, 'OK. What race would you like to drive?' She said, 'I'd like to drive in my hometown.' "
Houston has always been special for her, as it was the site of her first national event victory, in Super Gas in 2004.
"I'm so glad to be going back home," Enders-Stevens said. "We raced there in April and didn't have the best of showings, so to be able to have another opportunity in a car with twice the horsepower is really cool. I'm looking forward to it."
(Photos by Ian Tocher; Click to enlarge)
Comments
comments