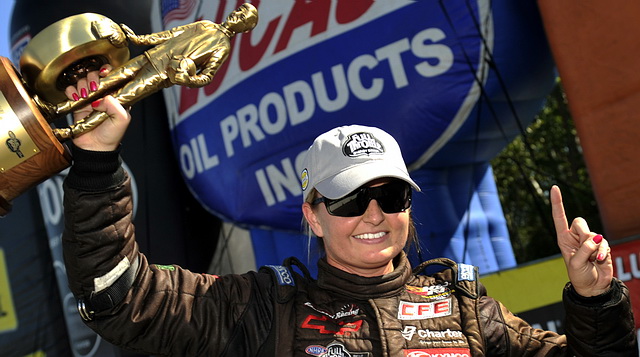 Two months ago, KLR Group driver Erica Enders was fresh off her first career Pro Stock victory. Now, she's perhaps the leading contender to win the 2012 NHRA Full Throttle Drag Racing Series championship in the ultra-competitive class.
The Countdown to the Championship–NHRA's playoffs–begins this weekend with the O'Reilly Auto Parts NHRA Nationals at zMax Dragway, and no one has more momentum than Enders. She's been to three consecutive finals, winning two of them, and has two consecutive No. 1 qualifiers. Going back to that first win, at Chicago on July 1, shows that Enders has won three of the last seven races.
And with the rankings reset for the Countdown, Enders finds herself just 50 points out of the lead, in fourth place.
"I'm excited to be in the position I'm in," Enders said. "To be less than three rounds of eliminations out of the points lead is the closest grasp I've had on it in my career. I'm not going to let it slip away."
This is Enders' second appearance in the Countdown, so she and her GK Motorsports team have learned some lessons from last year.
"We've prepared a little better this year," Enders said. "Time will tell, but we've got a really good, consistent race car, and I'm going to do my best to out-drive everyone. That's confidence, not cockiness."
Crew chief Dave Connolly, who is also entered as a driver at Charlotte, says Enders is the favorite for the title.
"She's got the car to beat right now," Connolly said. "We're going for a championship with that flat-black GK Motorsports car."
That may be added pressure, but Enders welcomes it.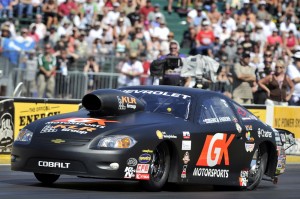 "I don't change my mindset," Enders said. "Yeah, these races are the most important six races of our lives, and we've got to capitalize on our momentum and our consistency and make it work. Yeah, there's a lot of pressure, but I like it."
Enders also is coming off a final-round appearance at Charlotte in April, when she finished runner-up in the 4-Wide Nationals. She knows the importance of a fast start in the Countdown to her championship hopes.
"It's extremely important to get off on the right foot," Enders said. "It's easy to start off that way than to work backwards. Statistically, eight out of the last 12 event winners at this first Countdown race went on to win the championship, so it's proven we have to start off on the right foot.
"We test at Charlotte a lot, so I'm hopeful all of that hard work is going to pay off this weekend."
(Photos courtesy NHRA/National Dragster; Click to enlarge)