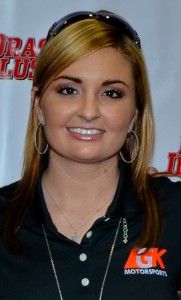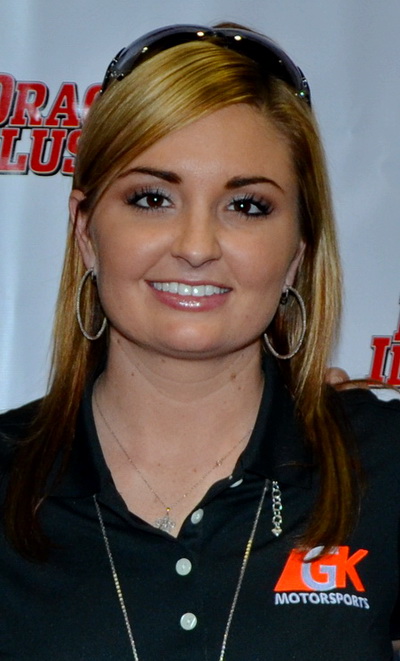 Pro Stock driver Erica Enders (right) received one of motorsports' biggest honors for a female racer Dec. 7, but that date was already spoken for on her calendar.
Lyn St. James' Women in the Winner's Circle Foundation honored NHRA, Enders, and her Victor Cagnazzi-owned team at its 10th annual Women in the Winner's Circle Awards dinner on Friday evening. The dinner was held in conjunction with the International Motorsports Industry Show held in Indianapolis.
At the annual celebration, St. James presented the Leadership Award to NHRA President Tom Compton, who also accepted the Outstanding Achievement Award on behalf of Enders, who was busy that day getting married to fellow Pro Stock pilot Richie Stevens Jr.
"This is a huge honor to receive the Outstanding Achievement Award by Lyn St James," Enders said. "I have been a part of Lyn's program from day one. She does so much for women in all forms of motorsports and it means the world to me for her to recognize what we accomplished this year."
The Leadership Award recognizes individuals or corporations that have undertaken extraordinary measures and show outstanding initiative in promoting diversity with the racing industry.
"The credit goes to our founder and my mentor Wally Parks, who created this organization 62 years ago. He did it to find places for people to enjoy this great sport and his hobby," Compton said. "We have racers at every level across the country and it has always been that way. It is the most accessible major form of motorsports in the world and we are very proud of that and this award means a lot to the NHRA."
Enders received the Outstanding Achievement Award after her history-making season by becoming the first woman to win in the Pro Stock class at the race at Route 66 Raceway in Chicago. She scored two No. 1 qualifying spots and won four races to finish fourth in the 2012 points standings.
Enders became the third female to win this award and joins Ashley Force Hood who received it in 2010 and 2011 recipient, Danica Patrick.
"To have my name on a list with women like Ashley Force Hood and others who have received this award is pretty awesome," Enders said.
"NHRA has a tremendous history of participation and success for women in racing, and I'm extremely proud of Erica, who is also a graduate of our driver development academy. Women now have victories in every national class of NHRA," St. James said. "Unfortunately, she's not able to be here due to the fact that she's getting married this weekend, but I suspect she has her sights set on a championship in the future.
"NHRA has a commitment to cultural, technical, and geographical diversity and has generated championships for drivers, such as this year when Antron Brown was the first African-American to win a Top Fuel championship, and dates back to Shirley Muldowney, the first driver ever to win three national championships in Top Fuel. We applaud their leadership."
The team owned by Victor Cagnazzi who Enders raced for during her historic season, were honored with an Opportunity Award during the evening. This award recognizes teams, individuals or sponsors that create significant opportunities for women drivers to excel within the industry.
The Women in the Winner's Circle Awards is the foundation's major fundraiser, celebrating the success of women in racing, helping them build strong ties with each other and with the motorsports community, and honoring those who have provided leadership and opportunities for women in racing.
(Photo courtesy NHRA/National Dragster)