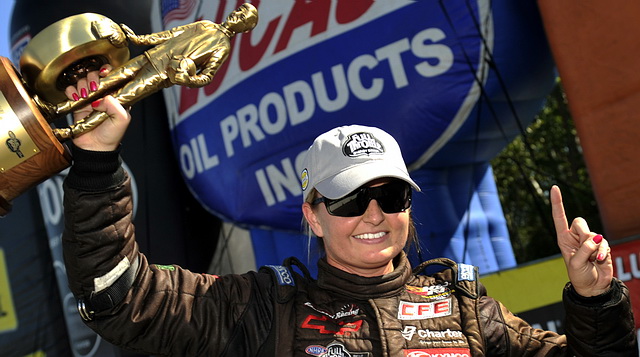 The hits – and history – keep coming for KLR Group driver Erica Enders.
Enders stormed to her second consecutive Pro Stock victory, and third of her increasingly stellar season, by winning the Lucas Oil NHRA Nationals Aug. 19, at Brainerd International Raceway. That follows her historic victory in Chicago on July 1, when she became the first woman to win in the ultra-competitive Pro Stock class, and her win in Seattle on Aug. 5 when she and Courtney Force became the first duo of women to win the same national event.
Plus, Sunday's victory was a first in an NHRA national event at Brainerd for a woman since the legendary Shirley Muldowney won here in Top Fuel in 1986.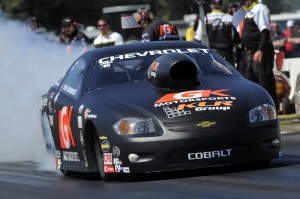 "That is really special," Enders said. "Shirley is a hero of mine, and she's done so much for this sport and especially for the females in it. To do what we did in Seattle with Courtney and myself and to make that history, and then to come here and do back-to-back, it's unbelievable. If you would've told me we were going to win back-to-back and three races out of five, it blows my mind."
Enders has now won three of the last five Pro Stock races, firmly placing her name among the contenders for the 2012 championship.
"It's already surreal for me," Enders, 28, said. "I'm so blessed to be in this position. I know that, and I know how quickly it can disappear. It's a dream come true for me, and finally, after all the hard work, sweat, tears, pure frustration and disgust, it's nice to be with such a great team and have the chance to chase the championship.
"I'm excited about it. I think we've got as good a shot as anybody. I'd certainly put my money on us."
Her GK Motorsports team, led by car owner Victor Cagnazzi and crew chiefs Dave Connolly and Tommy Utt, has worked to improve the performance of Enders' Chevrolet Cobalt in recent months. Enders' recent streak – which also includes track elapsed-time records in Sonoma and Brainerd – is proof of the hard work.
"We've always had a good car and a great team," Enders said. "Something that I love so much is this is the first time in my career that I've had a team with such great chemistry. We want to be together away from the race track, and that means a lot when you're putting your life on the line every time. I don't have to question what's going to happen. I have all the faith in the world in them. I know they have my back and they love me as much as I do them. I think that's a huge part of it, is having the right people."
The other difference?
"Horsepower," Enders said. "With Gaston Kearby, we've finally got the funding to do the development stuff we've been wanting to work on. We're finally getting to showcase it. I'm optimistic about what the future holds. We've certainly got our sights set on the championship."
Enders moved up to fifth in the Pro Stock points standings, which will be reset following the next race, the Mac Tools U.S. Nationals, for the Countdown to the Championship.
Enders also showcased her driving Sunday, as she had a .001-second reaction time in beating Shane Gray in the first round, a .012 light in the second round against Jason Line and another .012 light in the final against Allen Johnson.
The final was a rematch of the Seattle final and pitted the top two qualifiers against each other. But Enders left first and never trailed, making a pass of 6.569 seconds at 210.05 mph to beat Johnson's fading pass of 14.495 at 58.43 mph.
Enders' Chevy was consistently fast Sunday. Against Gray, she lowered her track record she first established in qualifying, going 6.542 seconds at 210.83 mph. Then, she beat Line with a run of 6.545 seconds at 210.31 mph that was low of the round.
In the semifinals, Enders ran down Larry Morgan with a pass of 6.561 seconds at 210.28 mph that gave her lane choice against Johnson.
"There are a lot of big-name, tough guys out there that we took out in Seattle, and then we ran against Jason Line and then Allen Johnson in the finals today," Enders said. "That just goes to show that our hard work is paying off. We've been chasing those guys for a few years now, and it's finally catching up. I couldn't be more proud and honored to be their driver. It's very exciting.
"I haven't decided if any (of the victories) is more important than the other. The Chicago one was definitely the highlight of my life. They keep coming, and I love it. We're going to ride this wave as long as it lasts. My guys have been working so hard, and we've got a really great car right now. That makes Sunday a whole heck of a lot more fun."
(Photos courtesy NHRA/National Dragster)