In a blend of innovation and compassion, Elite Motorsports, in collaboration with NRC Modifications, has crafted a custom wheelchair-accessible motorcoach for legendary drag racer Darrell Gwynn. This home on wheels, built on a Freightliner Cascadia chassis, is a testament to the spirit of inclusivity in motorsports.
The motorcoach, meticulously designed with Gwynn's accessibility in mind, is a game-changer for the legendary racer. Gwynn, a titan of the drag racing world, expressed his excitement over the new coach, saying, "My new coach is built by the best in the game: Elite Motorsports by NRC Modifications. Thanks to BraunAbility and their options on commercial-grade RV lifts, I'll be able to get in and out with ease. The model I chose works best for me, but they have many excellent products available."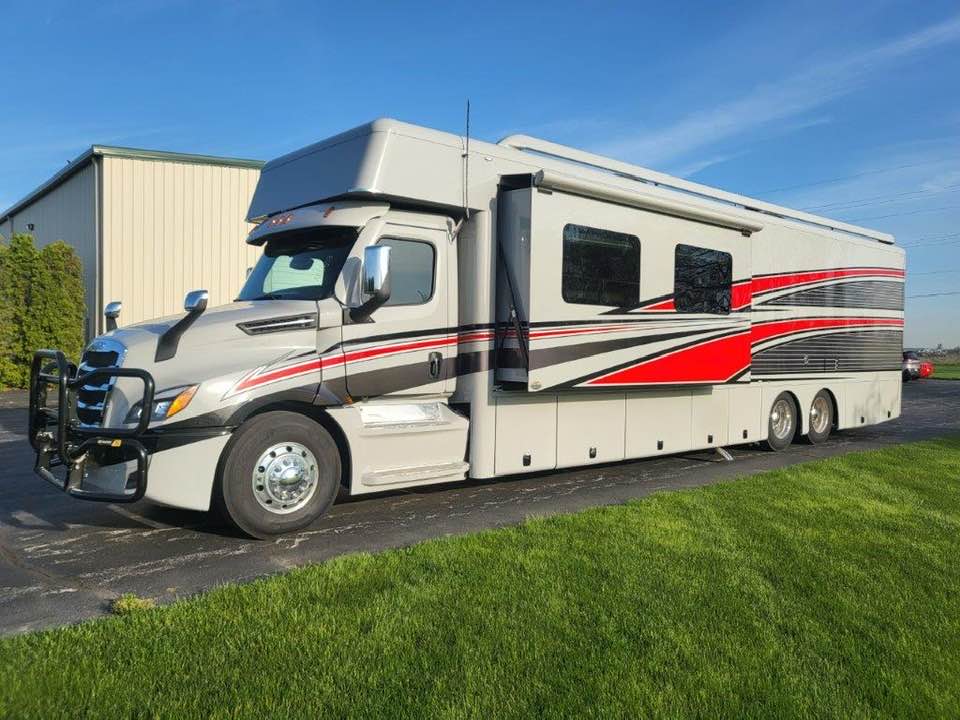 The coach's maiden voyage was a journey to the greatest spectacle in racing, the Indianapolis 500, followed by the NHRA races in Bristol and Bowling Green. This journey marked a new chapter in Gwynn's storied career, combining his passion for drag racing with his commitment to improving the lives of physically disabled individuals.
Scott "Woody" Woodruff, Elite Motorsports LLC Director of Branding & Motorsports, shared his thoughts on the project, saying, "Darrell has been a longtime friend and has a very long history with Michael Brotherton. He came to us with an idea of wanting to have a place where he could help drive additional business that focuses on meeting the needs of physically disabled people like himself. He understands what's important to have in a custom unit to make things as seamless as possible and can say I understand what you need looking into someone's eyes. At the end of the day, it's all about trust from start to finish."
Before his tragic 1990 accident, Gwynn was a force to be reckoned with on the drag strip. He won an NHRA Top Alcohol Dragster World Championship in 1983, several race wins as a driver and team owner, was voted one of NHRA's "50 Greatest Drivers All-Time" in 2001. His contributions to the sport were further recognized in 2002 when he was inducted into the prestigious International Drag Racing Hall of Fame and in 2009 when Gwynn received the NHRA Lifetime Achievement Award.
Gwynn's commitment to improving the lives of those living with paralysis is as impressive as his racing career. He is the Director of the Darrell Gwynn Quality of Life Chapter of The Buoniconti Fund to Cure Paralysis and the President of Darrell Gwynn Ventures. His foundation has donated over 300 custom wheelchairs to individuals facing medical and financial hardships.
Elite Motorsports, the team behind this innovative project, is a premier dealer for all motorsports transportation needs. With extensive motorsports industry backgrounds, the Elite team has the knowledge and experience necessary to deliver a package that meets your needs. They offer a wide variety of semi-transporters, motor coaches, gooseneck and stacker trailers, specialty hospitality and point-of-sale units, and new and used high-performance engines, race cars, and racing equipment.
This collaboration between Gwynn and Elite Motorsports is a testament to the spirit of innovation and inclusivity in motorsports. It's a reminder that the roar of the engines and the thrill of the race are for everyone, regardless of physical ability. Here's to many more miles of open road and the continued blurring of boundaries in the world of drag racing.