Due to the intricate nature of the sport, it often takes years for a newcomer to master the consistency, discipline, and focus required to become successful. On the other hand, occasionally a driver bursts onto the scene seemingly unstoppable and equipped with a natural talent. Alex Selleck, from Ionia, Michigan, is most certainly the second type of competitor, as he became the 2023 WDRA Summit Junior Dragster World Champion at only eight years old.
Technically, Selleck's extracurricular activity should count as extra credit as the third-grade student spends his weekends adding up the total package on his time slip, multiplying his winnings, and subtracting his competition from the next round.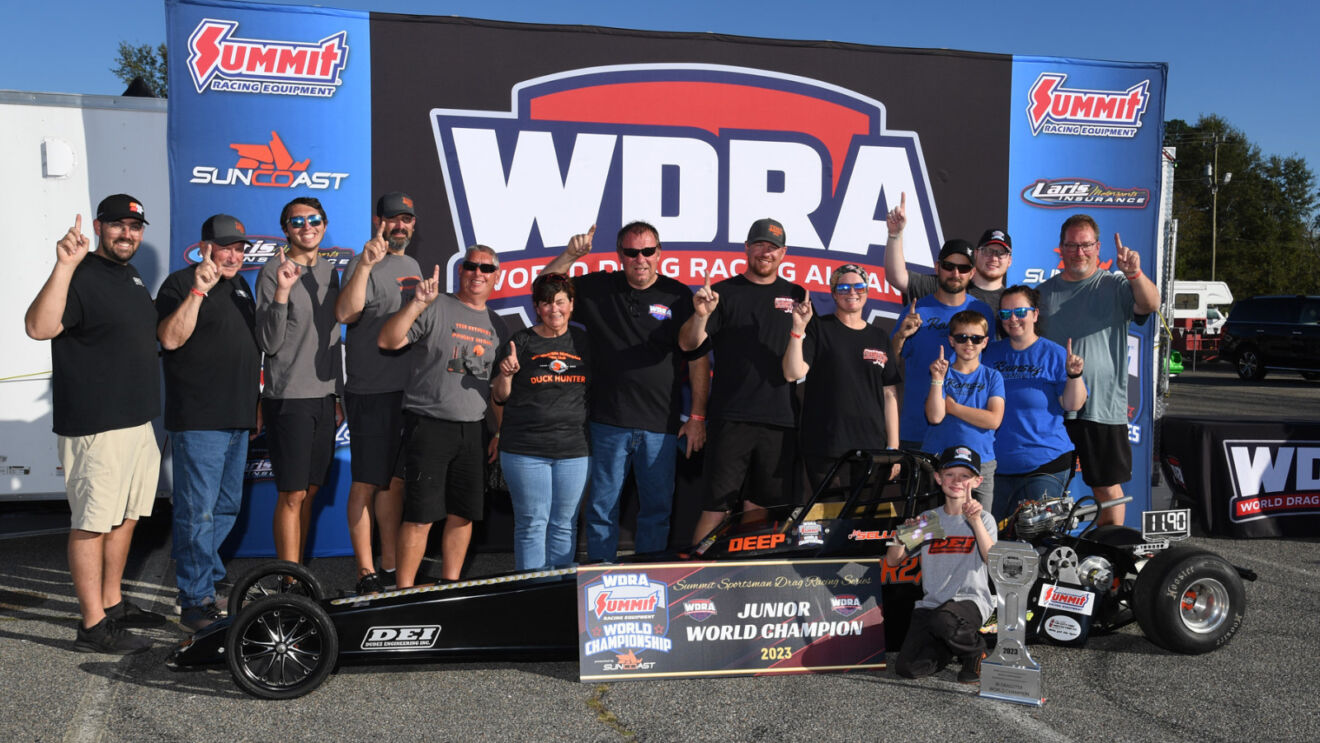 The 2023 season was only his second behind the wheel, but it also resulted in his second consecutive Junior Dragster Track Championship at Mid Michigan Motorplex in the seven to nine-year-old class. Selleck earned this year's championship after picking up eight wins and one runner-up during the eighteen-race points chase. Since Mid Michigan separates their junior class by age groups, all three champions then ran head-to-head, with Selleck winning both rounds and, therefore, the rights to represent his track at the 2023 WDRA Summit World Championships.
Mid Michigan Motorplex track operator Mike Ledford expressed confidence in the young Selleck's ability to represent his track. He said, "He made good runs all day and put the pressure on the competition. Well-deserved, and the kid made no mistakes all day."
Like most within the junior dragster ranks, Selleck comes from a family of drag racers, with his dad, grandfather, uncle, and niece sharing the staging lanes at various Michigan racetracks. This year, Alex matched the two-time track champion accomplishment of his father, who won in 2016 and 2018 but became the first in the family to earn a World Championship title.
Alex was surrounded with support during the family's first excursion to South Carolina with his father, A.J., mother, Miranda, and grandparents, Ken and Terry Selleck, in attendance at Darlington Dragway. The Selleck's met up with another Michigan racer and friend, Lucas Ramsey from Lapeer International Dragway, to make the 850-mile and approximate 14-hour tow together. In addition to the junior dragster drivers, Miranda mentions the family-oriented atmosphere at Mid Michigan Motorplex and the friendship between the other World Championship representatives, Jared Ledford in Box, Mike Gramlich in No Box, and Greg Dennis in Sportsman.
Selleck cruised through the field of fellow junior dragster track champions and WDRA Bracket Finals main event winners as one of only three racers in the 11.90 and slower age group. In the all-run event, it just happened that he staged beside a 7.90 or 7.70 second each round and watched his win light illuminate every time. Beginner juniors with a slower elapsed time are more prone to consistency issues, and the persistent wind on Saturday didn't make dialing in any easier. Selleck's junior varied from 11.97 to 12.13, but the young deep-staging driver found a steady spot on the tree and only varied two hundredths in reaction time all day.
Selleck defeated Emerson Green from Ubly Dragway, Eddyville Raceway's Camren Laffoon, North Florida Motorplex Champion and Gulfport Bracket Finals winner Grace Varner, and Wesley Clark from Union County Dragway before squaring up with another Michigan racer in the final round. Evan Muchler from US 131 Motorsports Park was .0001 red on the launch, while Alex Selleck was .032 green to earn the historic 2023 WDRA Junior Dragster World Championship. In addition to ten thousand dollars cash and the iconic WDRA Rod trophy, Selleck will also be granted free entry into any WDRA member track event next season with his WDRA Champion Card. Each WDRA World Champion will also receive an Alliance Race Wear custom firesuit, one free class at the Roy Hill Drag Racing School, Technocraft Trailer Cabinets $1,000 gift certificate, a set of Viking Drill Bits, and a Contingency Connection Championship Package thanks to the support from each sponsor.
Although the accolade will not fully sink in for some time, earlier this season, Selleck had remarked that winning the Mid Michigan run-off and earning a coveted spot at the WDRA World Championships was the best day of his life. After conquering the competition and becoming the 2023 WDRA Junior Dragster World Champion, he said, "I have a new best day of my life."
His parents have a better understanding of the magnitude of not only becoming a world champion but also the youngest in bracket racing history. Miranda stated, "AJ and I are so happy and very excited. We were a little nervous taking a 11.90 car because all junior parents know how inconsistent they can be, but we also knew how consistent Alex can be on the tree. He was as calm as can be during the entire race and very focused once he strapped in the car. Our biggest goal was to win a few rounds and represent our home track as well as we could."
Selleck certainly represented himself, his home track, and his family extremely well and will always hold a place in history as an inaugural WDRA World Champion. The drag racing community should keep their eyes on this one, as he has all the makings of a multi-time champion.
For more information about the World Drag Racing Alliance (WDRA) and the Summit Sportsman Drag Racing Series, visit our website at www.racewdra.com.