Radial Fest 2K14 was touted as having the world's quickest and fastest outlaws on radial tires and Nov. 2, at historic Huntsville Dragway in Harvest, Alabama, Brad Edwards proved that was nothing short of the truth by being the first to run a 3-second pass on radial tires in the eighth-mile.
Edwards recently set the stock suspension radial tire record at Holly Springs (MS) Motorsports' 3rd annual Fall Brawl with a 4.07 at 190.68-mph pass. Afterwards, he hinted that he was a likely candidate to be the first to the 3s, saying "I think the car will go 3.99; it may not happen and make me a liar, but I think it's capable and that's where this class is headed."
His prediction proved true, and Edwards was most certainly not made a liar. He clicked off a record-setting, absurdly quick 3.990 at 193.47-mph pass during the final round of Pro Drag Radial eliminations at Radial Fest 2K14. Edwards further secured his immortality not just by breaking what is likely the last major barrier in radial tire racing, but by doing so on a stock suspension car. To sweeten the moment even further he also picked up the class win.
Running on Mickey Thompson 315 drag radials, Edwards' car is a '97 Mustang Cobra–a real Cobra–powered by a Harrell Engine & Dyno-built 555 c.i., billet big-block Chevy motor with cast heads and intake. Boost is supplied via a set of GTX94 Garrett turbochargers, and the car itself was proudly built mostly by Edwards himself in his father's garage.
Regarding the conditions at Radial Fest, Edwards has got nothing but praise for the track prep team. "Tyler Crossnoe and Jason Rueckert at VP Racing Fuels definitely know what they're doing. Tyler got the track together so well, anybody could look like a hero on that track," Edwards said. "I told them if they could give me the right surface, I'd give them a record. I really didn't it expect to happen like this!"
Edwards let loose with a barrage of record-setting passes during the two-day event, including a string of 4.03-second runs, before ending with the grand finale blast in the final.
"I felt the car could do it if it could stay together, and we got it right this weekend," Edwards added. Not only did he get it right, but he did so with a car that was almost a hundred pounds overweight at 3,192 pounds when it hit the scales.
"The car had been running so consistently with the 4.03s that I knew it could run a 3.99. I had been hanging out in Jamie Hancock's pit area the night before until about midnight, and I suggested we try and go side-by-side 3.99s in the finals. He agreed," explained Edwards. Unfortunately for Hancock, his radial equipped, nitrous assisted '04 Corvette got loose just shortly after the launch and struck the wall. Hancock walked away unhurt, but killed his own chance at breaking the 3-second barrier.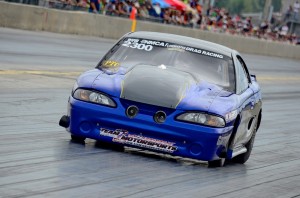 Hancock's wreck was disappointing, but Edwards won't let his friends' mishap take away from his own success. "I knew when my car made its gear change that it was on a 3.99 or better run. Chad [Honeycutt] screamed at me over the radios when we crossed the traps. It was an absolute dream come true!"
"The 3.99 barrier was the last great one that'll ever be broken in radial racing, and it's incredible to have done so," he said. Setting such an incredible record with a stock suspension car makes it even more unbelievable for Edwards, and he readily shared how happy he was to have had all of his hard work come to fruition.
"I worked my knuckles off for this pass. The car ran like a bracket car all day, it was so consistent. If you had asked me to describe my picture-perfect, dream-come-true day, this was it. It just couldn't have been any better."
Now that Edwards' race season is over, Edwards said he's focusing on securing funding for his 2015 program. "I need to go into PR mode and whore myself out so that I can race next year," he said with a laugh, happy that it'll be a lot easier for him to pick up sponsors after having claimed the first to the 3s honor.
Within hours of the pass, Edwards' car had been contracted to be featured at the upcoming Performance Racing Industry (PRI) trade show in Indianapolis this December. Also, judging from the deluge of messages and calls he received in response to his record-shattering pass, Edwards won't have too tough a time finding sponsorship.
"When we left to make the final pass, I cleared all my texts and Facebook messages. Before I got back to the trailer, I had over 200 friend requests, 47 texts, and 22 missed calls. I've lost count since then," laughed the man who will forever be known as having broken the barrier to the 3s.
After the excitement of what he's achieved settles down, Edwards plans to pull the Mustang's motor and freshen up a few things. "I think the car is capable of a 3.94 or 3.95 as it sits, but I really don't know where the end will be. I guess I'm going to try to be the first to the 3.80s now.
"When other guys figure out the front split like we have done, I know I won't stand a chance," added Edwards, who put down a 1.04-second 60-foot time and 2.70-second 330-foot time during the record-setting run.
"I don't want to do it, but I had been thinking about selling the car… well, the price just went up $50,000," he joked.
(DI.com file photos by Ian Tocher)