Veteran drag racing photographers Mark Rebilas and Gary Nastase have each been recognized with photojournalism awards for shots taken during the 2012 NHRA national-event season.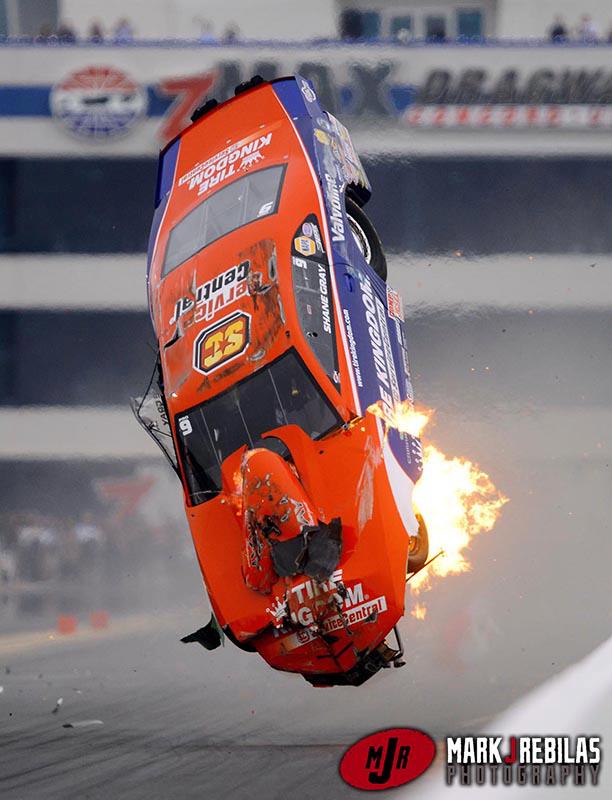 Rebilas, a frequent DRAG ILLUSTRATED contributor from Phoenix, Arizona, earned Photo of the Year honors, as well as first place in the Crash Photography category, from the National Motorsports Press Association (NMPA) for his image of Pro Stock driver Shane Gray crashing at zMAX Dragway in Charlotte. Additionally, he tied in points for Photographer of the Year Tom Pennington of Getty Images, but finished runner-up according to a tie-breaking rule.
The entire crash sequence can be seen on the second page of the Charlotte event coverage at www.RebilasPhoto.com.
Nastase, of Rancho Cucamonga, California, will receive the prestigious Russ Catlin Award during the NASCAR Sprint Media Tour in Charlotte this week. Nastase, who primarily shoots for a variety of publications on the NHRA Mello Yello Drag Racing Series, won this year's photojournalism award for a shot of the Grime Boss Chevrolet Impala Funny Car being driven by Todd Lesenko blowing up at the finish line at Mac Tools US Nationals in Indianapolis.
"This is a huge personal honor for me. To be recognized by such a distinguished group from the Indiana School of Journalism is amazing. It is unusual for an image from NHRA to be recognized so I am thrilled to help raise the awareness of a sport that I love to cover," said Nastase, prior to the award presentation event.
"Last year Will Lester won this award with an NHRA image. To join Will and all the other amazing professional photographers covering motorsports as a Russ Catlin award winner is very cool."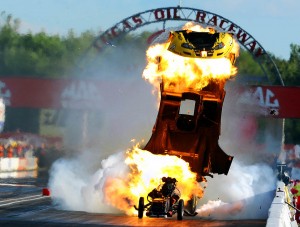 Nastase has been covering the NHRA for over 30 years and has additionally covered the LA Kings of the NHL as well as a select number of NASCAR events.
Awards of Excellence winners receive a special plaque to commemorate their achievements along with a $1,000 scholarship to be donated as a scholarship to the school of their choice. Their names will also be added to the physical Russ Catlin Award, which is displayed at Charlotte Motor Speedway. As in years past, professors and faculty from the Indiana University School of Journalism provide an independent review of all entries to determine the winners.
" I am pleased to announce that my $1,000 scholarship will be going to Mount San Antonio College photography department," Nastase said.
The categories for the 2012 Charlotte Motor Speedway Russ Catlin Awards for Excellence in Motorsports Journalism included writing entries for daily newspapers, writing entries for other forms of written media (internet, weekly, etc.), broadcast entries for local radio and television, broadcast entries for national radio and television, and photojournalism entries. Any type of motorsports coverage from the 2012 season is eligible.
To see the complete sequence of Lesenko photos or additional shots by Nastase visit www.garynastasephotography.com
(Photos by Mark J. Rebilas and Gary Nastase; Click to enlarge)