Justin Lamb began the 2017 season with hopes of winning a second NHRA Super Stock national championship in his trusty Silverstate Plumbing Cobalt. He also planned to make a mid-season debut in his new Redback Boots '17 COPO Camaro in Stock. By the time all the points were counted at the end of the season, Lamb earned the NHRA Lucas Oil Series national championships and Division 7 titles in Super Stock and Stock. Teammate Kyle Seipel also scored a Top 10 finish in NHRA Top Dragster national standings.
"What we accomplished this year really hasn't set in yet, but there are times that really make it feel real," Lamb said. "We went to the Division 7 banquet over the weekend. I'm going to say if 15 people spoke at the banquet, 10 of them mentioned our season. When others start noticing, it almost makes it more real – makes me realize maybe it's bigger than I think it is."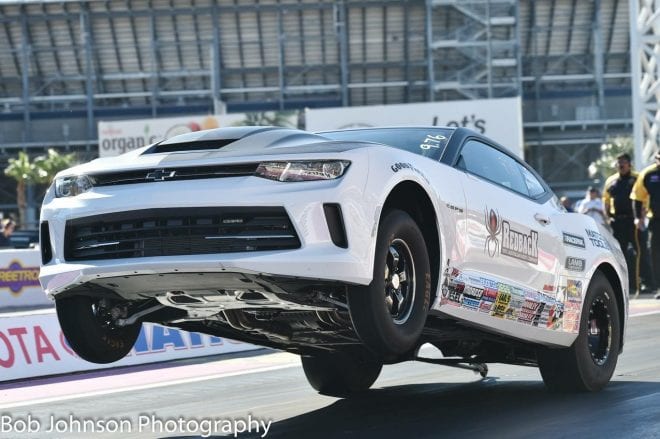 In Super Stock, Lamb appeared in three national-event final rounds, winning his first Wally of the season at the NHRA Winternationals in Pomona. He won all three of his final-round appearances on the divisional level, including a double-up at Woodburn. Lamb raced to two Stock runner-up finishes in national-event competition, finally scoring the new Camaro's first big Wally at the NHRA Toyota Nationals in Las Vegas. His divisional scorecard in Stock was highlighted by the Super Stock/Stock double-up at Woodburn.
Lamb is now a two-time world champion in Super Stock and Stock. He previously won the Stock championship in 2013 and the Super Stock championship in 2015.
"It's hard to say what's next after this," Lamb admitted. "I guess I don't picture ever having a year like this again – it's almost unbelievable – but that's the same thing we said in 2015 when I won the world, Kyle finished Top 10 in Top Dragster, we both won a bunch of races – it was a great season. We all thought it would be hard to top, and here we are two years later and we absolutely topped it."
In addition to his four championship honors, Lamb was selected as the Driver of the Year at the NHRA Division 7 Celebration of Champions at Sam's Town Hotel & Gambling Hall in Las Vegas on Saturday, Dec. 2.
"It was pretty cool to receive the Driver of the Year award," Lamb, 30, added. "People from all different classes recognized that I had a good year. You need to have a car number in Division 7 to even vote on it, so it was cool that my peers took the time to write my name on the ballot."
Seipel, Lamb's teammate and co-tuner, also enjoyed a rewarding 2017 season that saw him score a pair of runner-up finishes on both the national-event and Division 7 levels. Seipel and the Palmer Electric Top Dragster finished the season ranked 7th in national points and 3rd in the Division 7 standings.
"A realistic goal that I set every year is to finish in the top 10, and if I can do that I'm very happy with the year," Seipel said. "I was very satisfied with the No. 7 finish. We also won a big bracket race in Tucson in March. I think it was more gratifying, obviously, to help Justin win the two world championships. Very, very excited about this season."
Seipel was recently named the new Drag Racing Manager at Sonoma Raceway. The position was previously held by Seipel's mother, Georgia, who's worked at the northern California facility since 1988. Seipel will juggle his new duties along with co-promoting a series of big-money bracket races – the Spring Fling Million in Las Vegas, the Spring Fling in Benson, N.C., and the Fall Fling in Bristol, Tenn. – and racing a redesigned schedule with Lamb Motorsports in 2018.
"I'm looking forward to this new position," Seipel added. "It's going to be a busy year next year. Justin and I are going to focus on the nationals and bracket races. Justin has a newborn and a 4-year-old. I have a 4-year-old and a 12-year-old daughter at home. I think you try to get the best of both worlds; you want to have fun racing and you want to give it your best effort, but there's only so much time you can be away from home. I want to focus on the three Flings that Peter (Biondo) and I do, and my job at Sonoma, then still have some time to race with Justin."
While the Henderson, Nevada-based Lamb Motorsports duo will adjust their racing schedule in 2018, Lamb anticipates another major championship push in the coming years, though not necessarily for himself.
"Kyle works so hard and he puts in so much effort," Lamb said of Seipel. "I really think the next step for me and as a team is seeing him win a national championship. We're both changing our focus to concentrate on national events and bracket races next year, but in the next couple years I would like to do everything we can to help him win a national championship.
"He's probably one of the best drivers who's never won a national championship. He's won so many division championships, ET Finals championships – he's won everything but a national championship. I just think it's something that he absolutely deserves. He puts in the effort to get there, it just hasn't gone his way. I would love to be able to help make that happen for him in the next few years."
Lamb and Seipel both pointed out that their dream season would not have been possible without the support of Lamb Motorsports team owners Chris and Carole Lamb, as well as the backing from major sponsors like Redback Boots, Silverstate Plumbing, Palmer Electric, Moser Engineering and Matco Tools.