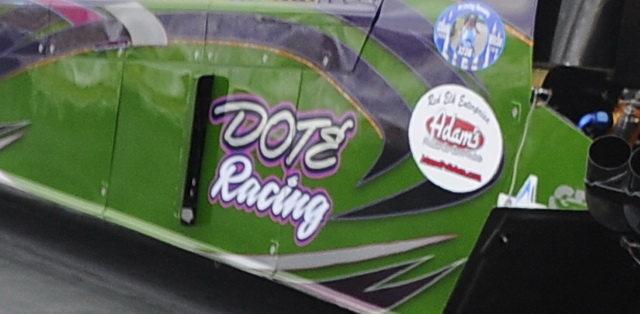 NHRA Top Fuel team Dote Racing announced Jan. 4, that former Hot Rod Heritage Series Champion and multiple NHRA Pro Mod national event winner Leah Pruett will drive the Dote family-owned dragster in the 2013 NHRA Mello Yello Drag Racing Series, with the team's partial schedule beginning in February at Pomona, California.
Pruett, 24, who began obtaining her Top Fuel crossover license in late 2012 with Dote Racing, will complete her licensing requirements at the upcoming Pro Winter Warmup at Palm Beach (FL) International Raceway later this month.
Based in Monroe, Ohio, the Dote Racing Team is led by veteran crew chief Doug Kuch who tuned the team to two semi-final finishes with Hilary Will behind the wheel in 2012, in addition to qualifying the car in the ultra-competitive field at all 11 NHRA national events the Dote Racing Top Fueler entered. Past NHRA Top Fuel World Champion Larry Dixon also drove in three races for the Dote team last year.
The team is actively seeking sponsorship for 2013 and beyond, with eyes on expanding their limited schedule into full-season contention.
The opportunity for Pruett comes on the heels her highly successful two year stretch as a Pro Mod pilot for once mega team R2B2 Racing. While at R2B2 for nearly two seasons, Pruett kept her Nitro Funny Car license active by driving the team's Nitro Funny Car tuned by Aaron Brooks and John Medlen at multiple test sessions throughout 2011 and competed in Funny Car at the US Auto Plus Nationals in Maple Grove, PA.
Most recently, Pruett scored three national event titles in the challenging NHRA Pro Mod Series presented by ProCare Rx. She is also the 2010 NHRA Hot Rod Heritage Series Champion in Nostalgia Funny Car with wins including the famed March Meet and Hot Rod Reunion while driving for legendary tuner and chassis builder, Steve Plueger.
The 2013 season will mark Pruett's 17th consecutive year competing in the NHRA, while also making her eligible for the Rookie-of-the-Year honors in the NHRA Mello Yello Series.
"We are excited to add Leah Pruett to our team for the 2013 season," said Connie Dote, manager and co-owner of Dote Racing.
"She brings with her a youthful approach and, despite her youth, she has demonstrated an untapped talent successfully driving nostalgia funny cars, as well as her breakthrough performance in the pro modified class. We believe and expect she will be a solid force in this highly competitive category and will represent herself, Dote Racing, and our current and future sponsors extremely well."
Dote Racing has expanded their limited schedule to include the Winternationals, Arizona Nationals, and New England Nationals in addition to the 10 regularly scheduled East Coast and Midwest-based national events.
"I'm beyond thrilled," said Pruett. "I truly enjoyed testing the Dote Top Fuel Dragster in St. Louis last season and am very anxious to complete my cross over license, and lay down some fast times at PBIR, not to mention competing in the most prestigious class in all of drag racing.
I'm sure everyone can't wait to get nitro back in their veins, but I assure you, no one is more ready and hungry for it than me." she added. "I have the utmost appreciation for the opportunity the Dotes are giving me to expand my driving capabilities into Top Fuel, and I intend on making crew chief Doug Kuch and the entire Dote Racing team proud of their decision to hire me."
(Photos courtesy NHRA/National Dragster)