Since cofounding the National Mustang Racers Association (NMRA) in 1998, then leading the charge for parent company ProMedia to also acquire the National Muscle Car Association (NMCA) early in 2005, Steve Wolcott has been significantly influencing the fast doorslammer scene for nearly two decades. Now president and CEO of ProMedia, Wolcott continues to usher in significant changes for both series, including an internal cultural overhaul of how it conducts business.
"We had a major organizational change back in 2013. We essentially have an all-new event division since then and what we did is we sort of learned—and I'll give a lot of credit to Bill Bader at Summit Motorsports Park—we learned what real customer service is about and we especially learned about how critical it is to apply that in every aspect with our racer base. And knowing that these guys and gals come out, they're spending their expendable income, they're using their vacation days, they're taking time away from the shop or the business to race with us, we have got to make sure they're having fun," Wolcott states.
"So we initiated a customer service program we call ProPledge, which basically is a customer service commitment to our racers and our fans. And ever since we instituted that and made it a part of the fabric of our company, we got total buy-in from all of our event workers, all of our in-house workers and we're all pulling the rope in the same direction and really making some neat things happen right now. We feel really, really good about 2016 because we just came off of the best year we've really had since post-recession. We're feeling really good about both NMCA and NMRA."
Beginning in March and ending in September, the NMCA and NMRA will each conduct four unique events, with doubleheaders featuring both series at Atlanta Dragway in April and Rte. 66 Raceway near Chicago in July. Added in 2012, NMCA West also will conduct four standalone races this year, all at Auto Club Dragway in Fontana, California.
And with 12 NMRA classes, plus bracket racing, and 13 NMCA classes (plus brackets), including two new additions for 2016—Factory Super Cars and Xtreme Pro Mod—the two ProMedia series offer outlets for almost any level of doorslammer drag racing. These follow the creation of NMCA Radial Wars two years ago to address the growing fascination with eighth-mile drag radial competition.
"When our Super Speed (10.5W) class was shrinking we decided, 'You know what, we've always been a quarter-mile association, but let's try running an eighth mile; let's modify that Super Speed class and let's call it Radial Wars and see what this eighth-mile thing is all about,'" Wolcott says. "And huge, huge success. Major names coming out, like our champion Keith Berry, like Dewayne Mills, like Mark Woodruff, supporting the series and loving it. Now they've got a series they can run between March and August, yet they can still participate in a lot of those great outlaw events that are so important to what they do.
"Then we took the same formula and applied it to our Street Outlaw class, and now in 2016 our new Xtreme Pro Mod class is going eighth mile as well. By doing that we're answering what the market wants. We're not trying to dictate to the market what they need to do. We're trying to respond to what they want."
Wolcott admits adding an eighth-mile component to NMCA events required a substantial change in thinking for the organization, but it was the right decision for the times—especially when it came to the Pro Mod racers they felt were most likely to gravitate toward a new venue.
"What we came to realize was that by hanging onto an all-quarter-mile program, we were going up against NHRA and their Pro Mod deal and the Real Pro Mod (RPM) deal. And what we were finding was the guys that want to run quarter mile really wanted to run with the RPM group and NHRA. And then we had the PDRA and they have three Pro Mod categories, all eighth mile. So we thought, you know what, we're a grassroots racing association and the fit for us is better at eighth mile and that gives options. So weekends, when PDRA is not running, a lot of those guys can come compete with us."
Wolcott stresses the new NMCA Factory Super Cars class will be held on the quarter mile, however, and competing at all six events for an NMCA world championship.
"It's the first true heads-up class for the modern Cobra, Cobra Jet, COPO Camaro and Drag Pak Challenger. That is something those vehicle owners have been asking NHRA to do for quite some time but unfortunately it has fallen on deaf ears—and I'm not saying that in a bad way," he insists. "NHRA has a lot of things going on. They could not accommodate them. Fortunately, NMCA can.
"And these guys are stars in our book and we can roll out the red carpets for them. We don't have to park them at the top end in the weeds. We're going to put them front and center and treat them like the stars that they are. You'll see the John Calverts of the world, the Chris Holbrooks, Chuck Watson, Sr., guys like that."
Wolcott recognizes the challenges involved with running three distinctly different manufacturer combinations, though, and says weight breaks will be applied as necessary to maintain parity within the class.
"Typically what will happen with all of our heads-up categories is we do some mid-season rules adjustments, very light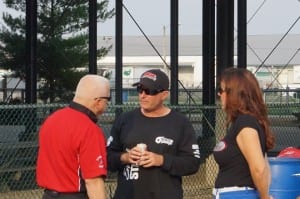 if at all," he explains. "It's not something that we like to do if things are looking good. We're only looking for anything that might be really out of the ordinary, and I'd like to say it never happens but occasionally it does. And we'll usually do that right after the third race—but not until communicating with the racer base and making sure that it's the right move, that the people it affects understand why we're doing it and after a lot of good dialogue with our competitors so they're not caught off guard."
Overall, Wolcott says he's not only encouraged by the state of NMRA and NMCA heading into 2016, but by the state of drag racing and motorsports in general. He points out being an event promoter "requires being an eternal optimist," but points directly to lower fuel prices as the single greatest factor in bolstering racer participation.
"We lost racers when diesel fuel was four or five dollars a gallon because people just could not afford to tow from Pennsylvania down to our Florida race and so forth, and once you miss a couple of races and you're out of the top 10 in points, well, you know what? Then they start thinking, 'I might just go to the one or two races that are near me,' and car counts suffer. Now, travel costs are so low. And for us, for most of our racers, they're not connected to Wall Street. If there's an up or down in the stock market, that's not really affecting them, but when their own businesses are doing well and they can travel cheap, they're going racing, and that all lines up to be the signs you want to see for a good year."
This story originally appeared in Drag Illustrated Issue No. 107, the #Trending Issue, in March of 2016.