Donnie Hagar sits in his truck and open trailer pulled over 30 minutes away from his home in Michigan. He is still making the trek from the World Wide Technology Raceway after a history-making win at the 28th Annual Million Dollar Drag Race.
Hagar is the first no-box racer in the history of drag racing to win a Million Dollar Race with no delay box. The 25-year-old defeated legendary bracket racer Shane Carr in his 1972 Chevy Vega with a mild-383 motor in the final round to take home the $590,000 to win. It was a gut feeling and a little encouragement from his dad that put things in motion for Hagar to enter alongside the 471 entries.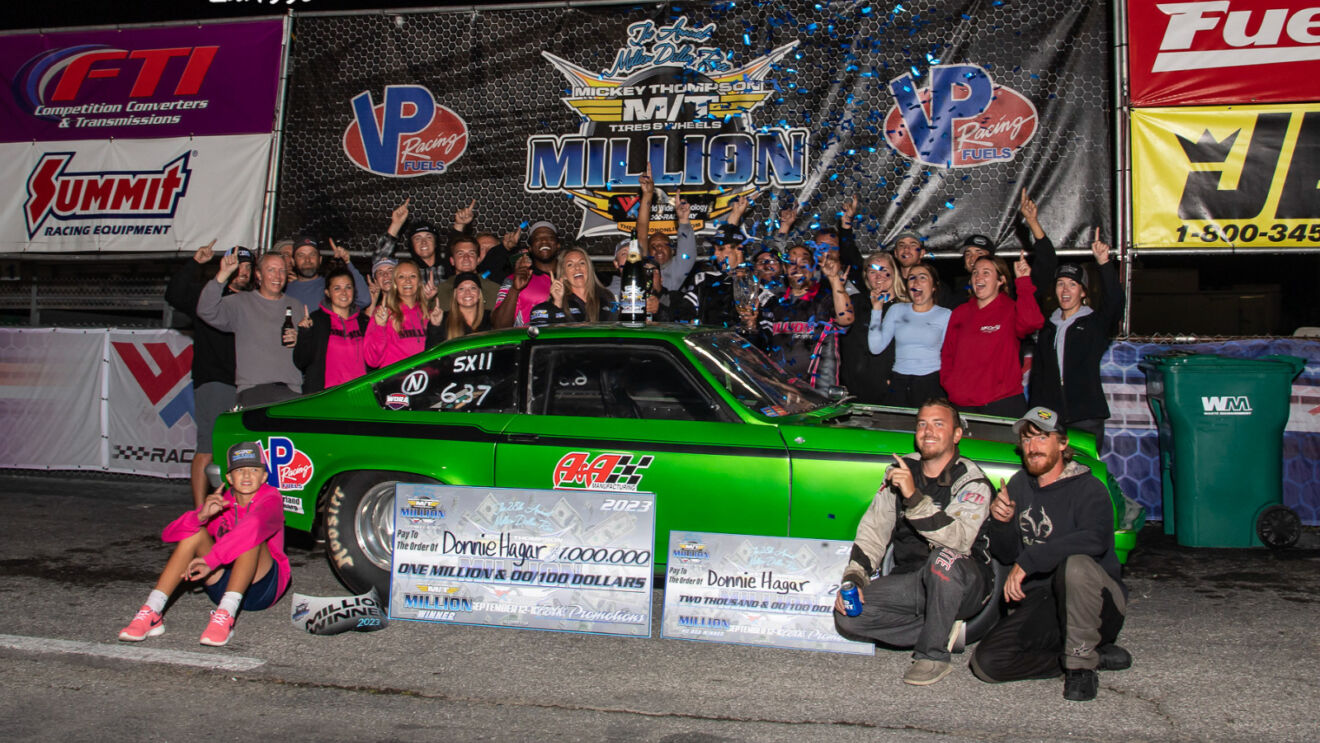 "I really didn't decide to go until the day before the Million – it was kind of weighing on my mind," Hagar explained. "Something was kind of like just telling me I should go and thought that's like a lot of money. I ran it by my dad, and he's like, yeah, you should go, so it was kind of like a last-second thing."
Hagar, who is an EMT and a certified firefighter, worked a 24-hour shift on Wednesday, got up on Thursday morning, loaded everything up and left Thursday night for St. Louis, Missouri. A couple of naps later, he arrived at WWT on Friday during time trials.
"The weekend of the Million started Tuesday, and that's when most everyone got there," he explained. "So I figured by Friday, the day of the Million, people would start to become a little fatigued and run down from the late nights. I thought by getting there the day of the Million, I would be more sharp and fresh compared to everyone else. That was one of the reasons why I got there Friday and [didn't go for the] entire week."
After single-entering the Million Dollar Race for $2,000, Hagar hastily prepared for a time trial. However, that didn't seem to slow a tired Hagar down.
"I think success in bracket racing is mostly mental, and I give myself credit for staying locked in the present moment and finding a state of flow," said Hagar. "The race started, and I was just taking it one round at a time. I think that's all sometimes you can do in drag racing, you know, not overthink it."
He focused on winning round after round and staying present in the moment, even commenting that it was like an out-of-body experience as he was "watching" himself compete throughout the day in his second-season car.
"I wasn't thinking about the future or the past. I remember I was just really locked in," Hagar continued. "I finally started to realize, like wow, I can win this. I think I basically just found the zone. I had a couple rounds where I was lucky and just had a couple where I was really good when I needed to be."
Even though Hagar traveled from Michigan by himself to compete in the Million Dollar Drag Race, he credits a fellow Michigan racer, Larry Stoker and his brothers, for helping him throughout the day. He was pitted next to them, where he slept in a tent.
"[Larry] was there running the 50-granders and was entered for the whole weekend," said Hagar. "He hurt his motor early in the week and that was another reason I went. I got a hold of him and told him I'm sorry to hear that, but asked him what are you going to do with your last 50K entry if you can't run it. He's like, I don't know, but you can run it if you want. That allowed me to use his entry on the last day. He was helping me if I needed an extra hand and feeding me."
In the semifinals, Hagar was .004 total package against Mikey Bloomfield's nine-total package. Hagar was merely one pass away from his celebration as the $2,000 No Box bonus winner. In the final round, he staged up next to Shane Carr, who claimed the coveted Million title in 2012.
As Carr reversed from his half-track burnout, Hagar smoked the tires of his 1972 Chevy Vega and rolled towards the starting line. Both drivers carefully bumped into the stage beams, and Hagar left first with a .005 reaction time, followed by the .001 red light of Carr.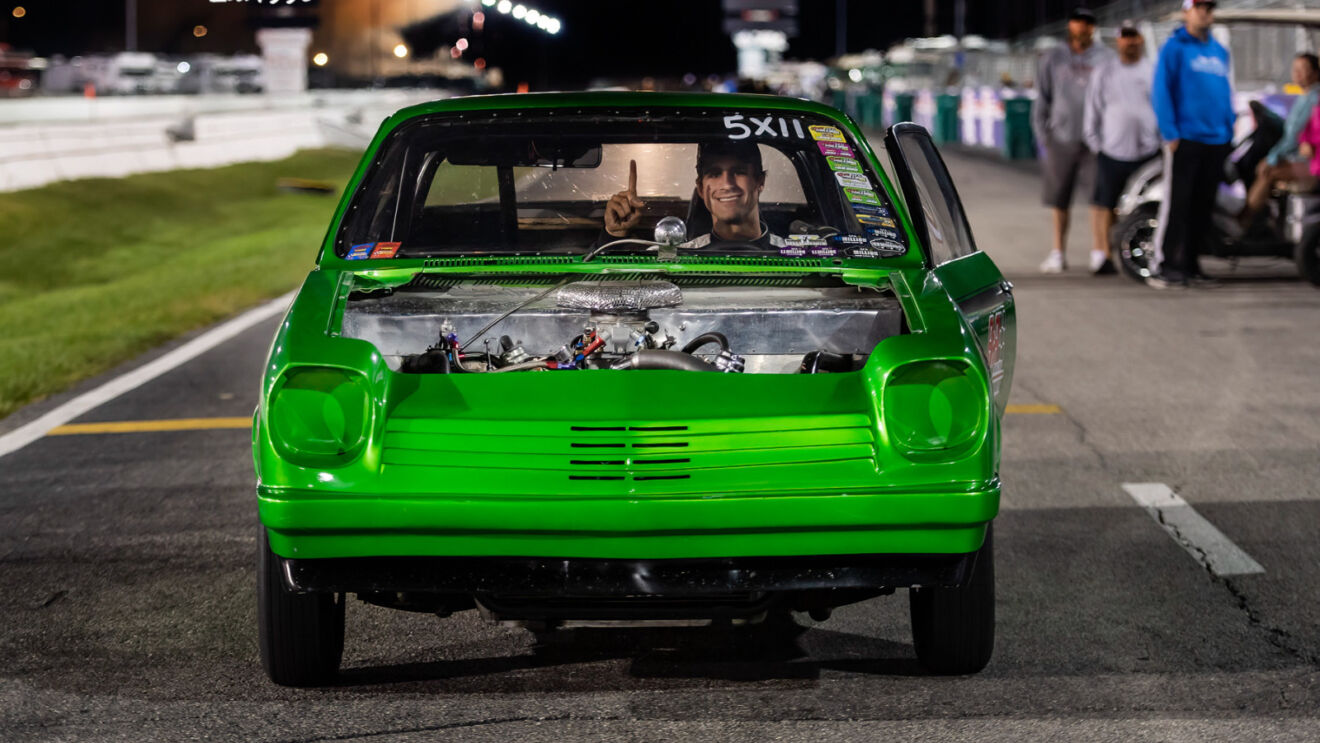 After winning ten rounds, with no buybacks and only one entry, Hagar made history by becoming the first No Box racer to compete in the original Million Dollar final round.
When asked if his win has sunk in yet, Hagar stated, "It's starting to, but it's still weird. It still feels surreal. Before this happened, I always imagined myself being super pumped up and excited if I won something like this. I don't know why, but it still hasn't set in all the way."
As far as what Hagar is going to do with his winnings, he said he plans on investing in his racing program and then consulting with fellow big-money bracket racers and possibly a financial person on how to invest.
"I drive a really old truck, so I should probably invest into either a new truck or a motor home, he said. "I'm thinking enclosed trailer and a newer truck, and probably put a little bit of money into my car, make it a little bit better."
Lastly, Hagar also thanked the help of his dad. "My dad, Ron, deserves a lot of credit. He has the mechanical knowledge and is the reason my car goes down the track."