Just five weeks after taking the internet by storm with his win at one of the longest-running big-money bracket races in history, Donnie Hagar returned to the headlines as the first WDRA Summit No Box World Champion. Hagar's recent success made him an overnight sensation, with various drag racing media sources reaching out for interviews and even professional Top Fuel driver Clay Millican mentioning him in a post-race interview.
However, his skill behind the wheel is nothing new for competitors and friends at his local racetracks. The soft-spoken Michigan native secured his spot at the exclusive WDRA Summit World Championships presented by SunCoast Performance via his second consecutive No Box track championship at US 131 Motorsports Park.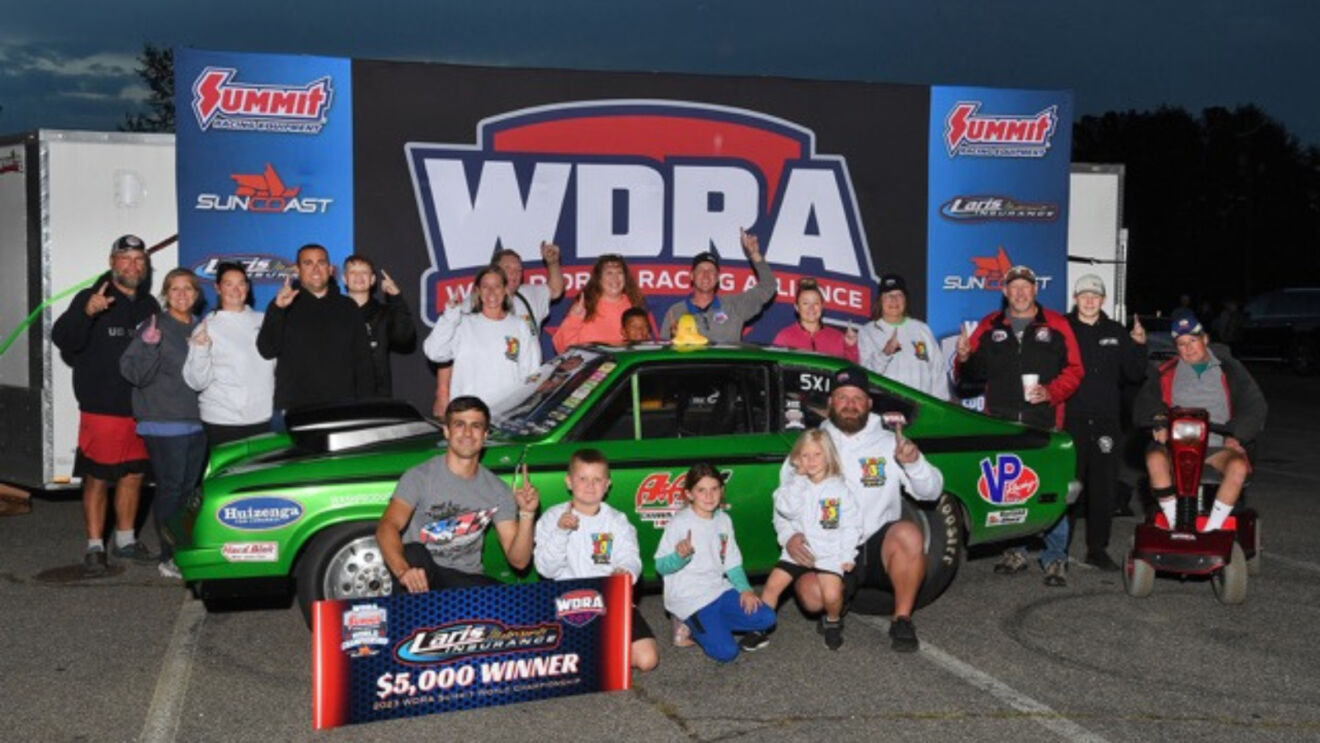 As the very definition of a weekend warrior, Hagar hopped into his 352,000-mile Chevy Silverado for the twelve-hour haul down to Darlington Dragway with his '72 Vega on an open trailer in the rearview mirror. After arriving, he proceeded to win eleven straight rounds over two days to collect the Laris Motorsports Insurance Free $5K prize on Friday and the WDRA Summit No Box World Champion title on Saturday.
The twenty-five-year-old full-time firefighter and EMT skipped over the junior dragster ranks and began his decorated racing career at sixteen years old behind the wheel of his current tow truck. During his first season, he racked up ten final-round appearances with a top payout of $1,200 while competing in both the Street and No Box classes. The following season, he purchased a Firebird and then eventually added the now well-known green Vega to his racing operation.
As a second-generation drag racer, Hagar attributes a lot of his success to his father, who first introduced him to the racetrack. He explained, "As early as I can remember, it was me and my dad at the racetrack and that's where it all started. I've had a fire in me ever since I was young, and watching his passion for the sport is a big reason why I am where I am today." Hagar also joined the Phil Veldheer Racing team at the end of last season and has appreciated all the support he has received since.
Hagar eliminated fellow track champions on his way to the winner's circle, such as Brian Yerger from Darlington Dragway, Kris Bunch from Sumerduck Dragway, and Tommy Duff from Kinston Drag Strip, but also defeated the Keystone Bracket Finals main event winner, Charlie White. In the $20,000 final round, Empire Dragway's Brandon Iamele launched with a red light while Hagar was .028 green for the 2023 WDRA Summit No Box World Championship victory. Through one time trial and five rounds of eliminations, the calm and collected Hagar had a .0122 average reaction time.
Hagar is not easily excitable but confessed that a World Championship has been on his mind, and it could not have happened at a better time. After being prompted with his impressive résumé over the last few weeks, he replied, "Yeah, what a year! Winning a World Championship was on my bucket list, and I've made three or four World Finals trips, but this weekend I didn't lose a round. It's surreal."
In addition to twenty thousand dollars cash and the coveted WDRA Rod trophy, Hagar will also be granted free entry into any WDRA member track event next season with his WDRA Champion Card. Each WDRA World Champion will also receive an Alliance Race Wear custom fire suit, one free class at the Roy Hill Drag Racing School, a Technocraft Trailer Cabinets $1,000 gift certificate, a set of Viking Drill Bits, a Contingency Connection Championship Package, a trailer safety package from JJ Supply of NC, and Renegade Race Fuels gift certificates thanks to the support from each sponsor.
Hagar admitted there will be some upgrades to his racing operation following his Million Dollar Drag Race victory, plus the $25,000 he accumulated during the WDRA Summit World Championships. Although you may find him in a newer truck and pulling an enclosed trailer, "Double-O Donnie" will almost certainly continue to compete without a delay box. He said, "I don't see myself ever using a delay box. I've always been off the bottom [bulb] and even the times I've practiced at home, I just feel that I'm better off the bottom [bulb]."
For more information about the World Drag Racing Alliance (WDRA) and the Summit Sportsman Drag Racing Series, visit our website at www.racewdra.com.