From the beginning of his national-level Top Sportsman racing endeavors, Dan Ferguson has always raced on a little bit of faith, help from some good friends, and a whole lot of hard work. With his shoestring budget, it was never certain where money would come from for the next trip. But, somehow, he always made it work. Two championships and a runner up finish later, Ferguson was back to the drawing board. Having completed a one year stint as driver for Dale Pittman, Ferguson decided to fix up his trusty old Firebird, a car that's a decade older than that of most of his competitors'. Once again his faith and hard work kept him pushing forward, despite overwhelming odds. Little did he know, a certain oil and gas construction manager from Louisiana had something else brewing for Ferguson.
Henry Dogay has enjoyed going fast ever since he first sat behind the wheel. He started with street rods, worked into big money bracket racing and then, in 2014, built a Pro Mod caliber car to compete in PDRA Top Sportsman, a Jerry Bickel '68 Camaro. Dogay claims it's as much as a show car as a race car, with "so much wax you probably can't stick decals to it." The car boasts a brand new 959 Pat Musi engine, a three-speed Mark Micke lockup transmission and converter, and is plumbed and wired for six systems of nitrous. The interior is all carbon fiber with an exterior paint job designed by Greg Ozubko and executed by SD Enterprises with House of Kolor paints.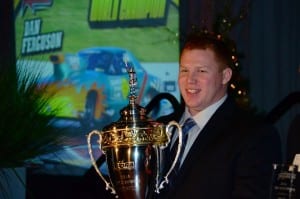 Due to Dogay's work overseas, he's only able to take the resplendent hot rod out a handful of times each year. During one of those trips in 2016 he connected to the humble champ from Pennsylvania. They quickly hit it off and kept in touch. Dogay also kept a close watch on Ferguson's journey to update and repair his Firebird. About a month ago, Dogay began to see Ferguson might not finish his the overhaul in time for the first PDRA event of the season. So after sitting on his thoughts for a few weeks and talking things over with good friends Bryant Marriner and Rick Fogle, Dogay called Ferguson Tuesday after the New Year and offered him a ride for the 2017 season.
"He couldn't find the words to thank me," Dogay said of Ferguson. "I told him he didn't have to thank me. I know he'll take care of my equipment. I know Dan and Rick [Fogle, crewman] will take care of the car like it's theirs.
"I could find a driver anywhere," Dogay admitted, "but me and Dan are real close. Dan is a hell of a drag racer. I've watched him race from the tree. I've watched him race top end. He's good on both ends."
"This is an unbelievable opportunity," Ferguson expressed. "I was excited about getting the Firebird back together, but it's just not the caliber of car Henry's Bickel Camaro is, and it still needs a lot of work. How could I possibly pass up an opportunity like this? Henry is a really amazing person and friend. To be able to race with him this year as a team to defend my championship is an honor."
Since the PDRA's inception, the Top Sportsman category has increasingly grown in prestige and competition. The current ET record in Top Sportsman is an astounding 3.840, a high mark for a bracket car. As a notorious PDRA boaster, Marriner is confident Dogay's Camaro will overtake the record in 2017.
"Bryant's been doing his part keeping people thinking and talking online," Dogay laughed. "Pat [Musi] told me with a mild five system tune up we could get back to back mid 3.70s. So we're shooting for the national record in Georgia and, most importantly, the 2017 Championship. This whole time the pots been being stirred about who's going to break the record, Dan was going to be in my car to do it; he just didn't know it."