Every NHRA professional driver seeks one goal when the season opens in March at the NHRA Gatornationals, and that is to be in contention for a coveted NHRA Camping World Series Championship at season's end.
After 20 events in the 2023 campaign, Dodge//SRT racers Matt Hagan and Leah Pruett are in those vaunted positions as the Tony Stewart Racing (TSR) pair come to the NHRA finale this weekend (Nov. 10-12) in the NHRA In-N-Out Burger Finals.
For Hagan, racing for a World Championship is nothing new, having captured three NHRA Funny Car titles in 2011, 2014 and 2020. The driver of the TSR Direct Connection Dodge//SRT Hellcat Funny Car is right where he wants to be entering this weekend's event, leading the class by 15 points.
Hagan has had plenty of success at the famed Pomona, California, dragstrip throughout his career, with eight NHRA Funny Car victories, including last April in the NHRA Winternationals.
"We have led the Funny Car points for most of the season and have scored the most wins," said Hagan. "Dickie (Venables, crew chief) and our crew has given me a strong car all season long with this TSR Direct Connection Dodge//SRT Hellcat, and our plan at Pomona is to keep those performances going for another championship. We won at Pomona in April, so we know we have the setup for another win. I think we'll have to advance to the final for a chance for the title.
"We have lost three races in the 'Countdown' by inches, which has taken some points away, but we also have won two races (St. Louis and Dallas) in the 'Countdown' and those were big for us. I've won eight Pomona races in my career, so I feel confident coming to the final race of the year. We're ready with our Dodge//SRT Hellcat."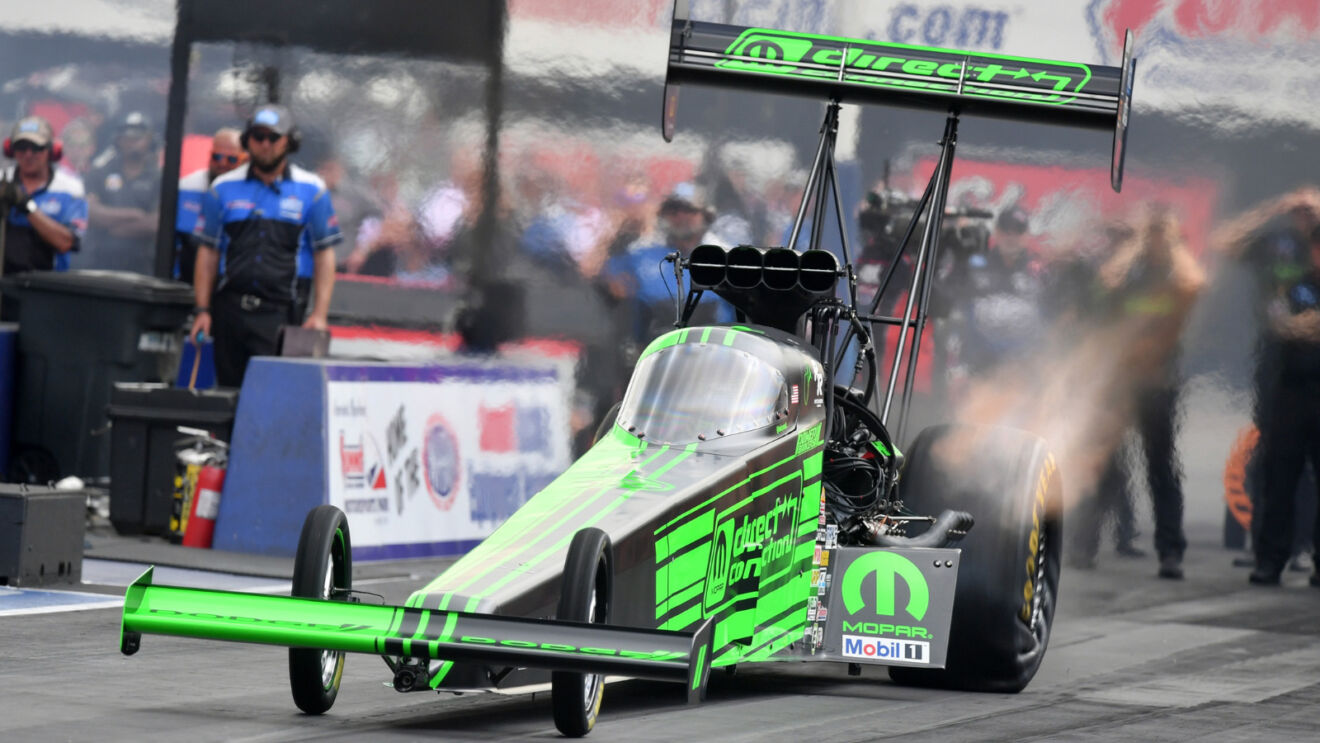 For Pruett, chasing a Top Fuel World Championship into the final race is a new experience, but she has the knowledge of her teammate Hagan and team owner Stewart, both multi-time motorsports champions, to help her quest for an initial pro title. She ranks third in NHRA Top Fuel points, 34 from the lead.
The Redlands, California, native has captured past drag racing titles including in Junior Dragster as a teenager, Nostalgia Funny Car and Factory Stock Showdown, so Pruett has experience entering final races with a championship on the line. Pruett is also no stranger to her hometown track's winner's circle, taking the Top Fuel honors in the 2021 Winternationals. She has two 2023 NHRA Top Fuel wins, at Norwalk and Dallas.
"Communication has been the key to our TSR Direct Connection Dodge//SRT crew this year," said Pruett. "Last year (2022) was our foundation season for TSR and we built on that in 2023. We have crew members who have won championships with other teams and that helps us heading to Pomona now. Neil Strausbaugh (Pruett's crew chief) is in his second season as crew chief and he has worked with a new chassis, blower combination and fuel system this year. So, it takes awhile to get all of the elements together, but we feel we are at our peak performance now.
"Going to Pomona, our team will look over all of the combinations we have had throughout the year. In the 'Countdown,' our car has been very consistent and at top performance. We have been filling in our 'playbook' so we can be our best at Pomona. We started early this year, as our Direct Connection Dodge//SRT Top Fuel team made more runs than anyone in testing. We made 27 'hits' before the season-opening Gatornationals and we established a good program this year to compete for a championship in the final race."
The NHRA In-N-Out Burger Finals event schedule will have two nitro qualifying sessions on Friday, Nov. 10, at 1 p.m. and 4 p.m. PST and two nitro qualifying rounds on Saturday, Nov. 11, at 1 p.m. and 4 p.m. PST. The final eliminations will begin on Sunday, Nov. 12, at 11 a.m. PST.
The Fox Sports 1 telecasts for the NHRA In-N-Out Burger Finals will air qualifying rounds on Sunday, Nov. 12, at 2 p.m. EST. The final eliminations will be televised on Fox Sports 1 on Sunday, Nov. 12, at 5 p.m. EST.