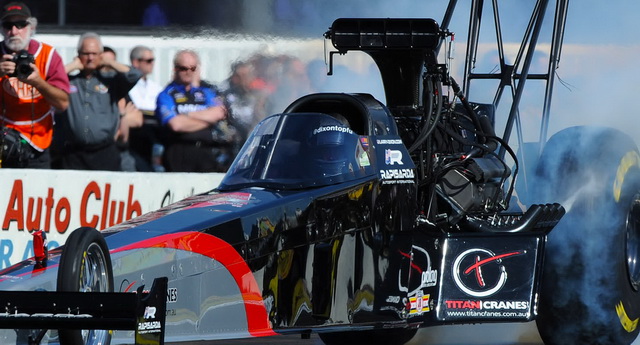 The Rapisarda Autosport International drag racing team's 2013 debut were literally the first runs for the operation when it rolled through the gates Thursday at the 53rd annual O'Reilly's Auto Parts NHRA Winternationals at the Auto Club Raceway at the Los Angeles County Fairgrounds.
Three-time NHRA champion Larry Dixon and title-winning tuner Lee Beard came to the 2013 season-opener with the Rapisarda family's Top Fuel dragster in hope to learn and test a new combination. Going against teams with several tests under their belt, the Rapisarda squad was ready to battle for a position in the 16-car field.
"We didn't want to get too aggressive with the car early," said Dixon, the second-winningest Top Fuel driver in NHRA history. "We prepared our runs as a test and I thought things went well. In the grand scheme of things, it wasn't a bad weekend at all for this new operation that includes Lee and me."
Beard's strategy was to have Larry make a half-track run in Thursday's opening round of qualifications and then work their setups into full runs on Friday and Saturday. Thursday's half-track pass was smooth and Dixon clicked the engine early at 3.968 seconds at 244.74 miles per hour.
"It felt great to be back in the race car and the crew worked very well through our weekend plans," Dixon said. "We were using some new parts and some used parts.  We dropped a few cylinders on the top end of the track in several runs during the weekend.  But I think we learned a lot at Pomona."
Dixon's 3.829 second run on Saturday afternoon was the best ever for the Rapisarda Autosport International team and placed Dixon13th in the starting field. He also recorded qualifying times of 3.848 and 3.897.
"We were one of a just a few cars to get down the track in all of our weekend runs," explained Dixon. "We didn't get into the 3.70s as we would have liked, but we have made just five runs compared to some teams with 25 to 50 runs already. We were pleased how the team worked together for the first race and there is potential. We'll get more information to use this coming weekend at Phoenix."
In the first round Sunday, Dixon lost a close race against defending NHRA Mello Yello champion Antron Brown with a clocking of 3.881 to Brown's 3.855.
"Considering that we have had about five weeks to put this operation together, it was good start for the Rapisarda team," said Dixon. "I thought Santo Jr. and Tino (Santino) did an excellent job in leading the crew and working with Lee. We had no crew issues or any parts issues throughout the weekend. We'll make a few adjustments as we get ready for the Phoenix race."
Dixon and Beard joined in the Rapisarda team just after the first of the year and team decided to compete at Pomona just last week. The original plan was for the squad to debut at the NHRA Amalie Gatornationals in March.
"I think we all believe it was a good testing session for our team at Pomona," said Dixon. "Sure, we would have liked to have gone a few more rounds, but we got some very good feedback at the Pomona event that will transfer to Phoenix and the other races down the road. Everyone is excited to go to the next race and see what we can do."
The NHRA Arizona Nationals at Firebird Raceway begin this Friday, Feb. 22, with final eliminations set for Sunday, Feb. 24.
(Photos courtesy Rapisarda Autosport; Click to enlarge)