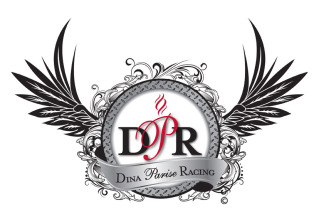 The world is constantly changing. Everything from weather patterns to new technologies, change is evident everywhere you turn. Change happens for various reasons. The best change is change for the better. When creating change, you achieve transformation. Transformation equals progress and improvement. Everyone wants improvement, no matter what, don't they?
Welcome to Dina Parise Racing (formerly Parise Racing).
"This is a very exciting time for me as well as the team," stated Dina Parise. "Solely owning my own team has been what I have wanted to do for quite some time. Yes, we will still be a two-car team, but Andrew will now 'really' have to answer to me, racing under DPR!"
"It's a positive change for the team," Andrew Parise said. "With Dina as president, it takes the pressure off me to do other things within the team. I will admit, taking direction rather than giving it will be somewhat difficult. I will say that I am ready for it, but then again, have you met my wife?"
"Although we joke about who bosses whom, I have actually been running many aspects of the team for quite some time," Dina said. "The time has come for me to officially take the helm. We are still a team, and we still take pride in supporting the military and our veterans. The dynamics have just changed a bit, and for the better we believe."
"I've known the Parise's since their Super Comp days." crew member Butch Branzelle said. "They were professional then and are even more so today. What a great team to work with and what great friends we have become. We work hard but we 'run' harder. I know this will be a positive change for this team. Now let's go racing!"
Not only the logo ( by Kelly Jean Design) is new, the Dina Parise Racing Website and social media fan pages will be launched shortly. What has not changed are Dina, Andrew AND of course Bella's Blogs! Did you all know that Bella the wonder Pug has a Twitter account as well (@ProModBella)? On this team, even the dog has a lot to say!
As 2013 approaches, DPR takes a positive step into the future. With companies such as NGK, LAT Racing Oils, Browell Bell Housing and JE Pistons support the future is looking bright and fast. DPR thanks all of them for their continued support.