Yesterday's big $50,000 winner of the Maytag Silver State Refrigeration Shootout, Vinny DiMino, might have celebrated on "The Strip" here in Las Vegas, but this morning Super Pro and Pro class racers showed up to compete on the only "Strip" that matters to them, The Strip at Las Vegas Motor Speedway.
While the Shootout was contested yesterday as was the Yukon Gear & Axle Free Test & Tune, Thursday opens up the first official race of the K&N Spring Fling Vegas event, Baldwin Racing Alzheimer's Awareness Thursday, just a warm-up event for what is to be an exciting weekend. With competition in the two classes, the winner of the Super Pro class will receive $5,000 while the Pro winner will see a $3,000 check made out in his (or her) name.
After the first round, 126 Pro drivers made a pass, while Super Pro consisted of 300 racers, 137 of which were door cars.
With eight cars left in the Pro class, the combatants were Jeff LaSalle, Walter Gordon, Daniel Pizana, Stephanie Paz, Wesley Eisenga, Todd Zamora and NHRA Stock class eliminator standouts Jody Lang and Brad Burton. Once the dust settled after the quarterfinals, Gordon, Eisenga, Burton and Lang remained.
In the semifinal, Lang used a .010 reaction time to defeat Gordon and Burton defeated Eisenga to make up a final round of two competitors who are no strangers who have raced each other due to their famed NHRA Stock eliminator forays. Lang has been a perennial NHRA top ten finisher and in fact won this year's NHRA Winternationals. Burton is a former world champion and also a past Spring Fling winner.
For the final round, only .002 separated them at the starting line, but Burton's car slowed to hand the win to Lang.
In Super Pro, five cars remained in the quarterfinals, Butch Warner, "Peeps" Pennington, Dan Bain, Kevin Heffington and Nathan Thornsley coming down from Alaska and earning the bye run due in part to his winning .005 reaction time the round prior. With the quarterfinal round completed, Warner, Pennington and Thornsley remained.
For the semis, Warner received the bye to the final, while Pennington battled it out with Thornsley. In that race, Thornsley left with the reaction time advantage, but it was Pennington who took .007-second win at the finish line to move to the final against Warner.
For the final, Pennington stepped up his reaction time with a .003 to defeat Warner who in addition to his $1,000 runner-up money received a complete rear end third member courtesy of Mark Williams Enterprises.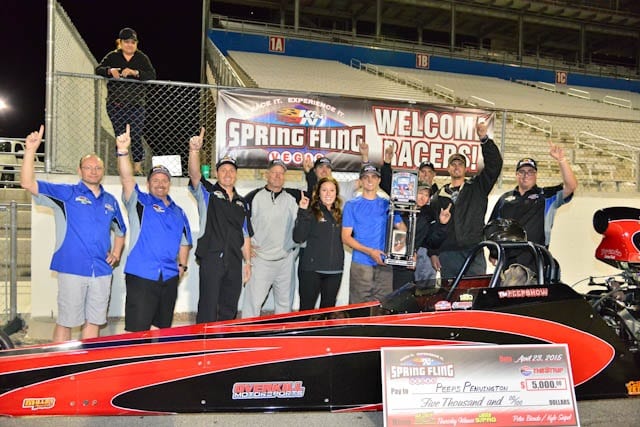 Continue to tune into Bangshift.com for the live Internet video feed of the event. And visit www.BracketRaces.com for further info and results from the last two years.