Diamond Pistons

has introduced center-of-gravity balancing to Sportsman racing pistons, broken new ground in weight reduction and announced a new 380-gram series for small-block Chevrolet drag racing engines.
In addition to useful weight reductions, achieved mostly through the formation of clever ultra-light cross sections, Diamond's new center-of-gravity balancing program ensures the piston travels squarely in its bore. Further, it exploits the latest 0.7mm piston rings to their fullest potential.
Though the pistons can be hard anodized (inside and out) with a molybdenum coating added to their skirts, they are available uncoated or with a moly coating applied directly to the bare aluminum skirts.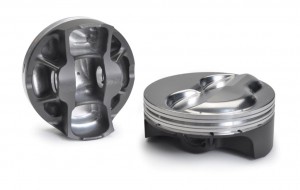 Twin oiling holes are installed in the upper regions of the pin bores. The holes are connected by oiling channels and the pressurized oil supply is delivered from the oil control ring grooves. As the oil control ring wipes up and down the cylinder wall it diverts the accumulated oil not only to the crankcase but also force-feeds the pin oilers via drain-back holes positioned behind the oil control rings.
Curiously the pressure balance groove, placed between the top and second ring lands, is larger than customary and not the conventional V-shape but instead resembles the profile of a human nose. Pressure balance grooves or accumulator grooves are created to provide a reservoir to collect residual gases that penetrate beyond the top ring during the combustion stroke. The chief purpose of the groove is to relieve pressure between the rings, eliminate top ring flutter, and maintain ring seal.
To withstand racing pressures the pistons are provided with Trend's latest TP1 tool steel piston pins. Originally tested in NHRA Top Fuel engines, the TP1 has the hardness of M2 tool steel and the toughness of the best maraging steels. Of particular interest these smooth, shiny finished pins are perfectly round.
Lastly, weighing just 380 grams Diamond believes they have invested these new domed pistons with both lightness and strength.
For more information contact:
Diamond Pistons
23003 Diamond Drive,
Clinton Township, MI 48033
Telephone (877) 552-2112
E-mail Mike Panetta at [email protected]
www.DiamondRacing.net