The problem with drag racing today is that people are just too darn serious about it. The level of sophistication that's evolved over the years—not to mention the money at stake and money it takes—has truly affected the potential fun that's to be had. At least that's the opinion of Wayne B. Good. And honestly, he ought to know; he's lived through the wonder years of drag racing's infancy as well as the high-stakes, high-pressure racing of this present-day obsession.
Sure, it's easy to not even consider from where the sport came, especially if the modernized version is all you've ever known. That's what makes the life and times of a racer like Wayne B. so compelling. Long before sportsman racers were traveling in multi-million-dollar rigs and competing in some cases for hundreds of thousands in cash, there were guys like Wayne, mesmerized by cars of any caliber and who learned through trial and error how to dream it, build it, tune it and race it—all from the comfort of, well, the back yard.
So back in 1965, while growing up in southeastern Pennsylvania, Wayne and his buddy had the bright idea of becoming drag racers. The two adventurous teens—neither of which had a driver's license or virtually any money—sneaked off the farm one day to try their luck at Maryland's Cecil County Dragway (still "Drag-o-way" in those days). They did have, however, a '51 model Ford and a '49 Ford, both completely stock.
Even before they slipped away that fateful summer day, they'd decided one car should be the tow vehicle while the other would serve as the race car. So, a crudely constructed tow bar was put to use and off they rode with the slightly newer '51 model in tow, headed for the drag strip with barely a care in the world. "All the while my parents thought we were driving our cars around the farm that day," Wayne laughs.
After all was said and done, the duos' forward thinking paid off because sure enough, they tore up the "race car" in the heat of battle and indeed needed a tow back to the farm. And yes, they had the time of their lives; one might even argue that "Cheap Thrills Racing" was unknowingly formed that day.
Wayne returned to Cecil County many times in the near future, becoming a regular in N-Stock while racing his '51 Ford. After retiring the Ford he raced a 1948 Crosley, followed by a '65 Chevy Biscayne that he drove throughout the late 1960s. Right about then is when he came in contact with the car that eventually would become part of the family, something of an irreplaceable object of affection. Wayne had a buddy who owned a gorgeous '67 Chevelle Super Sport with just 38,000 miles on it. But while out hot rodding the car around town one day he spun a bearing and with the car knocking like crazy he came to see Wayne in a bit of a frantic state.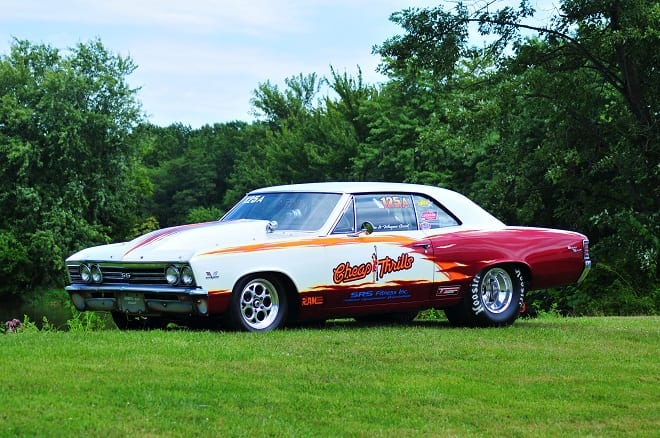 "He needed a car for work and I had a '66 Oldsmobile Toronado, so we traded cars," Wayne recalls. The Chevelle, which eventually would become a staple around Cecil and other northeast tracks, was exactly what Wayne was looking for in 1969 to make a Super Stock car. "Over the winter we pretty much did a frame-off conversion on the car and debuted it in 1970," he says. And though he's acquired many cars since, he's never replaced the Chevelle. "This car has been in action every single race season since 1970," Wayne states proudly.
Back in those days, long before sponsor interests and contingency decals were plastered all over a car, it was common practice to name race cars, so Wayne chose "Cheap Thrills," seeing as how that pretty much described his racing adventures up to that point. "We built it on a budget," he says with a smile, revealing he'd only invested about $3,800 in the finished product.
After doing some rough math, Wayne figures the Chevelle has made about 8,000 passes down the drag strip. His chassis man, Warren Frank of ARC Race Cars, loves to put the car on a lift and examine all the historic damage that has been wreaked on the car's undercarriage, including "patches on the floor where the drive shaft went through it once," laughs Wayne.
For many years the classic Chevy was a straight-drive car, but after repeatedly leaving the line at 7,800 rpm the original frame was collapsing. "The suspension used to twist so hard my friends would tell me they couldn't believe the window didn't just pop out," Wayne declares laughing.
After running Super Stock in the early '70s, Wayne eventually began bracket racing the Chevelle around 1976 and qualified a number of times for the bracket finals, where he got down to four cars once, despite still having a gear jammer for a bracket car! It wasn't until 1980 that he finally put an automatic transmission in the Chevelle.
Some of the best times, though, were enjoyed while dial-in racing in the '70s with a straight-drive Chevelle and doing so for very little upkeep and expense. One of the fondest stories Wayne enjoys telling was when he introduced his wife, Dianne, to drag racing on a personal, competitive level. She and Wayne married long before Wayne owned the Chevelle, and while Dianne was always tolerant of the sport that so thoroughly captured her husband's interest, she also was quite vocal in her lack of understanding of why he actually participated. She never understood the allure of it all, until one fateful evening at Cecil County when she herself became bitten by the drag racing bug.
"They were having a powder-puff race in 1975 and I encouraged her to enter our tow vehicle, which was a 1969 Chevelle wagon," Wayne recalls. After she handily won the women-only event, Wayne encouraged Dianne to enter the Street class, seeing as how it paid $50 to win—and to Wayne's amazement, she doubled up and won Street that night, too! On the way home Dianne peeked over her shoulder to make sure the kids were asleep, and then leaned over to Wayne and whispered, "I hate your guts!" Astonished at her admission, he could only reply, "Huh?" "This was like sticking a needle in my arm!" she snapped.
Sure enough, just like Wayne, Dianne was a full-blown drag racing junkie for many years to come, with many race wins and championships to her credit. The addiction didn't stop there, though. Their son, Mike, practically grew up at the track and began racing in 1988, as soon as he got his driver's license. By the following Saturday, Mike was racing the family Chevelle, thus forming a well-known father/son team at Cecil County.
"Mike and I are truly best friends," says Wayne, as the two sat and shared racing stories from every decade. "We've only had one serious argument and that was when he was a kid and didn't know any better." Mike just smiles and nods in agreement. The one enduring element of this family's racing involvement is having fun together. The other element would be the Chevelle itself.
"This car is like the middle child," laughs Mike, referencing how the Chevelle was acquired between his and his older sister's birth. He drives the car in competition more than anybody these days, though his father still climbs behind the wheel every now and again, just to show everyone he can still get the job done.
"Nearly 50 years ago, I used to flat-tow an A-Altered car without the driveshaft in it before upgrading to towing hubs; back when anyone who showed up with an open trailer was considered a king of the track," he laughs. "Nowadays I look through the pits and see all the toterhomes and huge rigs and lots of bills; and the cars themselves cost big money. Folks are much more serious about it than they were when I started doing it back in the 1960s."
While he admittedly enjoys the modern conveniences of today, Wayne says it's difficult to refrain from looking back on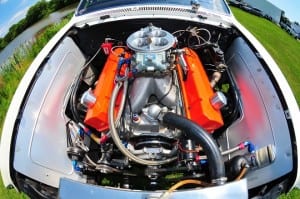 yesteryear with amazement, if nothing else. "Back in my day, you couldn't go out and buy this stuff; you had to figure it out, engineer it, build it and hope you might stumble upon some sort of advantage. These days I get so much enjoyment just from watching my son race."
With Mike fresh off the 8.50 championship at Cecil, where it all started for Wayne so long ago, he admits it also feels surreal sometimes when he thinks about his son driving the same beloved car he acquired 45 years ago.
"I can't really even think of a realistic price that I'd sell the Chevelle for," Wayne states. "Even if it was enough money to go out and buy another one, it just wouldn't be the same."