Beacon Dragway has experienced an interesting history throughout its existence, although this sprawling property located in Paducah, Kentucky, hasn't always operated as a drag strip. In fact, its airport operations lasted much longer than the race track originally did. First constructed in 1968 as a quarter-mile NHRA facility, the track (known then as McCracken County Drag Strip) lasted close to a decade before being shut down and completely converted to an airport in 1977, remaining as such for almost the next 40 years. The rebirth of the drag strip happened fairly recently after local business man and racer, Keith Murt, bought the property in 2012 and reopened the drag strip the following year after an extensive 12-month-long remodeling period.
A lot had changed in motorsports during the time that racing was sidelined at Beacon, most notably was the evolution of horse power, which resulted in much higher top speeds than were previously exhibited, therefore, a decision was made to operate the track as an eighth-mile facility moving forward.
"There just wasn't any feasible way we could reopen the track as a quarter-mile facility with the speeds of today's race cars," says Kevin Gass, who took over managing the facility along with wife, Kim, in 2016. The total length of the track is 2,950 feet, which they feel is perfect for an eighth-mile track, but would pose an obvious problem for heavy, high-speed race cars running on the full quarter-mile.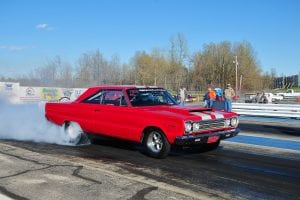 In preparation for the grand reopening a few years ago, pretty much everything at Beacon was redone to ensure that the facility was in top-notch shape to celebrate the return of drag racing in Paducah. Ironically, the large airplane hangers that were left on site proved quite useful to the reborn drag strip and much of the space gets rented to racers, who enjoy the convenience of housing their race cars at the track through the week, instead of towing them home after each race.
Hanrahan Performance Products occupies another hanger and not only sells parts on site, but also VP Race Fuels. Yet another hanger was converted into a restaurant called the Horsepower Cafe, which features a large menu of tasty items that may be enjoyed in a comfortable, climate-controlled environment. "The Horsepower Cafe is a great place for racers to hangout after they get beat, so they can talk about what they did wrong," declares Gass.
Additional conveniences that are planned for the near future include a pair of automotive lifts that are already in place in the large tech building on site. "We're getting ready to get those lifts operational, so if a racer experiences a problem that would require a lift in order to fix his car, we can provide that," says Gass.
The racers in western Kentucky are enjoying the vastly improved Beacon Dragway, which opened this season for test and tune and swap meet in March, with bracket points that began in April. There's an exciting calendar of special events on tap for 2016, including the West Kentucky Streetcar Madness events.
"Beacon held several of those events last year after the normal bracket race had concluded and the response was overwhelming, with cars lined up at the gate for quite a long ways," remembers Gass. Another event Gass is excited about is the annual Pro Mod event, which features an eight-car eliminator that pays $5,000-to-win and $500 to qualify with no entry fee. Local star, Billy Harper, won the event in 2015. A diverse array of events are scheduled this reason, ranging from big buck bracket races to the appearances of television personalities, Tina Pierce, Kye Kelly, Daddy Dave and others. Additional offerings include motorcycle events, Night of Fire, and a huge Jr. Dragster race in September.
"We've got a lot going on this year," says Gass. Expansion plans are being discussed as well, including additional updates to the facility, which include the development of pit parking on the other side of the track. "We even have a dream of someday including a motocross track and also offering truck and tractor pulling here at Beacon."
This story originally appeared in Drag Illustrated Issue No. 110, the Sportsman Issue, in June of 2016.