Whenever Howard Day attends various IHRA or NHRA national events and divisional meets he's issued the standard questionnaire known as a "tech card" that every driver must complete prior to any event. It's a pretty typical procedure for any racer, although the information that Day scribbles down is somewhat out of the ordinary, particularly when the census prompts him to list his occupation. Although he's been officially retired for nearly 15 years, for the sake of the announcer having something interesting to talk about over the public address, Day lists his occupation as "Scientist and Inventor" which actually is a completely accurate description.
"He's the most analytical racer I've ever known; after all, he is a scientist!" laughs longtime friend and fellow competitor Thomas Dunford.
Day's upbringing, however, would not have provided a good indicator that the lad from High Point, North Carolina, would eventually grow up to profoundly influence the development of several key inventions that society uses every single day. After all, he didn't come from a well-to-do family of the community.
"I actually grew up quite poor," Day recalls of his childhood, explaining he began working in the tobacco fields at roughly eight years old and was delivering newspapers the next year. "No one in my family even had a high school education."
However, sometime around 1950 his parents scraped up enough money to buy their children something they thought might spark an interest in higher learning: a 21-volume set of the well-known World Book Encyclopedia. Instantly intrigued, Day says he soaked up the contents of those books like the proverbial sponge. At age 9 while still hurling newspapers from his bicycle, he also was telling his mother he was going to grow up and become a scientist. "To me science is like eating ice cream; I love that stuff," he declares, laughing.
In high school Day was an admitted "science geek," but at the same time he thought fast cars were pretty cool, too. The sport of drag racing was still very much in its infancy—as was the science of making more horsepower.
Regardless, Day was enamored with the muscle cars of the day, though he really couldn't afford to own what might actually be considered such.
"I laugh and tell people that before I got into footbrake racing I did a little flagman racing," laughs Day as he recalls his earliest memories of racing his 1955 Ford at Piedmont Dragway.
Day's Ford was his high school car, and he really couldn't afford to destroy it at the drag strip, yet the allure of racing at Piedmont drew him in like a moth to a back porch light on a warm summer night. He ran his daily driver in the Stock class and tinkered with the engine as best he could until eventually raising enough cash to swap the factory 272 for a 312 powerplant, introduced in 1956 for high-end Ford and Mercury cars.
Day says he began racing the car at another local track, Farmington Dragway, in C-Modifed Production and won a good number of races. "I also clocked 93 miles per hour on the quarter mile with the car, which was good for the day," he says, guessing it was about 1960 by then.
As fun and satisfying as drag racing was, though, Day was remarkably level headed with his priorities. "I guess if you could summarize that part of my life, I made some good decisions very early and I benefitted tremendously from it later on," he says.
Day has made a conscious decision to walk away from the sport of drag racing several times in his life, the first of which was in the name of higher learning. In 1969 he received a bachelors degree in chemistry from High Point College. Later, when he took his Graduate Record Exam, he scored the highest in school history on the chemistry section, which landed him at Duke University where he received a PHD in organic chemistry.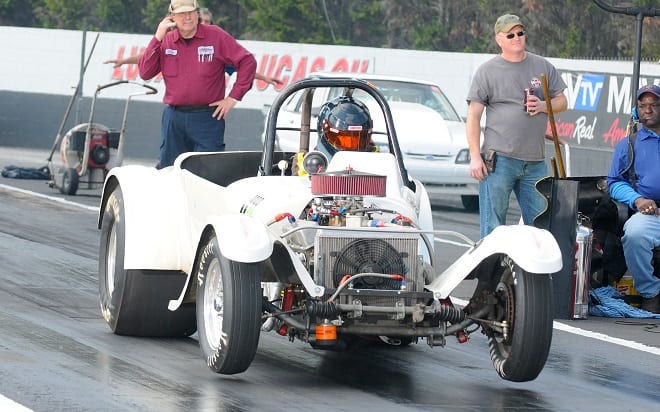 Impressively, Day got through his graduate program in less than three years on campus. While there, he and his research advisor, Dr. C.K. Bradsher, produced seven publications pertaining to his specialized field and consequentially, the job offers began coming in even before he graduated. "This was during a recession when jobs were hard to come by, so I felt fortunate to get some offers," Day says.
With various college degrees obtained, drag racing would once again take a back seat while Day strived to get his career on track. Right out of Duke he took a job at Cotton, Inc., and later worked for Hooker Chemicals, where he holds several patents on chemical processes. In 1979, Day went to work for Dupont in the R&D department and it was during this same timeframe he began to dabble in racing streetable cars again.
It would be 1993 before Day actually trailered a race car to the track, but when he did he enjoyed quick success while footbrake racing a 1965 Mustang. "I was racing the car at nearby New Bern Motorsports and I ended up winning the track championship in 1993," he proudly remembers.
It would be the first of many titles for Day, although his New Bern championship would be the only one he ever won in his original Mustang as it was destroyed in a freak highway accident when a refrigerator fell off the back of a pick-up truck, forcing Day to swerve and overturn his trailer and race car. He later replaced the car with another Mustang, a '67 Fastback, and all the while, his career as a scientist and inventor continued to thrive.
About 1995, DuPont relocated Howard and his research team to Chattanooga, Tennessee, where they set up new headquarters. It was while living in the valley of southeast Tennessee that Day discovered nearby Brainerd Optimist Dragway, where he won six consecutive footbrake championships from 1995 to 2000 in his '67 Mustang, which was somewhat unusual in appearance with an exaggerated engine setback and enormous wheel tubs, the likes of which allowed Day to outfit the car with a standard set of Top Alcohol Funny Car slicks that would just barely clear the roof of the fastback area when mounted! Indeed, "an announcer in Alabama once described the car as the 'Footbrake Funny Car'" Day laughs. "I could buy a set of used slicks for a hundred dollars and they'd last two years!"
In addition to winning six consecutive titles at Brainerd, Day also would race the car on Sunday afternoons at North Georgia's Paradise Dragway, where he picked up three more track championships! That track also was where someone showed up about 2001 with a 1927 Ford Roadster, and Day knew he simply had to have it. "I bought the car and went right to work on it. I replaced pretty much everything in and on it," he says.
It was also 2001 when Day retired from DuPont after fostering the greatest breakthrough of his career. Day's most noted and celebrated work was in the area of Severe Duty Lubricant Formulation, a field that's largely a foreign subject to most. Just how important were Day's discoveries to society? Well, if you've ever experienced a head-on collision and the deployment of an airbag saved your life, you can thank Howard Day for his contributions, since it was through his research in this highly specialized field that modern air-bag technology became mainstream. And how impressed was DuPont with Day's discoveries? "Well, they paid me more money than I'd ever be able to spend and that's how I was able to retire in 2001 at age 57," he reveals.
Upon retirement, Day left Tennessee and returned to his native North Carolina, where he continued to tinker with cars, particularly with the roadster he'd found at Paradise Dragway. When he finally did take the car to the track, he won Piedmont Dragway's Footbrake championship with it in 2005. "That was the year Piedmont won the bracket finals at Virginia Motorsports Park and since I got down to four cars that weekend, I feel like I did my part," he says.
Fast-forward to 2014, and at age 70, Day once again won Piedmont's 6.0 championship, making him a 12-time track champion to date! He's enjoyed tremendous success as a driver, and experienced very little in the way of breakage.
"The only car I've ever even put a scratch on was my 125-inch wheelbase altered that I crashed at Rockingham when a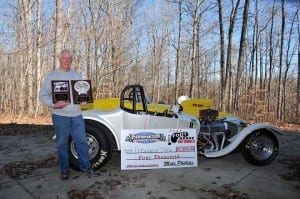 weld broke in the coilover on the right rear tire," he explains. The car made an erratic move directly in front of the dragster he was racing and hit the wall and began flipping. "I wasn't injured at all, not even a headache, even though I was unconscious for a brief period of time. Shortly after slamming the wall, I woke up just long enough to see the track rotating over my head and I knew then something was amiss!" He tells the story with humor and intrigue, as he does all his stories, but at the time all he could think about was how he was going to tell his daughter that he was involved in a crash which totaled his race car.
"My daughter, Kathy, is the dearest person in my life and she's never caused me an ounce of grief in my life, but she's always worried about me racing," he sighs. When he did make the call to deliver the news, Day says he refrained from going into very much detail about the crash. "I mainly told her how the safety equipment did its job. I told her how it came to a stop on all four wheels; how it didn't leak a drop of fluid, stuff like that. I had to put a pleasant spin on the whole thing," he laughs. "I also told her that if I ever bought another race car it would be the safest car I could find."
This would certainly be an accurate description of the 1963 Corvette Roadster that he bought from Team Jeg's a few years ago. "It's a thoroughbred; a very worthy race car," as he describes it.
Day competes with the Corvette in Super Rod/Super Gas and in 2015 he enjoyed a breakout season with it, placing third in IHRA Division 9 points. "I thought that was pretty good for an old guy," he jokes. He also raced the car in NHRA competition and even picked up a Wally with a win at the second scheduled divisional meet in Gainesville, Florida. "There were 75 entries at that race and I was the guy who didn't get any bye runs! It took seven rounds to complete that race, and I had to win them all! I was thrilled to tears to get the win," he says. He also took runner-up at Farmington's divisional event later in the season.
Still, while he's a brilliant mind along the lines of science, chemistry and inventing, you'll never hear Day claim to be a master mechanic. "I'm painfully not a mechanic, but I'm learning. I don't always do things right and this is a problem," he laughs. Every year he considers himself wiser though, and never stops learning. "I surround myself with people who have a high level of understanding of the technology that we're trying to practice, and you better believe that those folks can come from all different walks of life. These are my people!"
He's equally enthusiastic about his new 582-cubic-inch motor from Beal Racing Engines that was assembled near the end of the 2015 season. "My Corvette should clock near the 170-mph range in 2016 and I'm so excited to get back out there and see what me and my crew chief Allan Dawson can do next season."
Spend an afternoon with Howard Day and you'll quickly learn his passion lies within higher education, science and drag racing, among other things, but mainly it's all about his daughter, Kathy. He's more proud of her than any accomplishment he's ever reached within his own career and racing pursuits.
"Kathy is brilliant!" he declares, and few people would argue, actually. She grew up to become a world-class statistician and public speaker, but long before that, Day convinced her that learning algebra was fun at age three! Thanks to his tutelage, Kathy was solving algebra problems when other kids her age could barely even feed themselves, he claims.
"It's all about making learning fun," he insists. Although he's given lectures in front of students who were enrolled at specialized schools for the "extremely gifted," the most cherished example of his love and nurture will always remain his daughter. "I'm truly a blessed individual. The joy of my life could be spread over 10 people and they'd all be happy!"