Loose Rocker Promotions is a racer-friendly sportsman series that burst onto the scene several years ago and has quickly taken the sportsman scene by storm during the course of its four-year existence, as events have been growing larger at a very rapid pace. Ironically, series founders Anthony Walton and Michael Beard weren't exactly trying to reinvent the wheel when they collaborated on promoting an event at Coastal Plains Dragway in Jacksonville, North Carolina, a few years back, and in fact, the two barely even knew each other.
Walton was the original race promoter between the two and Beard had previously assisted him in creating some fliers for his events through his graphic design business in Columbus, Ohio, where Beard resides. "We were mainly acquainted over the internet and Michael had actually been to a few of my races to compete," says Walton.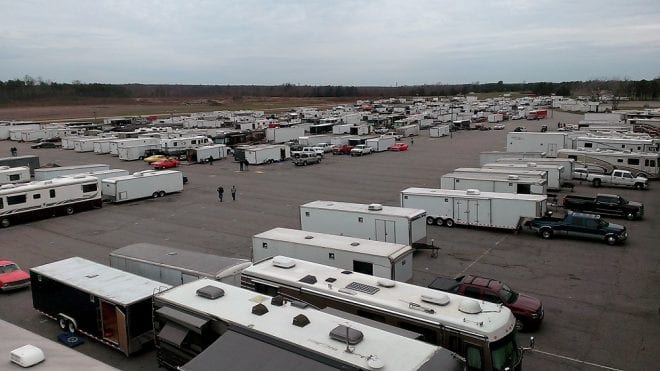 Pretty soon though they were bouncing around some ideas regarding race promotions, which eventually produced an event they billed as the Fall Footbrake Frenzy at Coastal Plains Dragway. While the event was most certainly a success, it didn't exactly set the world on fire, and neither was it supposed to. The real magic began to happen during the following off-season after Walton realized that one of his and Michael's favorite races (a $20,000-to-win door car race) was not on the schedule at one of Walton's local North Carolina tracks.
"That's when it all started to come together," explains Beard. "Instead of moaning about the 20-grander being cancelled we just decided to start one of our own."
And since they were planning to get completely serious about this whole race promoting business, it was then they realized they needed a name for their enterprise. "We juggled around plenty of possibilities, but when we came up with 'Loose Rocker' our wives said, 'Yep, that describes you two perfectly,'" laughs Beard.
In short, the Loose Rocker brand features big money bracket style events contested in popular classes such as Top E.T. and Footbrake, and since Beard and Walton are both life-long racers themselves, they seem to have keen insight on what it takes to make these races wildly successful.
"The whole concept is about racers putting on 'crazy good' races," explains Beard. Participants undoubtedly agree since the Loose Rocker brand saw a sharp rise in car counts at each and every one of their 2015 events when compared to that of 2014 levels – a trend that continues in 2016.
So what does a "crazy good" race look like exactly? Well, the duo point to their big money payouts as one example, which have been increased multiple times over the years, while the entry fee remains the same. For less than $300, in fact, racers can enter a Loose Rocker event and compete in three big money bracket races over the course of the weekend. Another example is the buy-back fee, which remains $75 for a $10,000-to-win race – or a $100 re-entry fee for a $20k event. "I also feel like the racers see a value in what we're doing since our round money payout is more than the re-entry fee, and the round money adds up in a hurry," proclaims Walton. "This is a working man's race and we try to make it affordable to get here to begin with and then pride ourselves on a low re-entry fee and high round money payouts."
The racers have responded accordingly with over 90-percent re-entry at a recent event. Loose Rocker has also
attracted no less than 16 sponsors who contribute lots of great round prizes at each event, and the more prizes they have to give away the more enthused people are about coming out to race. At the 2016 season opening St. Patrick's Classic at Virginia Motorsports Park on March 18-20, the turnout was phenomenal with 489 entries to kick things off on the first day. The uptrend continues each year, with a particular influx of cars coming out of Ohio and Pennsylvania. Loose Rocker has a total of five events on the 2016 schedule; the most Anthony and Michael have ever put on in a single season. They're even expanding their brand into new markets this year with the inaugural No-Box Classic to be held at Kil-Kare Dragway in Xenia, Ohio, in early September.
"Additionally, we're keeping a close eye on the progress at Dragway 42 in West Salem, Ohio, and we'd love to continue growing our Ohio market by holding one of our VMP-style races at Dragway 42," says Beard, who says a total of 6 events are likely in 2017, and that's the number they both agree they'll probably cap off their season with. "I think 6 races a year is enough for us, but our wives like to remind us that we were saying the same thing when we had just one race in a season, and then two races," laughs Walton.
Anthony's wife, Stacy is a school teacher, and Michael's better half, Jill, specializes in organizing events, so it's no wonder they both play a key role in Loose Rocker's success.
"Our wives handle the important stuff – me and Anthony just run the race," insists Beard with a laugh. As these events continue to explode in popularity, the founding duo contends that it's the racers who have put this deal on the map. "We don't have some magic formula, we simply create races that we would want to race in ourselves. It's very humbling and we're sincere in our appreciation for people wanting to come out and race with us."
This story originally appeared in Drag Illustrated Issue No. 112, the Interview Issue, in August of 2016.