Butch Dresback remembers quite well the first time he ever laid eyes on his sporty 1988 Ford Thunderbird Turbo Coupe, although admittedly, building a race car out of this street cruiser wasn't exactly the first thought that went through his mind.
"First time I ever saw this car it was sitting in some guy's yard with a 'for sale' sign on it," Butch laughingly recalls. His first logic was the notion that the car would make a perfect daily driver for his daughter, Haley, so he ponied up the agreed price of $4,600 and promptly brought the car home. The year was 1994 and the T-bird has been in the family ever since. It was a factory five-speed car in the beginning and young Haley had never driven one before, but in no time flat she was cruising around town, banging gears like a pro. "She got the hang of it pretty quickly," Butch proudly remembers.
After driving the car for several years, Haley begin to fancy a newer model Thunderbird and her first consideration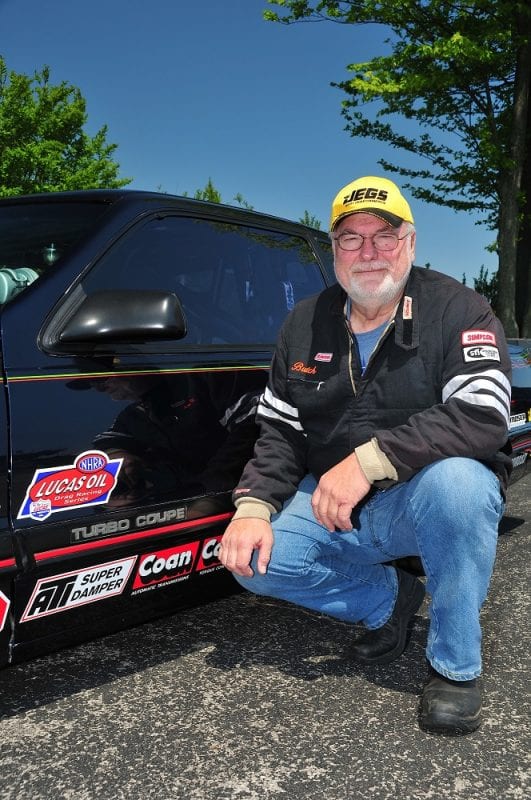 was to trade in the 1988 model, but her dad wasn't crazy about getting rid of the car, especially since these Turbo Coupes were semi-collectable even back then. Butch persuaded her to just park the car at his shop and they'd find her a newer model to drive, which was exactly how it worked out. For the next 7 years, Haley's first T-bird sat untouched in her father's shop, until one day Butch was consumed with desire to build a race car out of it.
Haley was completely onboard with the idea, especially since she, too, dabbles in racing and even has a rear engine dragster she races from time to time. Butch immediately went to work on the car's transformation, and although he wanted to head up the project largely himself, he contracted the advice of Advanced Chassis, a company located near his home in New Carlisle, Ohio.
"I bought a four-link, a hoop and a couple frame rails and the rest I fabricated myself," he says. The Bowers family from Advanced Chassis steered Desback along throughout the process and scaled the car for him when he was finished. Butch has always loved the look of a Thunderbird, so he went out of his way to preserve the original lines of the car. Except for the Hairy Glass front end, the car retains the factory steel body, and when it came time to paint the finished project, Butch stayed with the Ford factory paint code and left the original molding and emblems in place. The car still sports all the factory glass including sunroof, as well as the original truck and hinges. Butch even left the Ohio license plate attached from when the car was last tagged. The T-bird's power windows are a definite lifesaver during the summer months, while the factory side mirrors come in handy when Butch wants to see how hot his opponent is bearing down on him as they near the finish line.
For motivation, Dresback swapped the peppy, factory four-cylinder turbo engine for a 430 cubic inch small block Chevrolet that produces about 750 horsepower. Yes, he catches grief from Ford enthusiasts who walk up and nearly puke when they see the bowtie on the intake. "People will say to me, 'Man, why don't you put a Ford motor in this thing!'" laughs Butch.
Truth is, Butch loves both brands, but readily admits he's a more knowledgeable Chevy mechanic and besides that, he has a whole shop full of Chevy parts lying around just waiting to be bolted onto something. The car also features a Coan Transmission and Converter, Strange Struts, Moser Axles and a 9″ Ford rear end.
Butch's good friend, Rudy Mathews (also best man at his wedding) wired the car. The Thunderbird tips the scales at 2,830-pounds with driver, and Dresback typically competes the car in NHRA's Super Street division. Career best numbers are 9.60 at 147mph. "It goes straight and it's a pleasure to drive," beams Dresback.
The construction of this race car was a true labor of love and it certainly didn't happen over night. In fact, Butch and his son-in-law, Darrin Van Horn, hammered on this car every weekend for roughly three years before it ever made its first pass down a drag strip.
For Dresback, the sport of drag racing represents a life-long love that he discovered early in life. "Many of the tracks I used to race at when I was a teenager have been closed for like 30-years," he says. A life-long Ohio native, Butch fondly remembers racing at places like Kettlersville Dragway and Pence's Drag Strip, both of which haven't been in operation in decades. "Kettlersville was a 1/5 mile in length; very bumpy with no guardrails and dirt return roads," remembers Butch, who raced a 1955 Chevy there probably 40-years ago or longer.
After that, he started traveling down into Kentucky and racing at places like Mt. Park Dragway in Clay City and Ohio Valley Dragway in Louisville. Later, he built himself a 1969 Camaro in the 1980s, and was a regular at places like Marion County Dragway and also Kil-Kare Dragway, both located in Ohio.
After decades of being a full-blown drag racing addict, Butch's father used to laughingly remark, "I would have thought by now you'd have grown out of this stuff." Butch would just smile and nod in agreement. Rest assured, he's tried to walk away and make a clean break a time or two over the years, but the allure of racing seems to reel him back time after time.
He actually bought his first Super Gas car upon one notable return to drag racing, which was a 1985 Thunderbird he bought from a guy in Long Island, New York. He raced the car for five years before selling it to buy a 1957 Corvette roadster that was built by his friends at Advanced Chassis. He travelled extensively with this car and won IHRA divisional races in Immokalee, Florida, as well as Mooresville, North Carolina, sometime around 2004.
A few years later when the economy bottomed, he once again took a break from drag racing. He actually thought he was done with racing for good on this occasion, but somehow was bitten by the bug once again, and that's when the wheels inside his head begin to turn with regards to turning his daughter's first T-bird into what will likely be his last race car.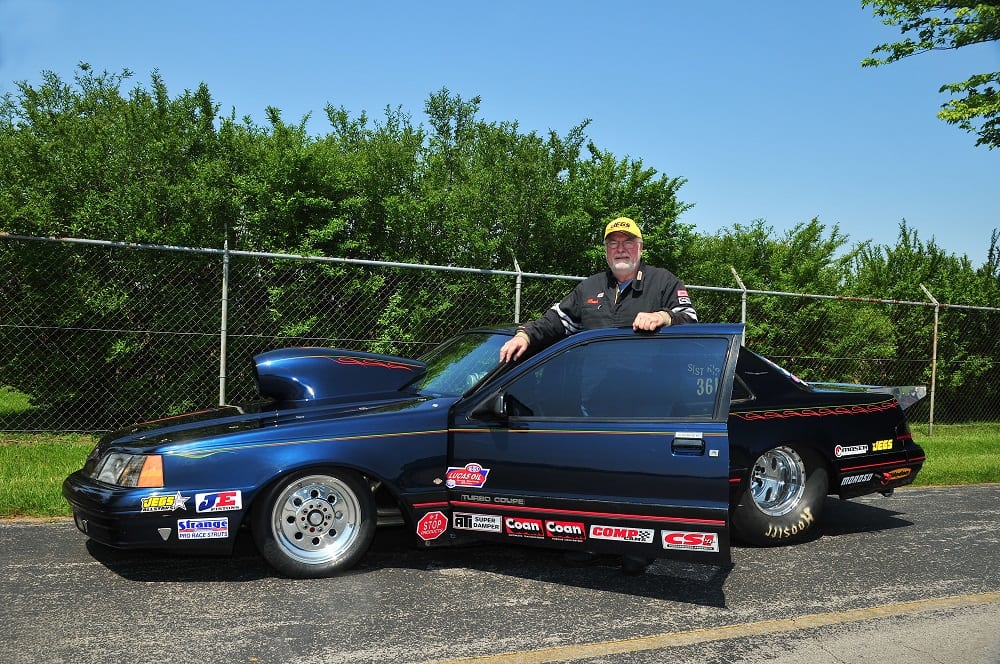 These days, he finds himself wanting to race more and more with each passing weekend. He kicked off the 2016 season at the Cavalcade of Stars NHRA Lucas Oil divisional race in Norwalk, Ohio, and was thrilled to win a few rounds. At 64 years of age, Dresback knows that before long he's going to walk away from drag racing once more and this time he won't be back, so he's savoring the moment as long as it lasts.
"I'd actually like to attend every single NHRA Division 3 race in 2017," he says. "I still love racing yet today, there's just something about it," declares Dresback, who like so many other weekend warrior racers have compiled innumerable great memories and friendships at the drag strip. "The best people I know are at the race track."