Nichole Elff hasn't slowed down since recording her personal best on the track at the Drag Illustrated World Series of Pro Mod in Xtreme Front Wheel Drive. Plus, the XFWD superstar has secured two major wins this season and is well on her way to making the first 200 MPH pass in her 1992 Honda Civic.
However, Elff admits that, just like with any form of drag racing, there have been some ups and downs.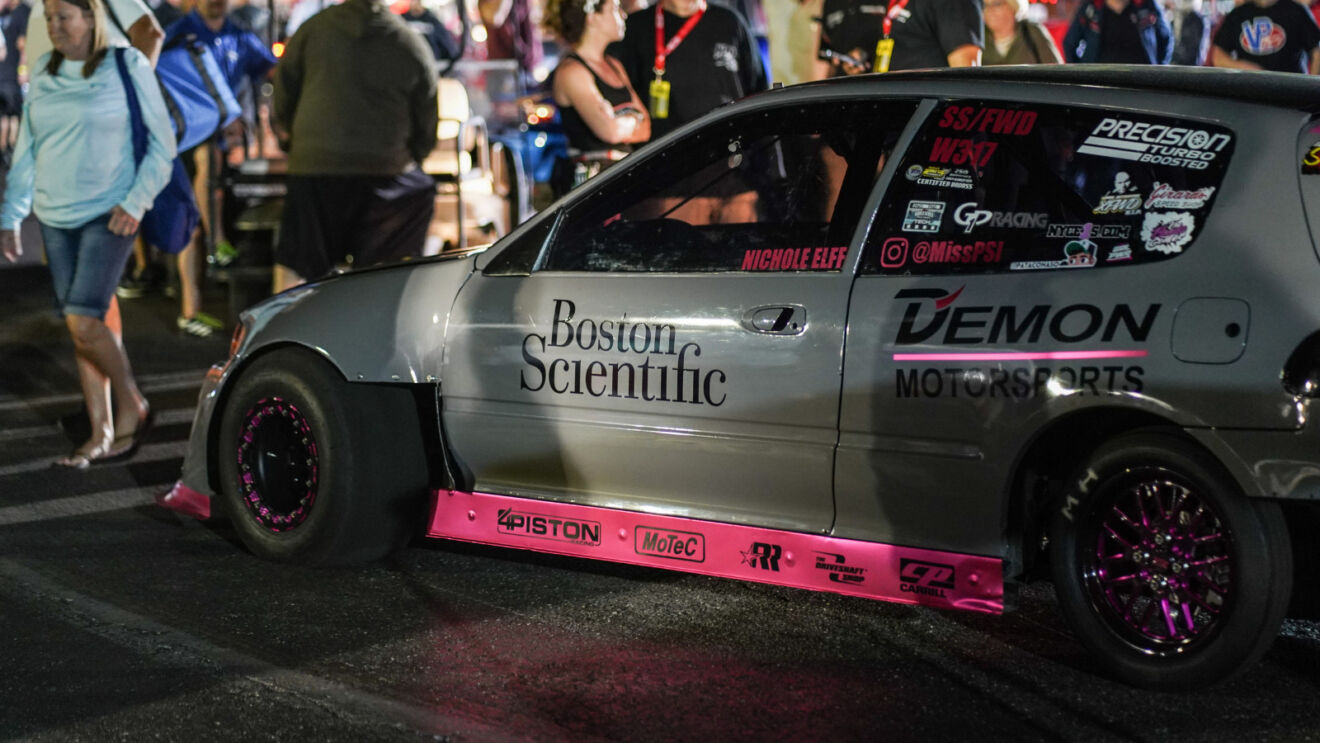 "It's been a little bit of a roller coaster start," she stated. "We kicked off the year with World Series of Pro Mod, and I ran my personal best ever. That 7.78 at 196 was good enough to get me the sixth fastest in the world in our class." Elff was previously the ninth-fastest driver in XFWD.
"Then we dealt with a few mechanical challenges. I mean, we're pushing 1500 horsepower on these cars, so on a four-cylinder, that's a little bit of the limit," Elff continued.
She worked through some of the challenges she was having and then not only found her groove but success.
"I was able to defend my Queen of the Track title at Indy Streetcar Takeover," Elff said. "I took down two other seven-second cars, so it wasn't an easy challenge at all. Then went into another front-wheel drive race and was able to take home the win there as well. I feel like we got some good positive momentum."
Elff carried that momentum into Summer HDAY, qualifying third and racing to the semifinals, and was well on her way to another win, but the event was rained out. Now, the biomedical engineer has her sights set on two major events this fall and becoming the first XFWD driver to reach the 200 mph mark.
"I want to put my name in the record book," said Elff. "When I think about the first into the sevens, it was actually another female racer, Lisa Kubo, for our platform. So how awesome would it be to bookend another record-running attempt in X-Front Wheel Drive and to run 200 miles an hour to be another female? [To be] first in sevens, first in 200, and to leave a legacy for our female racers – we can represent, and that's part of the reason.
"Also, to be honest, I'm so competitive, so if I can get to 200, that also means I can get to the top of that top 10 list because with 200 mph [that] means we're making power, and we're hooking it. I want to end the list number one this year," continued Elff.
The next stop for Elff is FL2K at Bradenton Motorsports Park in October, and then she plans on finishing up her season at the World Cup Finals Import vs. Domestic at Maryland International Raceway in November.
Additionally, it's been her support system that's allowed Elff to take her racing program to the next level.
"I brought Boston Scientific [where I work as a Materials Engineering Manager] on as a primary sponsor for my race car, which has been able to help me get to a lot more events," she explained. "I've had great partners with my tuner and my engine management system, which is Demon Motorsports, and then also my engine manufacturer, which is 4 Piston Cylinder Heads."
Some of her partners, like Speed Factory and CP Carrillo, are working hand in hand with Elff to help her reach her goal of making the 200 MPH pass.
"To be honest, we're going to push the limits of this platform," stated Elff. "We're thinking we might be close to 1600 plus [horsepower] to try to get to 200 miles an hour. So CP Carrillo is helping us come up with a special piston so we can really put the nails to it. Then Precision Turbo has always given us a really strong turbo to be running."
When asked what's next after she accomplishes her 200 MPH goal in a quarter mile, "It's always faster. It's funny how you become a drag racer, and you're never happy with the goal that you have you break it. That encourages you to figure out what's the limits on your platform that you can continue to push. My goal setting for this year is 7.50s and 200 – 7.50s would make me the fastest female ever to run a front-wheel-drive car, which would be mind-boggling."
If Elff achieves her goal, it would put her at the top of the top 10 list for XFWD speeds. However, she also has another goal in mind for the very near future.
"Setting records is amazing, but to be honest, I really want to go and beat the 40 racers I'm going to be competing against in X-Front Wheel Drive at FL2K because we have a little group chat, and they all like to talk smack to me," laughed Elff. "I want to go out there and be like, boom lay it down and just be like, you guys can be quiet now for a few months."