I always enjoy visiting Tommy and T.J. Harrill, as well as the entire staff over at Knoxville Dragstrip, located in the eastern Tennessee town of Maynardville, just outside Knoxville.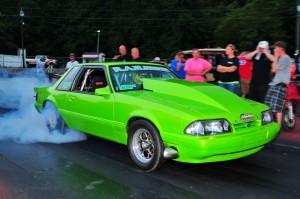 In addition to weekly brackets and TNT, this IHRA sanctioned 1/8 mile facility also schedules plenty of action-packed special events throughout the year.For instance, Harrill is excited to host Quain Stott's South East Gasser Association this coming Saturday (Aug. 9).
I stopped by last Saturday, though, for an Outlaw heads-up event and was impressed by the huge turnout of both racers and spectators, despite a threatening weather forecast. Ultimately, the event had to be postponed until the following day as early evening showers moved in, but for the better part of Saturday fans enjoyed good weather and the huge turnout of race cars. The track was working exceptionally well and fans were treated to some very fast times in the Outlaw classes.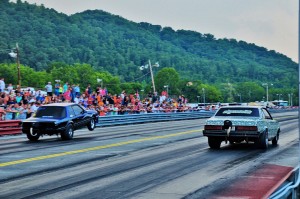 "Despite the rain on Saturday, we feel blessed to have had an excellent weekend over all with a great turnout," track owner Tommy Harrill said. "Wes Clap is doing a great job helping us organize and promote these outlaw events, and he does an awesome job announcing and working up the crowd."
As for last Sunday's main event, winners in all classes have been posted on Knoxville Dragway's Facebook page. Categories contested over the weekend included 4.70, 5.70, 6.0 and 7.0 index classes, Pro Street, Cheap Street, Street Bandit (new), Street Stick (new) and Jr. Dragster.
(Photos by Van Abernethy; Click to enlarge)