Michalek Brothers Racing (MBR) has entered a new era. After 3 years of part-time involvement in the NHRA Lucas Oil Drag Racing Series behind the wheel of the Dreher Motorsports A/fuel dragster, the team will move forward with fielding its own Top Alcohol Dragster entry under the MBR banner. Michalek Brothers Racing has taken possession of a 2010 Spitzer Enterprises A/fuel dragster and is in the process of preparing the car and assembling a team for a 2016 debut.
"First and foremost, we need the thank Jared and Randy Dreher of Dreher Motorsports," said Corey. "Over the past 3 years we have built an outstanding relationship with those two and their welcoming family both on and off the track. They were gracious enough to let me license in their car and they provided Kyle and me the opportunity to get seat time at 2 regional events and 6 national events inside the cockpit of a proven winner. It was a blast, to say the least, and I'm looking forward to seeing them out at the track for years to come."
Kyle Michalek, MBR's first Top Alcohol Dragster driver, reflected on a partnership that got off to a fast start and never lost momentum all the way through the team's runner-up finish this past month in Norwalk, Ohio.
"The Drehers consistently provided us with a great car which helped shorten the learning curve and get us quickly acclimated to the Top Alcohol Dragster class," said Kyle. "We always knew the car would be setup safely and it would be capable of running with the best cars out there every time we came to the track. That was a huge confidence boost and enabled us to experience lots of on-track success while racing with the Drehers. We can't thank them enough for providing us with a great opportunity."
With three solid years of learning and experience in the NHRA's fastest semi-professional racing class, MBR will move into unchartered waters as an owner of a 3,500 horsepower injected-nitro burning dragster.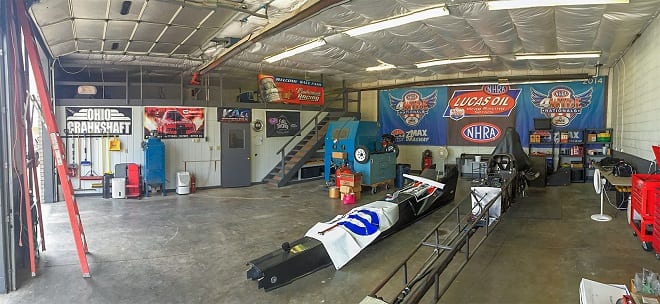 "Being car owners is both exciting and overwhelming at the same time," said Kyle. "Corey and I still find it hard to believe we have an A/fuel car in our shop and recognize we are extremely fortunate to have great partners that support us and allow us to pursue this new opportunity. We are fully aware of the daunting scope of work ahead of us to get ready for the 2016 tour. This includes car preparation, team building, and sponsorship development with current partners while bringing in new support for our team. We know it won't be easy, but we are eager to tackle this challenge and continue moving forward in our racing careers as we build a team capable of running with the best competition in the class."
Corey Michalek commented on the team's progression through the sport and what this new opportunity means to MBR.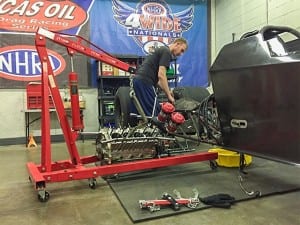 "This is the next step of the journey that's been 13 years in the making," said Corey. "We've had a heck of a ride to this point working for Mark Thomas and Pat Dakin, preparing and racing two separate super comp cars, winning the Search for a Champion contest to allow us to step up to A/fuel, and then having success on the national stage racing with the Drehers. As long as we can continue getting the opportunity to be at the track and to compete, sign me up."
With MBR's 2015 season in the books, the focus now shifts towards preparing for the 2016 NHRA Lucas Oil Drag Racing Series schedule. Along with pursuing additional partnerships and preparing the car to hit the quarter-mile, MBR will be teaming up with DragIllustrated.com to provide readers with a transparent, behind-the-scenes look at what it takes to get an A/fuel dragster operation up-and-running from scratch. The driver blog series has a tentative August 2015 start date and the team plans to contribute monthly installments.
"This will be a "learn-as-you-go" process for MBR as we navigate the in's and out's of owning, operating, and funding an A/fuel car," said Kyle. "We hope to be able to provide insight to the process through the blog series, and keep MBR fans in the loop as we eye a 2016 debut for our car."
For additional MBR information and updates, please "like" the Michalek Brothers Racing FACEBOOK page and follow @MichalekRacing on TWITTER and INSTAGRAM.
GOOD READS
Want to learn more about Corey Michalek before the debut of the MBR DI Driver Blog? Check out his driver profile over at TopAlcoholNews.com.
CompetitionPlus.com is reporting that Texan Rodger Brogdon has completed the sale of his entire NHRA Pro Stock operation to Richard Freeman and the Elite Performance group. It's tough to see another competitor leave the class, but knowing the guys at Elite, the equipment will be put to use with another talented driver soon.
The 100th issue of Drag Illustrated just went to print this week! To celebrate, Editor-in-Chief Wes Buck posted this album of all 100 covers, beginning with the Shannon Jenkins-covered "premier issue" and ending with DI 100, covered by Chris Rini.
GOOD VIEWS
Corey and Kyle Michalek certainly make the most out of their few opportunities to drive during the season. Corey won his debut national event at Charlotte last year, and came so close to winning at his home track, Norwalk, earlier this month. Check out this recap of MBR's Summit Nationals performance.
Ever wonder how a Top Fuel rear tire can handle so much torque, horsepower and acceleration? This "How It's Made" segment might answer a few of your questions.
The east coast NHRA Lucas Oil Series sportsman competitors are racing at Atco Dragway's divisional event this weekend. ESPN "stat guy" Lewis Bloom stopped in to the famed New Jersey strip earlier this year for this NHRA Track Feature.