As a crew member on Antron Brown's Matco Tools Top Fuel dragster, Matt Sackman is no stranger to high-powered diggers. He's about to become far more familiar with them, though, as the tire and clutch assistant looks to make his PDRA Top Dragster debut this season. Sackman and his family-owned team will run a 2015 schedule composed of mostly PDRA events with a few NHRA Division 3 races mixed in. The former Junior Dragster pilot is in the middle of the licensing process at NHRA preseason testing in West Palm Beach, Florida, this week.
Sackman started racing Junior Dragsters in 2005 and stepped up to Outlaw 330 Junior Dragsters, which typically run 4.20s at 80 MPH in 330 feet, in 2009. It was through Junior Dragster racing that Sackman met Antron Brown and his family. Two of Brown's children, son Anson and daughter Arianna, currently race Junior Dragsters.
"My dad became friends with Mark Oswald (Brown's co-crew chief) in the early 2000s. Mark and Brian Corradi started crew chiefing for Antron in 2009 so we got to know Antron around then and became good friends over the next couple years. We got them into racing Junior Dragsters. Antron was busy all the time and we were still involved with Junior Dragsters and going to the races so we'd take his kids and their cars. My dad would run them and teach them and Antron how to do everything."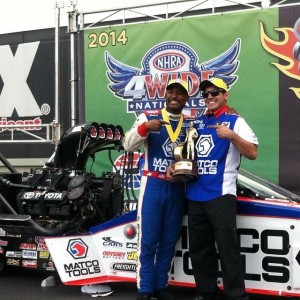 Matt joined the Matco Tools team at the 2013 St. Louis race and became a full-time crew member last year, doing tires and helping with the clutch. His duties include mounting and dismounting the massive Goodyear slicks, making sure the tire sizes are in line with the crew chiefs' specifications, and pulling the clutch pack and flywheel off the car and replacing them between runs.
During this week's test session at Palm Beach International Raceway, Sackman will go back and forth between his role on Brown's Top Fuel car and driving the family's new supercharged Top Dragster. He made his first-ever runs in a full-size dragster on Tuesday, doing a couple burnouts, a 330 ft hit and a few runs past half-track, including a pair of 4.18s. He plans to make the two additional quarter-mile runs required to get his NHRA license in between Top Fuel runs during the week.
The car is a 2010 Spitzer hardtail previously campaigned by James Monroe, who also helped Sackman with the set-up. Power comes from a 540 cubic inch big block Chevy with a Ron's Fuel Injection fuel system. Perched atop is an 8-71 supercharger from The Blower Shop. Once completely tuned in, Sackman expects to run 4.0s in the eighth-mile and 6.30s at over 215 MPH in the quarter-mile.
Like so many sportsman racers, Sackman has to fit his racing hobby into his work schedule. That inconvenience isn't so tough to deal with when your job is traveling the NHRA Mello Yello Series circuit working on one of the most successful cars in Top Fuel. "I really enjoy doing what I do, working on a race car. It definitely makes it easy to go back to work on Monday."
Nevertheless, a seven-race personal schedule mixed in with the 24-race NHRA national event tour makes for a packed calendar.
"I'm going to try to run four or five PDRA races and two NHRA Division 3 races. We're hoping to go to the first PDRA race at Dallas in March. That one is gonna be tight right there because it's in between the Gainesville and Las Vegas national events. I'm gonna be busy in the shop to get everything ready on Antron's car to try to have free time to go racing. I think I'm going to be at a race twenty weeks in a row. I'm going to have a busy schedule this year, that's for sure."
Matt will be joined by younger brother, Zach, who's licensing in a nitrous-assisted Top Dragster owned by Shane Novak.
"When I'm driving the blown car, Zach will drive the nitrous car. When I'm not racing, he'll drive the blown car. Shane is giving him an awesome opportunity to drive their car and get it dialed in for his daughter EmiLee to drive next year."
Sackman was certain to thank his parents Darren and Marie, Brown, Novak, and Brad Mason, the assistant crew chief on the Matco car, who helped the Sackmans get their car running right.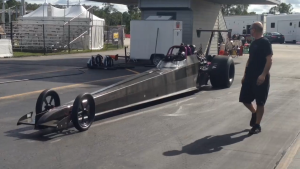 GOOD READS
GOOD VIEWS
Check out this footage from a rare Top Fuel dragster vs. Funny Car match race at Summit Motorsports Park's Night Under Fire event last year. First up are Antron Brown and the Matco team against John Force, followed by Ron Capps' fuel coupe alongside Brittany Force in her Castrol Edge dragster.
The guys at Urban Hillbilly Videos posted this montage from some of  ADRL's brighter days, the 2008 Ohio Drags, also at Summit Motorsports Park. The nearly half-hour long video is packed with doorslammer stars like Shannon "The Iceman" Jenkins, Jason Scruggs and Rickie Smith.
Go for a ride down the famed Lucas Oil Raceway quarter-mile with NHRA Pro Mod driver Mike Knowles in his "Blown Money" '68 Camaro.