Eric Latino earned his first Professional Drag Racers Association (PDRA) win June 28, by defeating doorslammer legend Todd Tutterow in the Pro Boost final at Martin, Michigan. But that wasn't the only "first" the veteran Canadian racer experienced that weekend at U.S. 131 Motorsports Park.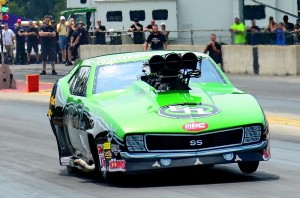 Arriving early from his home in Whitby, Ontario, for the inaugural PDRA Summer Drags, Latino and crew were set to take advantage of the PDRA's pre-event test session on Thursday (June 26), before qualifying began Friday with eliminations to follow on Saturday. However, just after Latino backed up from his initial burnout, things suddenly turned sour.
"As I sat there waiting for my guys to set the wheelie bars all my red warning lights came on and I saw my oil pressure had dropped to zero," Latino explained. He immediately shut the roots-blown Hemi down and though his crew eventually sorted out a gremlin in the oil pump, Latino's track day was lost. "Long story short, we couldn't do any testing whatsoever on Thursday."
Later that night while speaking with PDRA employee Denise "Racerchick" Ramsey, Latino says he mentioned how disappointed he was about not getting in any test hits, but planned to participate in Friday morning's last-chance test session before official qualifying began by mid-afternoon.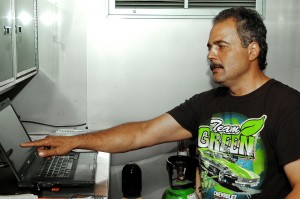 "That's when she asked if I had already paid for Thursday and I said, 'Yeah, I paid 400 bucks, but whatever it is, it is,'" Latino recalled. "So I guess she went and talked to (PDRA Director) Bob Harris and when she came back the next morning and handed me a Friday test sticker I said, 'Man, thank you, you're awesome.' Well, she answered, 'Oh, am I awesome? Well, how awesome am I now?' and she handed me 200 bucks."
Upon hearing Latino's plight, Harris essentially opted to refund Thursday's test fee and charged only the reduced rate for Friday's shorter test session.
"You know, I've never got money back that I paid a promoter or track owner before—never—so that was pretty nice. It really said a lot to me about the organization and the people that run it," Latino said.
"What Bob said to me was, 'The PDRA wants our racers to be happy; we want to be fair and feel like that's the only fair thing to do.' I told him they did not have to do that and I even asked if they were sure and Bob said, yes, he was sure. He repeated numerous times, 'This is exactly what we want to do.'
"I think if I would've got one pass down the track it would've been different, but I was blown away with what happened," Latino added. "That was a first for me."
Latino went on to qualify his G-Force Race Cars-built '69 Camaro second in the 16-car Pro Boost field, then took down Randy Bryan, Larry Higgenbotham and Tutterow's teammate Kevin Rivenbark to reach the final round. He gave credit to chassis consultant Joe Lepone Jr. for a turnaround in performance after struggling with power application problems early this year.
"The car drives like a Cadillac now," he said."It's my team, though, they got the job done; I'm happy to have won this for them."
(Photos by Ian Tocher; Click to enlarge)
GOOD READS
Pat Musi Racing Engines had a great outing at the PDRA race in Martin, MI, but the company's namesake says there's a lot more to come.
When our old pal Jeff Burk over at DragRacingOnline.com starts wondering again it's usually a good time to pay attention.
The Bristol (TN) Herald Courier posted a story about sportsman racing double-threat Lauren Freer to its online edition.
GOOD VIEWS
Check out the NHRA nitro class finals from this past weekend at Norwalk, Ohio.