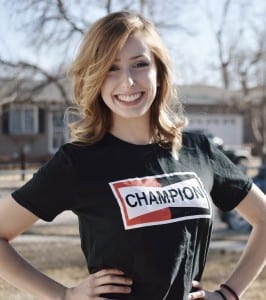 For the second year in the contest's four-year history, a drag racer has won the Search for a Champion contest put on by Champion Spark Plugs. Contestants submit a video describing their idea of a champion and why they think they fit that description, then go through rounds of voting. The winner is decided by the number of votes, though Champion also has a say in the outcome. South Dakota bracket racer Carly Jo Ellingson was revealed as the grand prize winner earlier this week. She will pick up a cool $50,000 sponsorship package and joins some of the top drivers in several branches of motorsports as a member of Team Champion.
Ellingson, 20, has already racked up a pile of trophies, having won six track championships, three Jr. Dragster Challenges, and the 2010 Western Conference Finals national championship in the 15-year-old division. She has also accumulated several wins in a big car, racing in Pro and Super Pro, but says the Search for a Champion contest win is going straight to the top of her resume.
"I found out with everyone else with the video announcement that was posted on Champion's website. It was really something. I felt like it was kind of a dream. I had to watch the video a few times to make sure I wasn't just making this up in my head. It was amazing. I feel so lucky and incredibly blessed to have Champion Spark Plugs and Federal-Mogul Motor Parts on-board and I can't wait to represent them at the track."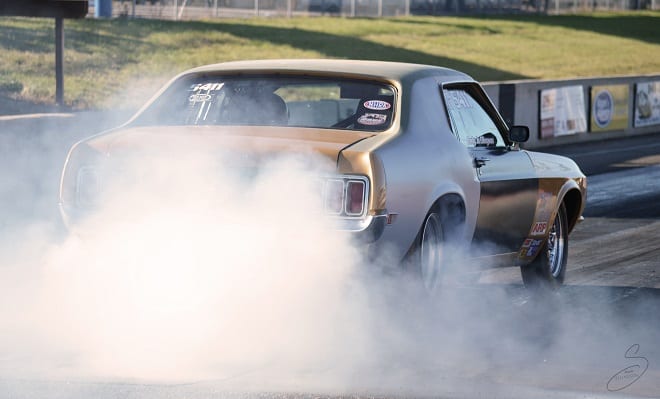 Ellingson created a video, despite having no prior experience with video editing, and submitted it to the Search for a Champion website, where she sent friends, family and supporters to vote for the entry. Utilizing Facebook, Twitter, instagram, local radio and print media opportunities, and word-of-mouth promotion, Ellingson collected a massive amount of votes and pageviews in just her first attempt at the contest.
"I had no idea what it was going to be like going into it. This was my first year entering and had only heard a couple things about it. There was a girl we know through racing who did it last year and didn't make it through the first round, so we didn't really have anything to go off of going through the contest. I didn't really have any expectations, I was just going to do my best and pray a lot. It all worked out. It was very, very nerve-wracking. The grand prize voting round was the worst. It felt like there was a lot more at stake; obviously there was a lot more at stake. A week into the grand prize voting round my nerves really started getting to me. My nerves pushed me to expose my entry more, to get more publicity, so I utilized my nerves in a good way, I think."
Of the 15 finalists, only one other competitor was a drag racer, though Ellingson also faced Austin Prock, the sprint car-driving son of world championship Funny Car tuner Jimmy Prock. Don Schumacher Racing helped to promote Prock's entry through their social media accounts, banners at the track, and even a piece on the ESPN2 broadcast, but it was Ellingson's grassroots campaign that impressed Champion the most.
"When I saw that (Prock's support from DSR), my confidence dropped a little bit. Seeing that he would have the support of a larger amount of people just made me work harder and it worked. I have spoken with some of the people at Federal Mogul and their corporation and they said everything I did worked very well because it got a lot of traffic n the site and the voting kind of showed it. It was a huge compliment to me because I went into this pretty blind. I really hadn't done anything with marketing before," Ellingson noted.
Carly Jo, who also thanked associate sponsors Frontier Auto Glass, Twilight First Aid Services, Counts of the Cobblestone Car Club, R&D Chassis, and Whipple Racing Products, looks to someday race in the professional ranks. She'll use both the winnings and lessons learned from the contest to continue moving up, just like inaugural SFAC winners Corey and Kyle Michalek, who now race in Top Alcohol Dragster in pursuit of a Top Fuel gig.
"My ultimate goal is to pursue a professional drag racing goal, and that's my goal as well, to move into Top Fuel or Pro Stock. I would love to be a part of either class. For this level of competition and this season, we're going to focus on racing the Mustang. We're putting the money towards travel expenses, entry fees and maintenance on the car. We're going to travel quite a bit more and trying to hit bigger events to get some more exposure and to promote the Champion brand.
"I definitely improved my marketing and business skills. Even if I didn't end up with the grand prize win, I still would've come out with a huge amount of knowledge about marketing. The marketing aspect was very important to me and I feel that I can use that a lot later on in my career," Ellingson said.
(Photos courtesy of Stevie Ellingson)
GOOD READS
GOOD VIEWS
Want to enter the next Search for a Champion contest? First pick up a few tips from the Michalek brothers.
One of the most underrated moments from the NHRA Four-Wide Nationals last weekend came in the Pro Stock Motorcycle final round, when Hector Arana Jr. went 199.88 mph to reset the PSM national speed record, inching closer to the elusive 200 mph barrier.
The stars of Street Outlaws are a big draw wherever they go, but especially when they show up at a big on-track race, like the Outlaw Street Car Reunion last weekend. Murder Nova and Big Chief both made attempts at the track riding on 275 radial tires.