Within the realm of motorsports, names like Petty, Allison, Andretti, Earnhardt, and Wallace shine, placing three or more generations on the race track over the course of half a century in some instances. This weekend, the NHRA adds a clan of its own to those hall-of-fame caliber racers.
The Grays.
Tanner Gray, the 18-year-old who recently graduated high school, is currently second in NHRA Mello Yello Series Pro Stock points with four wins. His father, Shane, won at Gainesville earlier this year driving what was basically an R&D car for Tanner. Rounding out the trio is Johnny Gray, who left the sport in 2013 after successful stints in both Pro Stock and Funny Car. When the three hit the 1320 at Lucas Oil Raceway this weekend for the US Nationals, it's the first time in NHRA Pro history three generations of racers have raced in the same category at the same track for the same event.
We spoke to all three men, getting their opinions and views regarding this historic happening. If you know the Grays, it wasn't boring.
DRAG ILLUSTRATED: Prior to the race, a memorial is being held for Terry Chandler (Johnny's sister who passed away this summer after a short battle with cancer and the driving force behind the Make-A-Wish Foundation and Infinite Hero sponsorships at Don Schumacher Racing). What are your thoughts on seeing the outpouring of love and affection for her?
Johnny Gray: Well, it's very gratifying and…I don't know how to put it in words. Terry loved the drag racing. She loved the people and she loved the kids. When I quit, she wanted to go on and do something else and it worked out great for her. All I can say is that she'll be very missed by a lot of people and naturally, missed every day by me.
Shane Gray: She is a wonderful lady and it's always flattering, I suppose is maybe one way of putting it, that she was such a well-liked and popular lady. But no, it doesn't surprise me. She just brought brightness and sunshine to everybody.
Tanner Gray: I think it'll be really cool, something really special, something special for all of us. She would've loved it. She loved stuff like that. I think it'll be really good. I wish we could've done it sooner, sooner than Indy, but I'm looking forward to it. I think it'll be a really cool deal and I think it'll be really cool to go out there and win this weekend or at least do something good.
DI: Johnny, when you left in 2013, you didn't give a timetable on your return, saying you would race when you wanted to. Is now about the time you thought you would come back?
JG: (Laughs) The reason I said I wasn't retiring is because I never know what I'm going to do from one minute to the next. But at the time I quit, I had no plans of coming back whatsoever. This deal came up with Tanner and Shane and at first, I wasn't going to do it but then I got to thinking about it, sometime down the line when I'm dead and gone, the great-grandkids will look at it and think it's pretty funny, you know? So yeah, we'll just do it and have a good time this weekend and then I'm done again.
DI: Shane, what about you?
SG: No, sir. I'm very happy doing what I'm doing. I'll race when I want to and I won't race when I don't want to. We've got plenty of cars and people sitting here, so if I get the hankering to race, we'll load it and go to a race. But there ain't no way I'm committing to running 24 of them.
DI: Given your thoughts on returning to a full schedule, what was it like winning at Gainesville this year?
SG: It was pretty surprising, you know? I looked around about twice and said, 'Oh, shit, we're in the finals, how the hell did we get here?' It was really a pretty absent-minded day. There was very little thinking happening. Just kinda let things roll. We were testing all day long and we were able to capitalize on Greg's (Anderson) mistake in the final round and, hell, got lucky and won the race!
DI: Tanner, given your seat time this year and the fact you have four wins, do you feel like you have an advantage over your dad and grandpa?
TG: (Laughs) I don't know. I mean, I don't really think of it like that. They've got just as good a chance as I do. It kinda comes down to who drives better and both of them know how to drive pretty well, so yeah, I don't know how much of an advantage I actually have. I've had a lot of seat time this year, but they both have ten times more seat time than I do with all the years they've raced. I don't know how much of an advantage I really have.
DI: When Tanner won his first race, the Grays became the first family in NHRA to have three generations earn Wallys in the same Pro class. What does this weekend mean to the family legacy?
TG: It's really cool! I think we've just been really fortunate and blessed to have been able to win. I think it's really cool. That's about all I have to say about it.
JG: (Laughs) I don't know about any kind of legacy. I've always enjoyed the NHRA drag racing and played around in it for a lot of years and drove a lot of different kinds of cars. Shane wanted to do it and now, Tanner's doing it, and it's a great family sport. If it wasn't, we wouldn't be doing it. I don't look at it as any kind of a Gray legacy type deal; we're just a family having a lot of fun and enjoying life, you know?
DI: All three of you are winners and are extremely competitive. What's going to happen this weekend when you guys hit the track?
JG: I imagine Shane and Tanner, I don't know how competitive they are, but when I was out there, I was very competitive but frankly, I haven't picked up a practice tree or…if I tried moving that fast now, I'm liable to pull a muscle. I'm basically going out with the intent of having a lot of fun, making five qualifying runs, and hopefully make first round, and we'll see what happens.
But to be able to compete with these kids and even my son, you gotta be doing this all the time or you're not going to be able to get your foot off the clutch in time. I can assure you, somebody's gonna have a lot of fun with me because I'm gonna be slow!
SG: There's three of us here and I think it's a cool deal. I do believe (my dad) will run this race and be done with it because he's got other things that are more important to him these days and hell, I don't blame him. I do, too. We're all just supporting Tanner here.
TG: It was actually (Grandpa's) idea. He came to us and said that he wanted to do it, so we just got all the stuff together for him. That wasn't too hard. It was his idea and I'm looking forward to it. I think it'll be a lot of fun. It's the first time I'll get to race with him, so I think it'll be a lot of fun.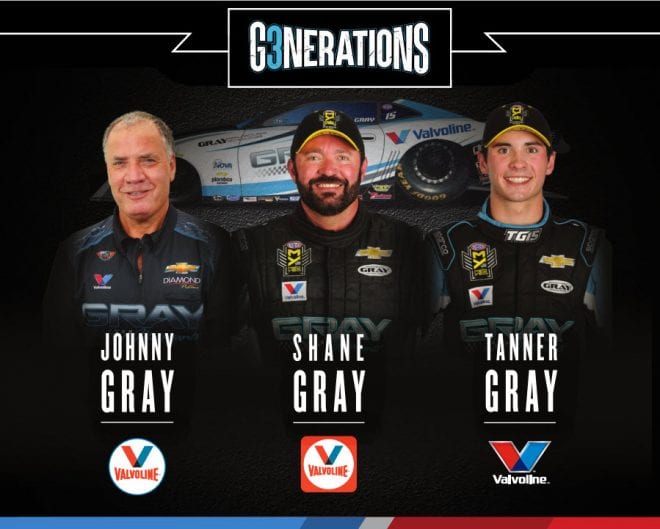 DI: Tanner, is there any concern about facing one of them Monday and facing the fact you're going to have to put them on the truck or go home early?
TG: Nah, I don't really care who it is. I'm just going to beat 'em. It doesn't matter if it's my dad or my grandpa. I'm not going to go up there and feel bad for beating them. That's just my personality, that's the way I am. It doesn't really bother me too much.
SG: Well, I got news for Tanner. If he has to race either one of us, he better try to beat our ass. Because we're going to be trying to beat him. Yeah, that's just the way we are. It's time to go to work when you get up on the starting line.
JG: The only competitive thing that might happen is if Shane and I get lined up beside each other, I really feel like with my experience, I can do a longer burnout than he can.
SG: (Laughs) Well, let me put it to you this way – I guess the fans are probably fixin' to see a good burnout show!
DI: Shane, did you think Tanner would be this good, this fast?
SG: Watching Tanner in the past race – whether it's circle track racing, well, that's all the kid's ever done – I had a pretty good sneaking suspicion that he was going to hit the ground and kinda be a pain in everybody's ass.
DI: Tanner, your thoughts on being at your age and experience level and racing for an NHRA Pro Stock title?
TG: That's what I expect. Like I said, I'm a really competitive guy. We've got awesome equipment, we've got awesome people working on it, I don't really expect anything different. That's just how I've been raised and I don't expect anything different.
I think the Rookie of the Year thing will be really cool. As far as being tied with Jason, that means nothing to me because a tie doesn't really mean anything. Until I get another one or surpass that, then it doesn't mean anything to me yet. You know?