Before the season started, Matt Hagan talked about how it would take some time for all teams, his included, to adjust to the changes made to the headers and rev limiters in Funny Car.
But Hagan also talked about what having a guy like Dickie Venables can do to negate those challenges. The talented crew chief was dynamite at the Winternationals, the NHRA's traditional season opener, and combined with Hagan's impressive reaction times, the two-time world champ couldn't be stopped yet again. He qualified No. 1, beat defending world champ Robert Hight in the final round with a blistering 3.823 at 335.90 mph, and claimed his second straight Winternationals victory in the process.
With the bulk of the MOPAR Express Lane team returning, Hagan was eager for a quick start, and things followed suit after a strong test session in Phoenix.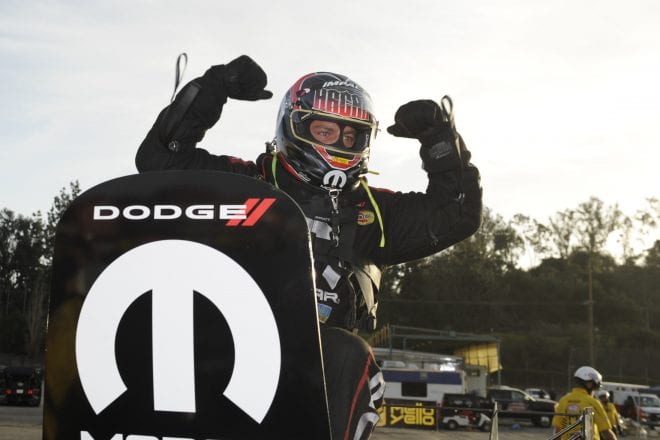 "To watch my guys come together and work, everything is clicking so nice — you can tell the extra prep that they put in during the off-season," Hagan said. "It's not so much just the parts and pieces, it's looking at those parts and pieces, and putting your hands on them.
"I'm really just proud of them, but I'm proud to crawl in that race car that Don Schumacher owns. It's a car that these guys have put together, that I know I can win in any give Sunday. That's a crazy feeling. Every Sunday you know you can win the race. It's a cool feeling."
Hagan expected the cars would slow done some after the changes, but that didn't appear to be the case in Pomona, as the 27-time event winner qualified No. 1 with a 3.822 at 336.32, and dialed it up once again in the final round.
In the post-race celebration, Venables talked about how locked in Hagan is for this season, while the standout driver continued to praise the team around him.
"Keeping our team upbeat, confident and starting the year up on a positive note is good for our team to set goals, no matter how hard they may be to obtain," Hagan said. "Everything was clicking this weekend and even more than the parts and pieces it's about having the right guys to use what we have. So far we've done it well."
Hagan won two straight races to open 2017, so it will certainly be interesting to see if he can match that in two weeks at Phoenix.
Can't-Miss News
Brittany Force on the mend: The scariest sight of the weekend was defending Top Fuel world champion Brittany Force's dragster crashing sideways into the wall during the first round of eliminations on Sunday.
But the good news came late Sunday when no major injuries were reported. Brittany followed that up with a social media post. It was definitely good to see and hopefully we see her back in the seat as soon as possible.
Rough start but checkin out w/ only bumps&bruises.ThankU fans,@nhra for prayers.ThankU team&family &SafetySafari,Simpson&Stilo for my safety pic.twitter.com/jCzI8N0ysd

— BrittanyForce (@BrittanyForce) February 12, 2018
Kalitta Grabs Win Over Old Rival: It wasn't quite the year everyone at Kalitta Motorsports wanted in 2017, but things already appear different thanks to Doug Kalitta's Winternationals win in Top Fuel.
It came against an old foe – eight-time world champ Tony Schumacher – and started the season perfectly for Kalitta, who at the very least started the quest for that elusive first world title in perfect fashion.
Butner Starts 2018 like 2017 ended: Bo Butner ended 2017 with a win at Pomona, and he started 2018 by doing the same, as the defending world champion took out his KB Racing teammate, Jason Line. After that breakthrough Pro Stock win last year, Butner's confidence seems sky-high and that was again evident in Pomona.
Further Watching
Force's Top Fuel crashing during the first round of eliminations at the Winternationals.
Drag Illustrated Editor-In-Chief Wes Buck's live Facebook show. Last week's guests include Donald Long and Brian Lohnes. Check it out.
Clay Millican put together something incredible in qualifying, setting the Top Fuel E.T. record at the Winternationals
John Force had his own early-season struggles, as his Camaro exploded during Funny Car qualifying. Force escaped injury and was back racing over the weekend.
Stevie Fast presents his "call-out list" for Lights Out 9. This weekend is going to be good.
On Social
Take A Bow, Winternationals Winners
Mooooosssshhhh pittttt!!!! #KalittaStrong #WinterNats #NHRA #celebration pic.twitter.com/xQU773T86P

— Kalitta Motorsports (@TeamKalitta) February 12, 2018
Creative caption in the sports section 👌🏼👍🏼😁 pic.twitter.com/O2qVfkhgty

— Matt Hagan (@MattHagan_FC) February 12, 2018
What a beginning to the 2018 season!! #NHRA #Winternats #KBRacing pic.twitter.com/h40y6P7Wy0

— Bo Butner (@BoKnowsRacing) February 12, 2018
Force's FC boomer, and an incredible shot from Mark Rebilas
BOOM! @NHRA @JFR_Racing @JohnForce_FC blows @peakauto @TeamChevy body off during #nhra Pomona. Force ok! @usatodaysports @CanonUSApro pic.twitter.com/RGdA9fJnbY

— Mark J. Rebilas (@rebilasphoto) February 9, 2018
Bruder Brothers Ready for Lights Out 9

Vegas Is Ready For 4-Lane Racing
All lit up looking great!! #LV4Wide @davidallio @LVmedicchick @NHRAReinhart @WFOJoe @theLohnes @WFORadio pic.twitter.com/GiG7VRGakY

— Jeff Foster (@JeffreyAFoster) February 9, 2018
Website Awful Announcing talking NHRA on Fox in 2018
Our @SonOfTheBronx talked with NHRA's Ken Adelson about the 2018 season and NHRA's relationship with Fox Sportshttps://t.co/TEx4B3IOvu

— Awful Announcing (@awfulannouncing) February 6, 2018
The full rundown for Lights Out 9 Live Stream
https://t.co/Fut97datGD LIVE coverage schedule for Lights Out 9 @mmtvlive #dragracing pic.twitter.com/GyYBddkDWo

— 1320Online (@1320Online) February 10, 2018
Final Thoughts
Well, it was certainly great to see NHRA drag racing back in our lives this weekend in Pomona. Seemed like a pretty strong crowd, too, as well as some incredible racing. Continued thoughts and hopes for a speed recovery to Brittany Force, too. As for what's next, well, it's Lights Out 9 this week. We know it's going to be good.